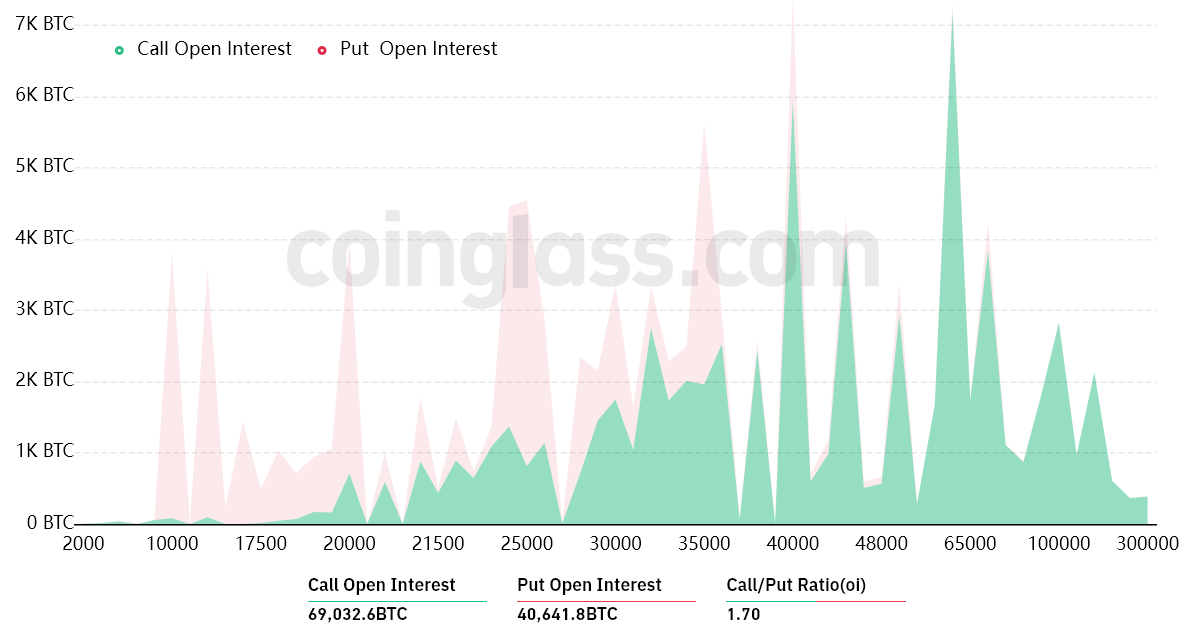 Although Bitcoin broke through the $21,000 mark this morning, according to Coinglass data, about $2.3 billion worth of Bitcoin option open contracts will expire at 4 p.m. Taiwan time today, when the price of Bitcoin is expected to rise again. There are obvious fluctuations. According to analysis by Cointelegraph, the low of $17,600 that Bitcoin hit last weekend may not be the bottom of the decline. (Recap:Forced to sell? Poolin miners transfer 5,000 bitcoins to Binance, fearing a balance of payments; BTC falls below 20,000 magnesium again)(Recap:Short Commentary on the Currency Market | Miners have sold 25,000 bitcoins so far in June, and the probability of the Fed raising interest rates by 3 in July is 94.53%)
addCryptocurrency derivatives exchange Deribit released data on the 23rd that open interest in options worth $3.3 billion will expire on Friday, including bitcoin options worth more than $2.1 billion in nominal value, with a total of 10.3 10,000 bitcoins, and ethereum options worth about $1.2 billion in nominal value, for a total of 1.1 million ethers.
Deribit said that the expiring contract will have the largest number of expiring contracts, but due to the overall market decline, the dollar-denominated value of this expiring open interest is lower; in addition, measuring Bitcoin contracts The volatile Deribit Implied Volatility Index (DVOL) spiked above 130 last week, but is now around 100.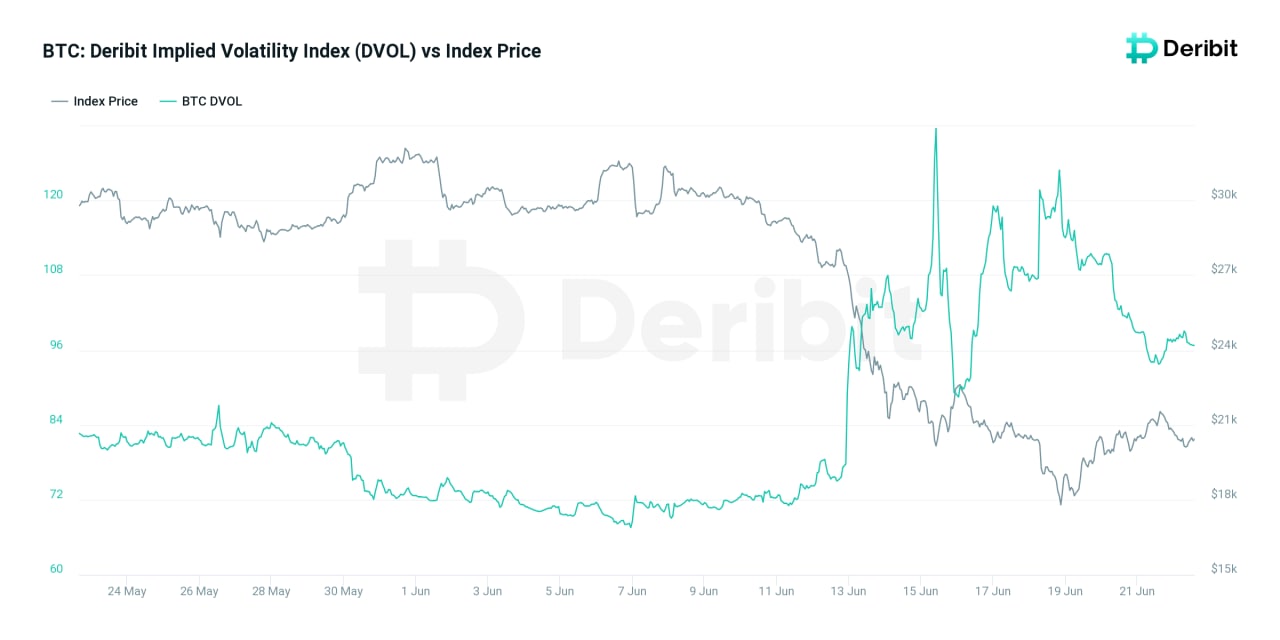 According to Coinglass data, about $2.3 billion worth of Bitcoin option open interest will expire on Friday, of which $1.41 billion is a call option and $830 million is a put option, if Bitcoin prices are low At $20,000, most of the call options may become worthless, and it is worth noting that there are many long bets on Bitcoin above $65,000.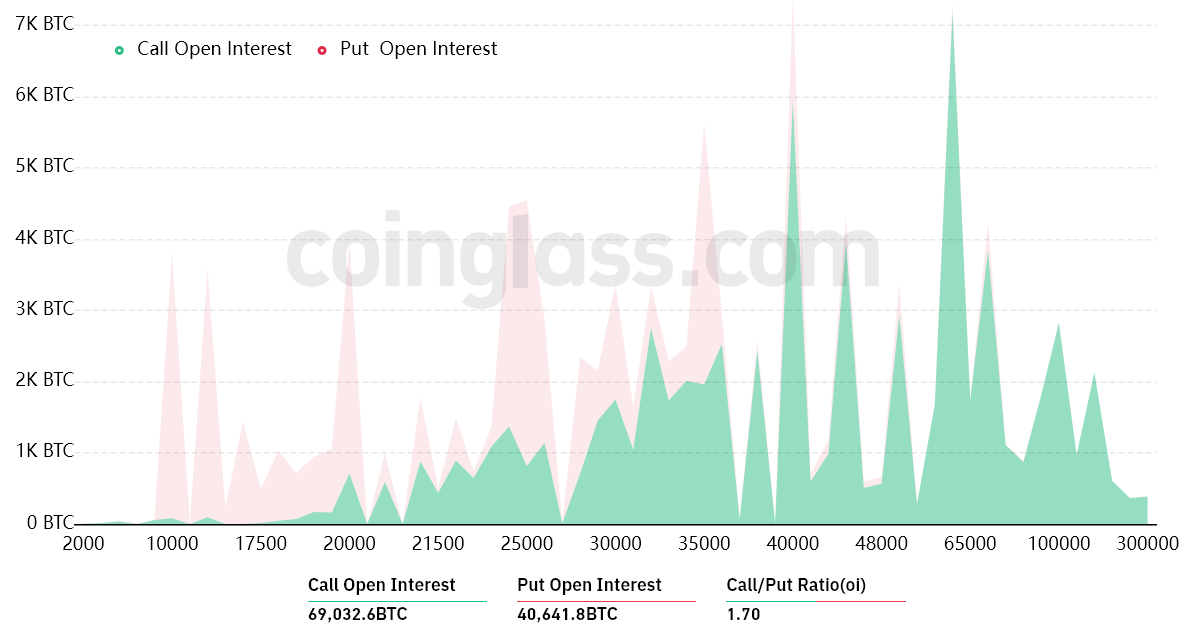 Bitcoin trend possibilities
According to an analysis by Cointelegraph, if Bitcoin remains below the $21,000 mark when the option expires at 8:00 a.m. UTC on the 24th (4:00 p.m. Taiwan time on the 24th), there will be only a 2% call option is valid, those options to buy bitcoin above $21,000 will become worthless.
According to Cointelegraph, there are three possibilities for Bitcoin's trend at that time:
1. Between $18,000 and $20,000: 500 calls versus 33,100 puts. The net result is a $620 million skewed bear option.
2. Between $20,000 and $22,000: 2,800 calls versus 2,700 puts. The net result is a $520 million skewed bear option.
3. Between $22,000 and $24,000: 5,900 calls versus 26,600 puts. The net result is that $480 million is skewed towards the bullish option.
Bitcoin shorts need to push the price of Bitcoin below $20,000 when the option expires on the 24th to make a profit of $620 million, on the other hand, the best-case scenario for Bitcoin longs is that the price needs to be pulled Raised to more than 22,000 US dollars, to reduce the loss of 140 million US dollars.
Bitcoin bulls liquidated $500 million worth of leveraged long positions on the 12th and 13th, so their margin should be lower than what is needed to drive the price higher, considering these data, Bitcoin shorts on the 24th There is a greater chance of holding the coin below $22,000 before the option expires.
📍

Related reports

📍
Mobius, godfather of emerging markets: Stock traders should pay attention to Bitcoin, which is the leading indicator for judging the bottom of the stock market
Chinese official media re-published an article: Bitcoin has a "zero risk", alluding to the lack of US supervision to promote the currency bubble
Bitcoin miner Bitfarms announced to stop collecting coins!Sold 3,000 in the past week; BTC rose above 21,000 magnesium and fell back
Make the Telegram news channel of the dynamic zone powerful again! ! Join now to get first-hand blockchain, cryptocurrency news coverage.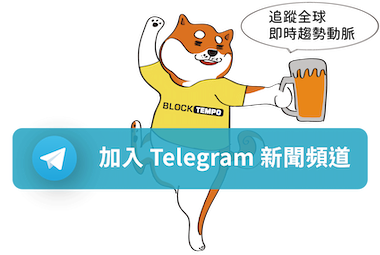 LINE and Messenger serve you from time to time


related news