key takeaways
Aave has launched Lens Protocol, its social media technology stack. Users can now create Lens Profile NFTs and start interacting with over 50 applications built on Lens. Decentralized social media has become a hot topic in the crypto space in recent months, thanks to Elon Musk's recent efforts to acquire Twitter.
share this article
The team behind leading DeFi project Aave has launched the Lens protocol on Polygon. Users can now create lens profiles and start interacting with over 50 applications on the protocol.
Lens Protocol goes live
Aave is doubling down on decentralized social media.
Aave Corporation has publicly released Lens Protocol, an open-source technology stack that allows developers to build decentralized social networking applications. Starting today, users can create Lens Profile NFTs and start interacting with over 50 applications running on Lens' open social graph.
Lens lets creators own their social media data and bring it to any app built with its toolset. Users can link their followers, communities and content to their own NFT profiles and port them into any new application. When someone creates a Lens Profile NFT, they can use it to store everything they've produced and their relationship with their audience. Its purpose is to give creators ownership of their content, regardless of its origin.
Commenting on the launch, Stani Kulechov, CEO and founder of Aave Companies, said:
"The social media experience has remained relatively unchanged over the past decade, and much of that is due to the fact that your content is entirely owned by one company, which locks your social network into one platform."
Kulechov added that the shift from the Web2 paradigm of companies owning user data to self-ownership of user-created content and social media profiles is long overdue. "Empowering users is the goal of Lens," he said.
The Lens protocol is built using Polygon, an Ethereum scaling solution, which means creating NFT social profiles and publishing content is relatively inexpensive. Additionally, Lens maintains a low carbon footprint thanks to Polygon's proof-of-stake verification mechanism.
To accelerate the growth of the Lens ecosystem, Aave Companies has launched a $250,000 grant program to distribute funding to projects and developers building Web3 social infrastructure and high-quality front-end experiences.
Thoughts on Decentralized Social Media
Debates over how social media apps should be built have become more common since Lens Protocol first launched its development tools in February. Issues of free speech and user autonomy dominated the discussion, driven largely by Elon Musk's $44 billion bid to buy Twitter. Crypto enthusiasts have been pondering how Musk could integrate blockchain into the social media giant, but recent developments suggest the deal may not go through due to Musk's concerns about bot accounts.
In the past, other prominent crypto voices have shared their views on the potential of decentralized social media. In a July 2021 presentation, Vitalik Buterin said he believes Ethereum "must scale" beyond DeFi, adding that the network he helped create could become a decentralized login service. Meanwhile, Sam Bankman-Fried recently stated that on-chain social media "eventually has to happen" when discussing what a decentralized version of Twitter could look like. Unlike Buterin, though, Bankman-Fried seems more interested in how decentralized social media can outperform Ethereum. When reviewing the future of Web3 and social media last year, the FTX CEO said that the encrypted social network is "a huge opportunity" that is a perfect fit for Solana, one of Ethereum's top competitors.
Disclosure: At the time of writing, the author owns ETH, SOL, and several other cryptocurrencies.
share this article
Aave founder returns to Twitter after banning joke
Aave founder Stani Kulechov tweeted today that he was suspended for 15 hours. Aave founder calls himself Twitter CEO On Tuesday, April 26, Kulechov joked that…
Aave team launches Lens, an NFT-based social media protocol
The team behind DeFi platform Aave has launched a testnet for Lens, a social media protocol that relies on NFTs for data management. Lens will facilitate user data ownership…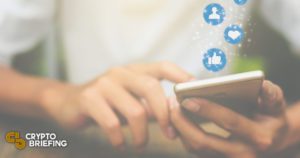 Aave V3 to Ethereum Layer 2, Fantom, Avalanche
Aave has launched its V3 update. The upgrade will initially be deployed on Polygon, Fantom, Avalanche, Arbitrum, Optimism and Harmony, as well as Ethereum, to follow in the future. Aave launches V3…