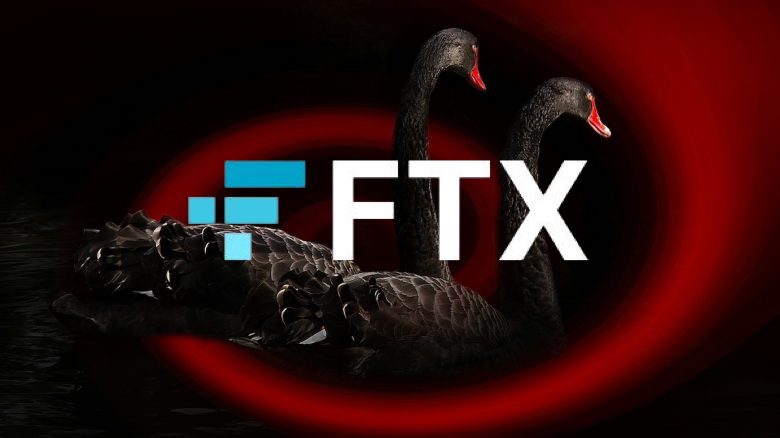 The chain effect brought about by the bankruptcy of FTX has hit the Western encryption forces hard, and to a certain extent, it has balanced the disparity between the East and the West. When the black swan and the deep bear are companions, will the encryption power structure be reshuffled? (Background of the event:The FTX group wiped out 53 world-class VCs and investment banks!Sequoia Temasek Paradigm Softbank… A total of 720 million magnesium may be zero)
"OfBefore, a large western fund had committed our project, but now it has entered a wait-and-see state," said a project founder helplessly.
The storm instigated by FTX's thunderstorm is sweeping the entire encryption world. Whether it is an exchange, VC or project party, they are all feeling the aftershocks brought by the thunderstorm.
A total of 9 billion U.S. dollars in debt; more than 70 investment institutions, 2 billion U.S. dollars in investment impairment cleared; Multicoin, Genesis, Paradigm and other Western star institutions stepped on thunder…
The chain effect brought about by the bankruptcy of FTX has hit the Western encryption forces hard, and to a certain extent, it has balanced the disparity between the East and the West.
When the black swan and the deep bear are companions, will the encryption power structure be reshuffled?
Western encryption forces have been hit hard
In 2019, FTX was born. In just 3 years, it has developed into a unicorn with a valuation of 32 billion U.S. dollars – 4 rounds of financing have accumulated more than 2 billion U.S. dollars, and more than 70 investment institutions, including Sequoia Capital, Paradigm, Singapore's sovereign wealth fund Temasek, ( Canada) Ontario Teachers' Pension Plan Board, SoftBank, Tiger Global and other star institutions.
However, with the collapse of the FTX building, the investment of 2 billion US dollars instantly returned to zero overnight.
Sequoia Capital issued a letter to LPs stating that its two funds invested a total of US$213.5 million in FTX and FTX US, with zero impairment.
Paradigm informed LP that the $290 million investment in FTX was reduced to zero, and co-founder Matt Huang publicly stated that he was sorry for investing in FTX.
OTPP, a pension fund for 330,000 teachers in Ontario, Canada, issued a statement that it has invested a total of 95 million Canadian dollars in FTX and FTX US in the past two years, accounting for less than 0.05% of the total net assets.
Softbank has written down its FTX investment to zero, saying that "the investment in FTX is less than 100 million US dollars." Former Softbank Chief Operating Officer Marcelo Claure claimed on social media that he "was a complete failure" in FTX. It is influenced by FOMO emotions, and the second is that they do not fully understand what they are investing in.
Temasek also issued a public statement writing down its US$275 million investment in FTX, and stated that from February to October 2021, Temasek spent a total of eight months conducting a detailed investigation of FTX. It is reported that the investment in FTX is currently Temasek's largest investment in the cryptocurrency field.
Multicoin, which has always been closely related to FTX, is also hard to escape. In addition to the heavy loss of the $25 million investment on FTX.US, 10% of the assets were stranded in FTX.
Also falling in tandem with FTX are assets related to the Solana ecology. In a letter to investors, Multicoin stated that affected by the FTX bankruptcy event, the asset size has fallen by 55% in the past two weeks, and pessimistically predicts that the impact of FTX/Alameda will spread in the next few weeks, and many trading companies will be eliminated and off.
And it is.
The core customers of FTX are mainly professional traders and institutions. After obtaining financing, many project parties choose to deposit their assets in FTX for financial management and obtain 5% annualized interest. There are many DeFi projects that advertise high returns.
Further reading:DeFi Thunder" Maps.me and Oxygen declare that 95% of tokens are still kept by FTX; both have passed FTX IEO
Michael Wagner, CEO of Star Atlas, the Solana-based game metaverse, said that Star Atlas has a significant cash exposure to FTX, and its current operating funds have been reduced by about half.
According to the official disclosure information of the Solana Foundation, it owns approximately 3.24 million common shares of FTX Trading LTD, approximately 3.43 million FTT Tokens, and approximately 134.54 million SRM Tokens in its FTX.com account.
Kevin Zhou, founder of quantitative hedge fund Galois Capital, told his investors that nearly half of Galois Capital's assets, more than $100 million, were stranded in FTX and could not be withdrawn.
Coinbase, Crypto.com, CoinShares, GalaxyDigital and many other institutions announced their risk exposure in FTX, with a total amount of more than 200 million US dollars.
At the same time, affected by the run wave caused by the FTX mine explosion, Genesis, the leading cryptocurrency lending and brokerage, announced on November 17 that its lending department has suspended the redemption of customer funds and the issuance of new loans.
Genesis is seeking a $1 billion emergency loan from investors and has told potential investors that if the fundraising fails, the company may need to file for bankruptcy protection, Bloomberg reported. Once Genesis explodes, it will set off a new wave of liquidation and bankruptcy in the industry.
Further reading:Bankless warns: Genesis is in jeopardy
Eastern and Western powers reshuffle
"After FTX (bankruptcy), the capital forces in Asia-Pacific, Europe and the United States are relatively balanced," crypto investor Evans lamented on social networks.
As mentioned above, the bankruptcy of FTX has severely damaged the major encryption forces in the West. In contrast, most encryption institutions in the Asia-Pacific region have survived.
Since DeFi Summer, the encryption world has been "rising from west to east and falling from the east". Whether it is entrepreneurs or VCs in the Asia-Pacific region, they have fallen into an embarrassing situation. On the one hand, VCs in the Asia-Pacific region want to invest in overseas star projects, and on the other hand, entrepreneurial projects in the Asia-Pacific region hope to be invested by Western star VCs. .
The strength of Western encryption funds lies in their ability to price assets, lead narratives, and get used to grouping together. This is especially evident in the investment in Solana's ecology.
FTX's thunderstorm and the chain reaction brought about by it caused the once strong group alliance to fall apart.
FTX Ventures went bankrupt, Multicoin and Jump were seriously injured, Paradigm has always been independent but was still seriously injured, Polychain lay flat, Pantera and CoinFund stated in their letters to LP that their book withdrawals were amazing.
At present, only a16z is relatively stable, but still has to face a large book drawdown.
The pricing power of VC comes from the brand and the amount of funds. This wave of chain explosions has gradually "disenchanted" the once "golden" big Western encryption funds.
The fact is that many Western encryption funds have many LPs from Asia. For high-net-worth LPs such as Asian Family Office, their strategy is often to invest in a number of well-known overseas white horse funds, and then invest in local Asia-Pacific encrypted VC.
This has also led to the embarrassment of fundraising for old and new crypto VCs in the Asia-Pacific region. When the market is good, LPs often give priority to investing in overseas GPs in FOMO; If it is difficult to raise funds in the Asia-Pacific region, let alone raise funds overseas.
After the FTX incident, a group of Asian LPs had to let go of their previous "over-beautification" of Western celebrity crypto funds, and comfort themselves, "We are participating in this market with a learning attitude."
The same is true for entrepreneurial projects. Overseas projects tend to have stronger narrative capabilities, and are accustomed to sublimating from small points to grand stories, while Asia-Pacific projects are often more realistic, and the narrative focuses on the product itself.
In Evans' view, FTX's thunderstorm also reflects the consistent "lazy" style of European and American funds. The project does not make due diligence, and the operation depends entirely on narrative.
In the long run, this black swan will be beneficial to encrypted VCs and entrepreneurs in the Asia-Pacific region. I hope that LPs in the Asia-Pacific region will leave money to VCs in Asia, and VCs in the Asia-Pacific region will leave money to entrepreneurs in Asia. The next bull market will be in the A new Mega Fund (giant fund) was born in Asia Pacific.
However, many investors still believe that the pricing power will not be transferred in this way, and it is still far from catching up with the West.
"The scale of financing and investment (VC) in the United States is at least ten times larger than that in Asia. For example, Katie Huan's new fund has a scale of 2.5 billion US dollars, which has exceeded the total amount of mainstream funds in Asia. The narrative on the investment side will still be the United States. leading," said a family fund manager.
Another hedge fund partner who lives in North America, 0x992, also holds the same view. The pricing power of assets is still dominated by North American Silicon Valley Sand Hill (Note: refers to a road in Silicon Valley, which gathers the most important venture capital institutions in the United States). LP Fund Flow is stronger and more stable. Except for Dragonfly and Hashkey, which are slightly better in Greater China, the fundraising capabilities of other VCs are average.
"If this market even loses confidence in European and American funds, then only a few exchange funds will pay for this market."
In addition, even if Solana falls into a trough, decentralized infrastructure such as Ethereum and Layer 2 are still dominated by Western forces, and the Asia-Pacific will still be the role of the catcher.
Is the confidence still there?
Will the FTX incident dampen the confidence of traditional capital investment in WEB3/Crypto?
The answer seems to be yes.
If the explosion of PayPal and Terra hit the wallets and confidence of some traditional investors hard, then the bear market and the bankruptcy of FTX brought a second blow, which made things worse.
Previously, due to differences in fundraising capabilities and scale, the primary market showed a trend of "cold in the east and hot in the west". Asia-Pacific institutions basically did not sell much, but Western VCs were still active and even willing to pay for high-valued projects.
Today, the primary market is in a complete depression. An Asian founder who raised funds overseas said helplessly that the bankruptcy of FTX has had a chain reaction. A Western fund had committed its project before, and now it has entered a wait-and-see state.
A symbolic scene is that on November 12th, Mark Cuban, the owner of the Dallas Mavericks, unfollowed almost all encrypted Twitter accounts on Twitter, including Mintable, Dapper Labs, etc. he invested in, and well-known KOL Cobie The joking response said, "Thank you for buying tokens from us at the top, and more tokens will be sold to you in a few years."
Further reading:Mark Cuban canceled a large number of Twitter accounts in currency circles such as Solana and Uniswap; he was soured by Cobie: Thank you for being a bull market receiver
Mark Cuban represents the mentality and situation of many "outsider big guys" entering the market. He entered the market in the bull market FOMO and actively cheered for WEB3/Crypto. He seemed to have more faith than the industry OG, but he was sadly out after the bear market came.
The magic is that when we tried to interview many traditional investors, most of the answers we got were that they were still full of confidence and belief, and they were optimistic, "The bear market bottoms out faster, which is more conducive to the investment participation of institutions and traditional investors. "
Stella, an overseas dollar fund partner who participated in the early investment of FTX and Solana, said that they have not changed their investment direction and are still actively investing in related targets.
"The cyclical nature of the encryption industry is too obvious. When the bubble comes, it will be extremely high, and the thunderstorm or the return of value will also make the fall even more painful, but VC will not want to miss this game, especially for the early VC in Silicon Valley. A high return."
But for industry veterans who have experienced multiple cycles, they are happy to see traditional investors leave the market.
"Every cycle is the same, bulls and bears alternate, people come and go, wash out speculative traditional investors, and the bear market will bottom out faster."
In any case, the pattern of the encrypted world has been broken and reorganized by the black swan.
There is no permanent winner in this world. In the deep bear moment, everyone is looking forward to it, waiting for a new hero and welcoming a new cycle.
(This article is authorized by the author Shenchao TechFlow. It belongs to the opinion of the author of the DongZhou column and does not represent the position of DongZu. The content and opinions of the article are not investment advice.)
📍Related reports📍
Arthur Hayes: SBF has won the trust of social elites and employers with its "successful white male" personality
FTX Prolonged" Taiwan's Defi project XY Finance was shocked to put 2 million US dollars in FTX!Disclosed to investors
Venture Capital|Korean Hashed personally confirmed that it lost more than 3 billion U.S. dollars in the Luna crash