Amber Group's weekly market review published on the 16th pointed out that the overall risk aversion in the global market has intensified, and the sell-off of the LUNA Foundation's Bitcoin reserves has led to a further decline in the price of BTC, but it has also created opportunities to buy on dips. The significant contraction in stablecoin circulation indicates that a certain degree of net outflow of cryptocurrency capital is underway. (Recap:Amber Observation|April Market Review, Economic Highlights and "On-Chain Opportunities")
(This article is an extensive editorial, provided by Amber Group, and does not represent the position of the dynamic zone.)
digital currency market
Bitcoin and Ethereum Market Insights
▪ US CPI fell to 8.3% in April from 8.5% in March, but was still higher than expected. The overall risk aversion in global markets intensified, and the US dollar index rose. Bitcoin prices fell to around $26,000 and ETH to $1,700, largely due to investors' risk-off mentality rather than derivatives-induced deleveraging.
The LUNA Foundation's Bitcoin reserves set off a cycle of self-destruction. The falling Bitcoin price caused the market's confidence in the UST peg to be shaken, and the foundation then needed to sell these Bitcoin reserves to keep the peg, and then the sell-off caused the Bitcoin price to fall further. Although the price rebounded to $30,000 on Friday, panic still dominated the market.
Further reading:LFG announces reserve details: 80,000 bitcoins have been sold out!Only 313 BTC, Luna, BNB, AVAX… 300 million magnesium assets left
▪ As US Treasury Secretary Janet Yellen said: "We have seen the risks of stablecoins for real this week". UST lost its ability to peg to $1 and was at $0.09 as of this week's writing. UST is collateralized by assets outside the system, while LUNA absorbs volatility from the market. The value and liquidity of LUNA is essentially the backstop of this system, as it determines the ability of UST holders to exit the system.
When a large amount of UST selling pressure appeared in Curve pools and centralized exchanges, UST holders lost confidence in the USD peg, and holders could withdraw by redeeming UST and minting LUNA, resulting in excessive LUNA issuance, and its supply increased at 4 From 346 million to 7.1 billion in days. LUNA's market value has fallen 99.9% from its all-time high, evaporating more than $41 billion.
▪ Stablecoins are the main tool for capital inflows and outflows from the currency circle. The total supply of major stablecoins (USDT, USDC, BUSD, and DAI) has leveled off since the beginning of April and is now contracting by $3.285 billion. During March and April, the amount of USDC redeemed for USD reached USD 4.77 billion. The significant contraction in stablecoin circulation indicates that some degree of net capital outflow from cryptocurrencies is underway.
Further reading:LUNA fell another 99% in a single day!The price is "less than one ten thousandth of a dollar"; the circulation exceeds 6.35 trillion, and the inflation rate reaches 8,903 times in three days
Options Market Insights
Market volatility spiked last week as LUNA and UST sell-offs and BTC/ETH spot risk aversion led to a spike in market volatility. Three-month at-the-money implied volatility for BTC and ETH surged to 100 and 110, respectively. The 1-month 25-delta deviation has risen to a maximum of 26% and 27%, respectively, the IV-RV spread is now at a premium, and the volatility term structure has also inverted.
While the spot was lower, we also saw some buyers of forward out-of-the-money call options. Implied volatility rose 60% in two days last week, which means if you bought an ETH Sep-30 3,500 call option on May 9 when the spot price was close to 2.5k, the position would be closed on May 12 In floating profit, when the spot trading price was even below 2k, the volatility gain completely exceeded the delta loss and theta decay.
Market News and Hotspots
▪ According to Glassnode data, the number of Ethereum addresses in a loss state (7-day average) reached 31,101,288.667, a new high in the past two years.
▪ USDT issuer Tether has cut the amount of commercial paper backing its Stablecoin by 50%.
▪ The BSC Foundation released the "BSC STAR" project review funding plan, which will focus on decentralized computing, games/GameFi, DeFi, social networks and other tracks. Each project that passes the review will receive an angel round of $3 million invest.
▪ The total lock-up volume (TVL) of the Terra ecological fixed-rate protocol Anchor Protocol has dropped to US$345 million, a drop of 98.25% on the 7th.
▪ Yat Siu, co-founder of Animoca Brands, said in an interview that his company plans to enter the education space and bring "Learn To Earn" or "Teach To Earn" rewards to students and teachers.
▪ Citi analyst Jason Bazinet believes that Robinhood could be acquired at around $15 per share, especially after the stock price and cryptocurrency prices plummeted.
▪ It is estimated that El Salvador's bitcoin investment has now accumulated a floating loss of about US$40 million, which exceeds the interest paid by the country on its next foreign debt repayment.
▪ According to the holdings of ARK Ark Fund, from May 9th to May 12th, ARK Fund bought a total of 1,009,582 Coinbase shares.
▪ The Terra Builders Alliance submitted a "LUNA Advance Proposal" to the Terra community, suggesting that Terra restart and issue a new LUNA Token.
Further reading:The stablecoin mechanism will be removed! Do Kwon proposed the fork plan v2, the original currency was renamed Luna Classic (LUNC): Terra is more important than UST
market trends
▪ Earlier last week, we did a quick survey of some of our clients regarding the overall sentiment in the current market and the results are as follows: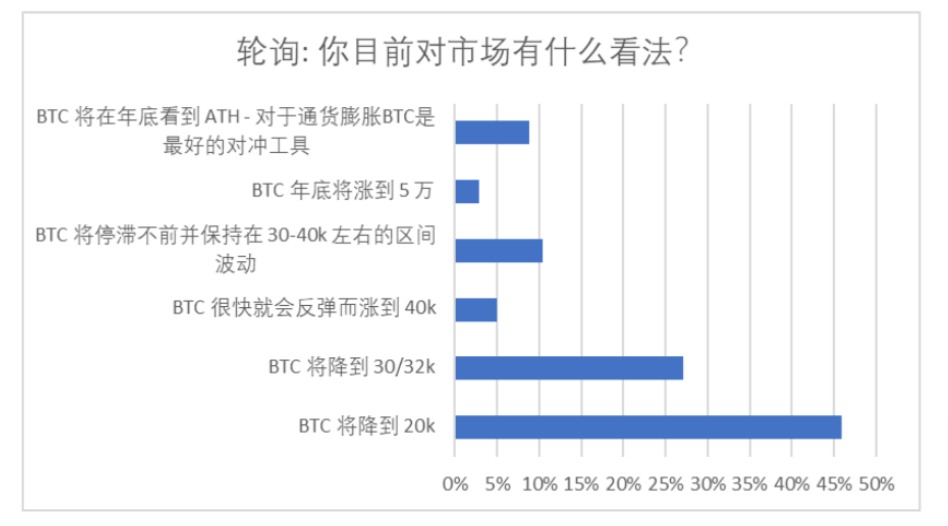 ▪Last week's UST de-anchoring and LUNA's close to zero caused the entire cryptocurrency market to plummet, but at the same time created opportunities to buy on dips. At present, the market capital has turned to BTC and ETH in large quantities.
▪MKR outperformed the broader market last week, rising 30%, and its stablecoin DAI replaced UST as the fourth largest stablecoin in the market.
▪ On the options front, we saw a lot of buying of May/June BTC-30K put options early last week, and we even saw a lot of BTC-20K put trades as the market continued to decline. At the same time, we also saw some new positions in BTC-20K/25K increase in July (as part of the diagonal spread). ETH bearish sentiment has diminished as we saw some December ETH-3,500 call fills and some new positions in the March 5,000/5,500 call spread combination.
traditional financial market
The U.S. stock market first fell and then rose last week as inflationary pressures weighed on market sentiment. April's year-on-year inflation rate was 8.3%, compared with the forecast of 8.1%; core inflation was 6.2%, compared with the forecast of 6%. Hopes of a soft landing have been dashed as the Fed needs to continue to tighten monetary policy to combat overheating inflation. The S&P 500 and Nasdaq lost their sixth straight week, and the Dow lost its seventh straight.
Events Calendar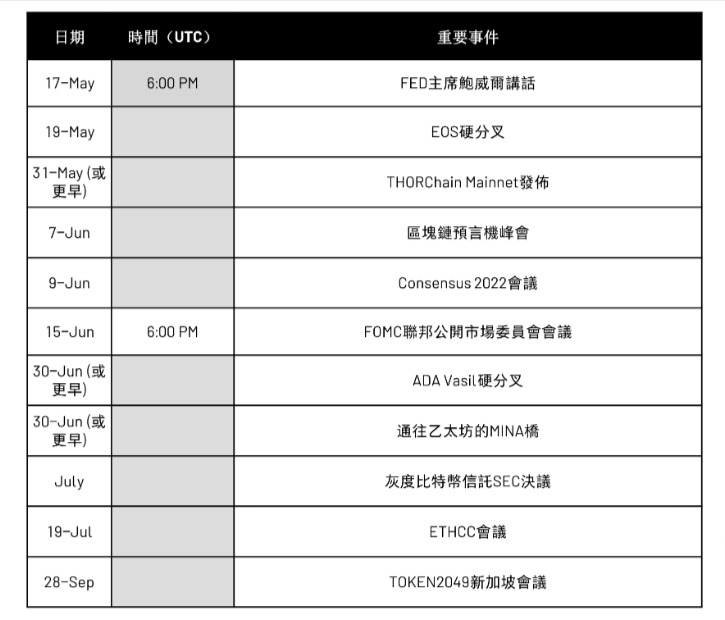 About Amber Group
Founded in 2017, its business covers major cities in Asia, Europe and the United States. Now it provides encrypted financial services to more than 1,000 well-known large institutional customers. The cumulative transaction volume in more than 100 electronic exchanges has exceeded 1 trillion US dollars, and the asset management scale has exceeded 1 trillion. $5 billion to help clients manage risk across a variety of crypto-assets, provide flexible investments, maximize returns to optimize long-term value
Amber Group official website: www.ambergroup.io
WhaleFin official website: www.whalefin.com
For product-related questions, please contact the Amber Customer Service Team: [email protected],[email protected]
📍Related reports📍
Amber Group becomes Premier League's "Chelsea Football Club" partner, jersey will be printed with WhaleFin logo
Bloomberg: Amber Group plans a new round of financing at a "$10 billion valuation"
Multi-party analysis of UST decoupling: what is the reason for the collapse of the crypto market Terra ecological out of control? How's the situation going?
Make the Telegram news channel of the dynamic zone powerful again! ! Join now to get first-hand blockchain, cryptocurrency news coverage.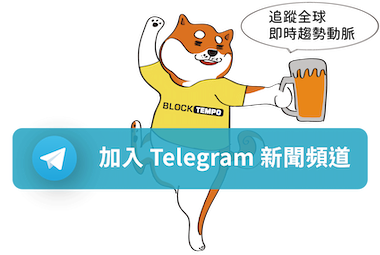 LINE and Messenger serve you from time to time


related news