Terra's decentralized lending protocol Anchor is known for providing high rewards, but the protocol's current revenue reserve is only 235 million UST. Based on the current consumption situation, it may be exhausted within 50 days. The community estimates that the stability of UST is maintained. The LFG Foundation is expected to inject capital again to avoid the bankruptcy of the agreement.(Recap: Bloomberg interviews Terra founder Do Kwon, how did the king of Lunatics become a "Bitcoin madman"? ) (background supplement: Terra | Anchor Tutorial for Beginners" Earn 20% annualized remuneration easily with the stablecoin UST)
maleAnchor, the largest decentralized lending protocol on the chain Terra, is favored by many users because as long as you deposit the US dollar stable currency UST, you can get up to 20% annualized remuneration. But a KOL danku_r with 62,000 followers on Twitter issued a warning yesterday (26):
Anchor The protocol's Yield Reserve will be depleted in about 50 days.

It may be reasonable to make another top-up to facilitate the smooth implementation of semi-dynamic rates.
Finally, he also mentioned that if he really injected more funds, this time we might see $1 billion; in response to his post, Terra founder Do Kwon also responded later: "It sounds pretty low." Although there is no positive reply to the next move, it does not seem to be worried.
Sounds low

— Do Kwon 🌕 (@stablekwon) April 25, 2022
Anchor

Earnings Reserve Remaining 235 Million UST

Carefully observe the current operating conditions of Anchor. Since the amount of deposits is still much higher than the amount of borrowings, the protocol itself will continue to use the funds in the Yield Reserve to make up the difference in the case of unbalanced income and expenditure, and bear the payment to the deposits. The pressure of high interest rate (about 19.45% at present) of the users.

At the moment of writing, the balance of Anchor's revenue reserve is about 235 million UST. If you calculate the consumption rate in the past few weeks (about 4.5~5 million UST per day), it is indeed afraid that the funds will be exhausted in less than 50 days.
LFG injects 450 million UST into Anchor Protocol
But in fact, this is no longer the case of Anchor's depletion of reserves. In February this year, the LFG Foundation, which maintains the stability of UST, injected 450 million UST into Anchor to avoid the bankruptcy of the agreement.
Shortly after, the LFG Foundation also announced that it had conducted a $1 billion private token sale and established a Bitcoin-denominated UST foreign exchange reserve. Participants included Three Arrows Capital (3AC), Jump Crypto, DeFiance Capital, etc.; Do Kwon added In mid-March, it said it planned to grow the reserve to more than $10 billion.
According to "Flipsidecrypto" data, the foundation's reserves have now reached 2.21 billion US dollars, and the asset allocation is as follows:
Holds 42,530 Bitcoins worth $1.63 billion / 73.8% Holds $398 million USDC / holds 18% Holds $155 million LUNA / holds 7% Holds $26 million USDT / holds 1.2%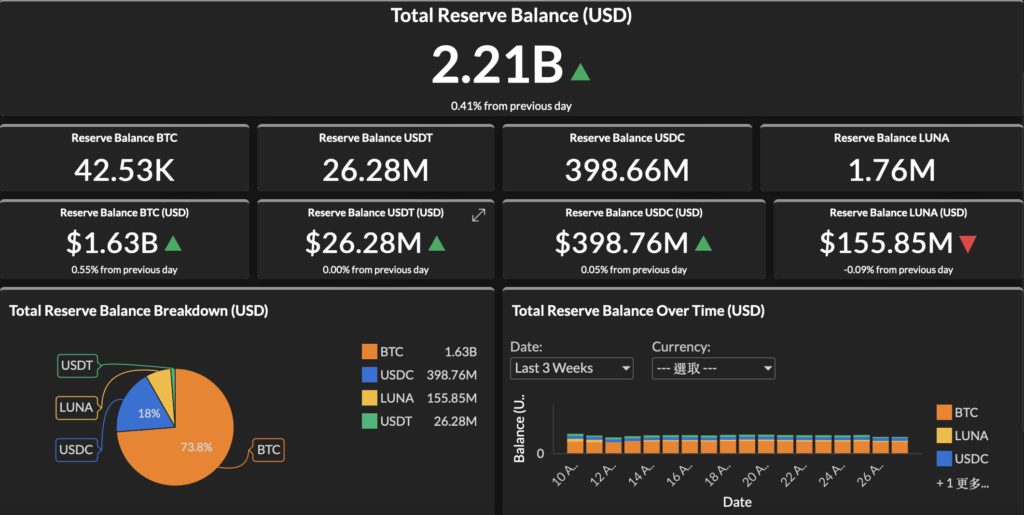 Long term solution?
Although injecting funds can relieve short-term urgent needs, it is not a long-term solution after all. The Anchor Protocol also adopted a proposal to adjust the fixed interest rate to a "semi-dynamic interest rate" last month, which will be linked to changes in the income reserve over a period of time. If the income reserve increases, the interest rate will rise, and vice versa.
In addition, Anchor also announced some ideas for the new version of the protocol on Twitter in early February, including: expanding the types of tokens that can be pledged, such as AVAX, under the new model, pledged assets will appreciate over time, as Different types of collateral pay differentiated interest….etc.
1/ Let's talk about Anchor's V2 Borrow Model which will enable Anchor to rapidly onboard compound liquid staking derivatives like $LUNAx or $sAVAX as new collateral types.

What does the borrowing process look like in V2 & how does interest for borrower's work? 🧵👇

— Anchor Protocol (@anchor_protocol) January 31, 2022
📍
Related reports
📍
LUNA surpasses Ethereum!Become the 2nd largest pledged asset; UST surpasses DAI to become the 4th largest stablecoin
Luna Ecological Foundation received 1 billion magnesium financing from Jump Crypto and Three Arrows Capital to establish UST foreign exchange reserves denominated in BTC!
MakerDAO co-founder opens up: Terra, Abracadabra's stablecoins UST, MIM are all Ponzi schemes
Make the Telegram news channel of the dynamic zone powerful again! ! Join now to get first-hand blockchain, cryptocurrency news coverage.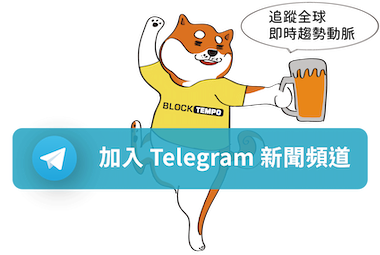 LINE and Messenger serve you from time to time


related news