Chris Dixon, a partner at Andreessen Horowitz (a16z), joined a16z in 2013 and has become one of the biggest promoters in the Web3 field through successive corporate investments. This article is from the author Alex Konrad's "How Chris Dixon's Dive Down The Crypto Rabbit Hole Made Him The World's Top Venture Capitalist", organized and compiled by the columnist of the dynamic zone, Shenchao. (Recap:a16z Partner | Chris Dixon is the world's best VC in Forbes, and the $350 million cryptocurrency fund "has increased 17.7 times"")
2In 2018, Shen Nanpeng, the global managing partner of Sequoia Capital, topped the list. This is also the first time that a Chinese investor has topped the list. Looking back, this is also the most golden moment of the Chinese Internet.
This year, a new leader was born, belonging to Chris Dixon, a partner of Andreessen Horowitz (a16z), who joined a16z in 2013, successively invested in Ripple, Coinbase and other companies, and bet on Coinbase in each subsequent round to become its largest external Shareholders, holding shares with a maximum value of tens of billions of US dollars.
Not only Chris Dixon, but more than a dozen investors on this list have Coinbase as one of their major investments, ranking third among all companies.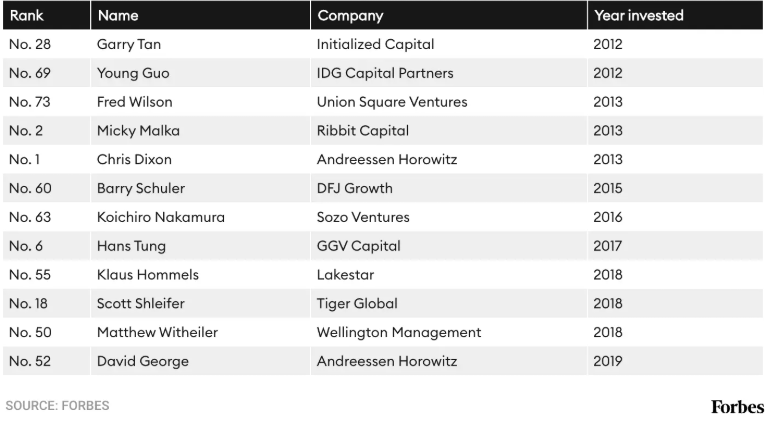 Today, Chris Dixon is the biggest driver of the Web3 narrative, or, "He led Web3," an in-depth article from Forbes about how he jumped down the cryptocurrency rabbit hole one step at a time.
In 2013, Chris Dixon, who had been doing business for many times, turned into a venture capitalist and wanted to find the next outlet.
In the 1980s it was the personal computer, in the 1990s the Internet, and in the 2000s the mobile phone. Chris Dixon began pursuing his own "moonshots" — virtual reality, 3D printing and drones — after becoming a new partner at venture capital firm Andreessen Horowitz.
What determined Chris Dixon's career, however, was his early bet on cryptocurrency exchange Coinbase. Chris Dixon's firm led a $25 million funding round for Coinbase in 2013.
Andreessen Horowitz had amassed a position of nearly 30 million shares (15% stake) in 14 other funding rounds by the time of the Coinbase direct listing in April 2021.
At the end of Coinbase's first trading day, the shares were worth about $10 billion, a return of about 60 times. (The company later sold some shares and is now trading at about half that price).
Coinbase is the jewel in the portfolio, making Chris Dixon, 50, the new No. 1 figure on the Midas list.
Chris Dixon has also done several other big deals, including decentralized cryptocurrency exchange Uniswap ($10 billion fully diluted valuation, which includes tokens not yet in circulation), open source blockchain Avalanche ($62 billion) ), NBA Top Shot creator Dapper Labs ($7.6 billion).
Chris Dixon is currently busy traveling between New York and California. He is an old politician in the cryptocurrency space and the person with the deepest pockets.
Thanks to the success of the first cryptocurrency fund within a16z (the colloquial name for Andreessen Horowitz, because there are 16 letters between Andreessen's "a" and Horowitz's "z"), Chris Dixon and team close out 2021 Turning $350 million into $6 billion in gains (realized and unrealized) is an eye-popping 17.7 times earnings, said a person familiar with the fund's financials.
The source told reporters that Chris Dixon and his team have raised new capital in the market, which is said to be the largest cryptocurrency venture fund ever, at $4.5 billion. Andreessen Horowitz declined to comment on its performance or fundraising.
"He's the top cryptocurrency investor by any measure," said Hemant Taneja, managing director of General Catalyst (No. 23 in Midas), who backed Chris Dixon's first company nineteen years ago. Start-up companies.
Chris Dixon's colleague and company co-founder Ben Horowitz (No. 87 in Midas) said, "I think 10 years from now, everyone will consider him the greatest investor of his generation."
Chris Dixon himself rarely gives interviews, but he downplayed his own "Midas touch" in an interview with Forbes. "My job isn't to predict the future," he said. "My job is to be able to see people and know who's smart enough to predict."
Chris Dixon is GermanWittenbergThe son of two college English professors, he grew up in Ohio and taught himself to develop, then went to computer camps to mentor others. An interest in cognitive science and logic drove Chris Dixon to pursue a bachelor's and master's degree in philosophy at Columbia University in the early 1990s.
Chris Dixon questioned the enterprise of capitalism from an early age, and despite his parents' objections, he quickly took a job as a developer at a hedge fund, where the highest wages were paid. About three years later, he went to Harvard for an MBA and briefly worked at the venture capital firm Bessemer Venture Partners.
He then quit to co-found his own company, SiteAdvisor, which warns against viruses and malware. Within a year, security giant McAfee had gobbled up the business, which had no revenue.
Chris Dixon then co-founded an early recommendation engine called Hunch. Like SiteAdvisor, it was acquired by eBay in 2011 for about $75 million.
In the process of building and selling two companies, Chris Dixon was exhausted. He needed to make a choice, whether to stay as a solo investor, with blogging and podcasts as his business, or be a proper venture capitalist.
While building Hunch, Chris Dixon had already started personally investing in other startups in the New York tech space (then small), some of which borrowed extra desks in Hunch's offices.
Chris Dixon's more than 50 personal investments include crowdfunding platform Kickstarter (2009), social sharing site Pinterest (2011) and online payments business Stripe (2012).
He also helped launch a seed-stage fund, the "Founder Collective," which he invested with along with several other successful entrepreneurs, serving as angel investors, including investors David Frankel (No. 11 in Midas) and Bill Trenchard (No. 86 Midas), Eric Paley (Former Midas).
But in the tech mecca of Silicon Valley, Chris Dixon is best known for his personal blog, which he launched in 2009. In his blog, he shares his entrepreneurial strategy advice, personal thoughts and thoughts on big technology. His blog is still active today, and highlights include a warning to the entertainment industry about Apple TV in 2011 and an opinion on defending NFTs a decade ago.
While Chris Dixon has publicly stated that New York's tech scene will eventually take off, he's investing so far from California that it feels like he's on the sidelines.
Fortunately for him, founders Marc Andreessen and Horowitz, the loudest and most disruptive of venture capital, are avid readers of Chris Dixon's blog and invited him to join them in the West.
Chris Dixon remembers thinking, "This is how I can make a difference, I can go and find my next career and be in it."
As for Chris Dixon's so-called cutting-edge or "moonshot" investments, these have led him to invest in Facebook-acquired virtual reality startup Oculus, drone company Skydio, and cryptocurrency company Ripple.
Chris Dixon got the chance to support Coinbase with his reader Brian Armstrong (Coinbase co-founder) through an investment in 21.co, a bitcoin mining startup founded by former a16z partner Balaji Srinivasan.
Brian Armstrong said the three of them talked for four hours in 2013 and found common ground on the regulatory compliance of cryptocurrencies. In December of the same year, Chris Dixon led Coinbase's Series B round, joining a collective of investors that included investor Garry Tan (No. 28 Midas) and USV partner Fred Wilson (No. 73 Midas).
Brian Armstrong told Forbes in an email that Andreessen Horowitz was the only company to refinance every funding round for the next few years, including the "next round" at a lower valuation financing.
Chris Dixon has proven helpful in everything from securing board members and banking partners to advocating for Coinbase to add support for trading Ethereum and other non-Bitcoin assets.
Brian Armstrong said: "I can confidently say that a16z is the most influential investor in Coinbase. Chris has a unique ability to see things around the corner, especially when it comes to technology and what to build next when. "
In 2018, when Chris Dixon was working full-time on cryptocurrency investing through a16z's first fund, they planted the first high-profile banners in this nascent space.
Today, Dixon and his team face increasing competition—both from general-purpose venture capital firms that allocate more resources to cryptocurrency investments, and from specialized competitors, such as another one from Coinbase. Paradigm, co-founded by founder Fred Ehrsam.
Further reading:Beyond the scale of a16z, Paradigm announces the establishment of the largest "$2.5 billion" cryptocurrency venture fund in history
But Chris Dixon's dedication to cryptocurrencies, and his willingness to persevere through the downturn, still carries a unique weight. Uniswap is a mainstream decentralized exchange supported by Chris Dixon during the A round (one round after Paradigm). Its CEO Hayden Adams said that Chris Dixon has the ability to connect traditional technology, the financial world and cryptocurrencies, as evidenced by his hire of the chief operating officer from Black Rock and the VP of engineering from Snap.
Dapper Labs CEO Roham Gharegozlou believes that Chris Dixon predicted the rise of NFTs. His company created CryptoKitties among the first digital collectibles on the Ethereum blockchain, and Chris Dixon snatched Kitty No. 15 at the time. "Chris saw the industry before it started," Gharegozlou said.
Such credentials are invaluable in an industry that values ​​early adoption and conviction.
It also means that if Chris Dixon wants to, he can go out on his own and easily raise billions for his company. Katie Haun, a partner at Haun Ventures, for example, recently left the firm and raised a $1.5 billion personal general partner fund.
Further reading:Katie Haun announces she will be leaving a16z!Start a cryptocurrency venture capital firm early next year
For now, Chris Dixon and his colleagues and friends insist that he has no interest in starting his own business.
"Being independent is not what drives my work. For me, the next three years could be a golden period for[cryptocurrency]. So I really don't want to spend the next two years setting everything up, recruiting a team, and stuff like that. Instead, multiple sources told Forbes that Chris Dixon and a16z have been telling investors that they plan to eventually fold the a16z cryptocurrency back into the company's central fund.
Sources said the move is significant and reflects broad buy-in of Web3 across the company, a strategic (and ubiquitous) focus on cryptocurrencies that cannot continue to be isolated from one fund. A spokesman for Andreessen Horowitz declined to comment on the rumor.
Getting cryptocurrencies more widely into the mainstream is something Chris Dixon himself is grappling with. Last September, Chris Dixon caused a stir with a Twitter thread detailing "why Web3 matters."
Confronting Jack Dorsey
In December of the same year, his advocacy for Web3's promise of a decentralized web and more direct user ownership (which he believes is currently missing from "Web2" web companies like Facebook or Twitter) brought him to Twitter. The sight of co-founder Jack Dorsey.
Jack Dorsey, who was no longer Twitter's CEO at the time, tweeted: "You (a16z) are a fund determined to be a media empire that cannot be ignored…not Gandhi." He believes that Web3 will still be used by individuals Owned, but this time the owner is VC.
The spat ended with Andreessen blocking his fellow billionaire on Twitter; Chris Dixon didn't, but he blocked everyone else.
Dixon now says he's "probably overreacting," citing a popular Twitter phrase: Twitter's game isn't about being the protagonist of its day, and in this case, he loses.
Colleagues said Chris Dixon was bitter about such attacks, and he was fighting online personalities on behalf of influential entrepreneurs. "I think he can be a little gruff or stuffy at times, but it's really with the best of intentions," said Arianna Simpson, a16z cryptocurrency partner.
Chris Dixon now offers a more measured view of Jack Dorsey, and any other tech leader questioning Web3's potential for decentralization. My response was, "Hey, great, come join us and help us solve these problems".
In contrast, I feel like there's going to be that kind of situation where grenades are thrown from the side (at me). he said.
It's hard for the world's No. 1 investor to cry out that you're at a disadvantage, but Chris Dixon insists that when people claim that cryptocurrencies are "just a gamble for the tech brothers to get rich," the industry and its potential Just misunderstood.
Chris Dixon plans to spend more time in Los Angeles this year meeting with tastemakers and creators in the entertainment industry, touting Web3's potential for more direct ownership of content, and then bringing musicians and others to Washington, D.C., to help win over policymakers support.
Of course, this wider acceptance of cryptocurrencies will only increase the value of the sizable portfolio that Chris Dixon owns. But he insists that simply pushing for Midas-style returns isn't the only goal.
"We're a VC, and I don't want to pretend we're not a VC. But I would say I'm motivated because I think (Web3) is a really important movement, and I want to have an impact on it, and I'm a big believer in it."
he said.
📍

Related reports

📍
Jack Dorsey has been blocked by Web 3, open a16z!
Insider trading?Bloomberg: Before the Yuga Labs M&A announcement, a lot of people swept Meetbits; BAYC is near an all-time high
Opinion | So a16z is monopolizing NFTs?Investing in OpenSea and making a historic acquisition by Yuga Labs
Make the Telegram news channel of the dynamic zone powerful again! ! Join now to get first-hand blockchain, cryptocurrency news coverage.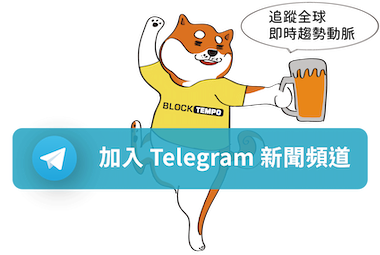 LINE and Messenger serve you from time to time


related news