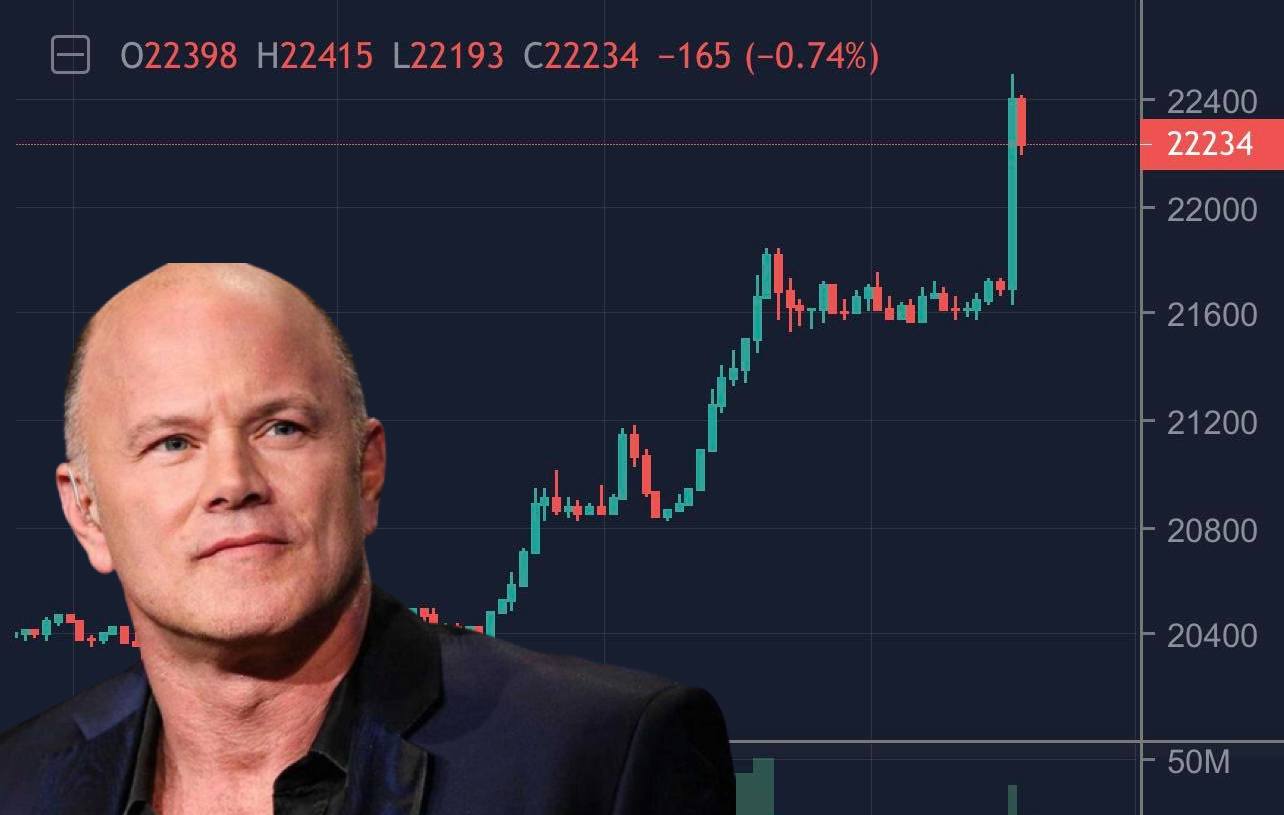 Bitcoin (BTC) reached as high as $22,527 this morning, challenging its previous high in June. The founder of Galaxy Digital pointed out that the deleveraging progress of the cryptocurrency market feels 90% complete. Bloomberg analyst McGlone also said that from the data point of view, BTC may be close to the bottom. (Recap:Bitcoin volatility warning | CryptoQuant: BTC rose 4% recently, and futures open interest increased rapidly) (background supplement:Bloomberg: Voyager Digital goes bankrupt, users shouldn't expect to get all their cryptocurrencies back)
CompareBitcoin (BTC) has continued to fluctuate within a narrow range since it reached the $20,000 mark on Wednesday (6th). ) at around 4:00 a.m., challenged the previous high in late June again, reaching a maximum of $21,838, breaking through the 22,000 mark and reaching $22,527 before the deadline, an increase of 8.06% in the past 24 hours.
Ethereum is also incentivized, and is now at $1,261, up 6.79% in the past 24 hours.
Founder of Galaxy Digital: Deleveraging progress is 90% complete
In an interview with CNBC yesterday, Mike Novogratz, founder of Galaxy Digital, a well-known cryptocurrency investment management agency, said that the progress of deleveraging for cryptocurrencies feels 90% complete, but he said that the cryptocurrency market may still continue to fall, and pointed out that the price of Upswing requires more narrative and new capital to come in.
"Can we go lower? Of course we could. It feels that we're 90% through that deleveraging," says @novogratz on #crypto. "The problem is for you to go much higher, you need the narrative to go much higher and you need new capital to come in." pic.twitter.com/aoWFcorWhX

— Squawk Box (@SquawkCNBC) July 7, 2022
Young Ju, CEO of on-chain analytics service CryptoQuant, tweeted earlier that I have not seen any indicative BTC on-chain activity in the past seven days. He believes that if on-chain data continues to remain stable, the Bitcoin market will not be affected as much by sell-side liquidity.
I haven't seen any significant #Bitcoin on-chain activities for the past 7 days.

Who knows the future but at least, the $BTC market is safe from sell-side liquidity as long as on-chain is quiet.

— Ki Young Ju (@ki_young_ju) July 6, 2022
Further reading:Glassnode report: 2022 is the "most destructive bear market" in the history of cryptocurrency! BTC's single-day net loss hit a new high
Bloomberg analyst McGlone: ​​Bitcoin may be nearing the bottom
Bloomberg senior commodities analyst Mike McGlone also tweeted earlier that he thinks data from the Bloomberg Galaxy Crypto Index, as well as bitcoin's position in the 50-week and 100-week moving averages, has Showing signs similar to the 2018 bear market bottom.
With the Bloomberg Galaxy Crypto Index nearing a similar drawdown as the 2018 bottom and #Bitcoin's discount to its 50- and 100-week moving averages similar to past foundations, risk vs. reward is tilting toward responsive investors in 2H.

— Mike McGlone (@mikemcglone11) July 6, 2022
IMF chief: The outlook is clearly bleak, does not rule out a global recession next year
But at the same time, Kristalina Georgieva, president of the International Monetary Fund (IMF), warned on the 6th that the global economic outlook has become significantly bleak, and the possibility of a global recession next year cannot be ruled out, and predicted that the IMF may Global growth forecasts for this year were revised down next week after Bank of England Governor Andrew Bailey also warned that the outlook for the global economy has deteriorated significantly and further shocks are possible.
As cryptocurrencies receive more and more attention, many corporate investors, hedge funds and other institutional investors are also rapidly increasing their interest in the crypto market. In the future, if the overall economic environment falls into recession, cryptocurrencies may not escape the downward pressure.
📍Related reports📍
Bloomberg: Voyager Digital goes bankrupt, users shouldn't expect to get all their cryptocurrencies back
The Wolf of Wall Street | Jordan Belfort: Bitcoin is a long-term hedge against inflation, I will be shocked if it doesn't make money in 3-5 years
Short Comment | MicroStrategy CEO: Shareholders should not worry unless Bitcoin falls by 95%; the number of addresses holding 1 BTC reaches 873,000 "all-time high"