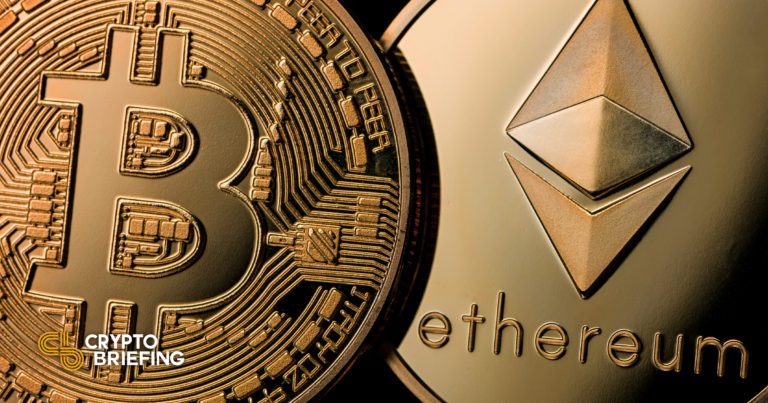 key takeaways
Bitcoin and Ethereum are up more than 4% in the past six hours. The gains coincided with news of a contraction in the U.S. economy. BTC and ETH are now trading near key resistance levels.
share this article
Bitcoin and Ethereum, the top two cryptocurrencies by market capitalization, appear to have entered a new uptrend despite news that the U.S. economy has entered a so-called "technical recession."
Bitcoin and Ethereum move higher
Bitcoin and Ethereum have made notable gains in the past few hours following the release of the latest U.S. GDP data.
The total cryptocurrency market capitalization added about $40 billion after reports that the U.S. economy contracted for the second straight quarter. The Bureau of Economic Analysis confirmed that U.S. gross domestic product (GDP) fell at an annual rate of 0.9%.
With the U.S. economy now technically in recession, Bitcoin seems to be in the spotlight. The market cap of the flagship cryptocurrency has risen by more than 900 points since the release of the GDP data. Now that Bitcoin's bullish momentum has been confirmed, the top cryptocurrency is showing early signs that it wants to move higher.
Tom DeMark (TD) Sequential is showing a sell signal on the four-hour chart. BTC is showing strength near $24,000, despite a bearish signal expected to see a retracement to $23,260 or even $22,690. A four-hour candlestick close above this key resistance area could invalidate the short-term bearish outlook and lead to a rise to $25,500.
Likewise, Ethereum has gained nearly 7% in price over the past six hours. The uptick took ETH above an important area or resistance at $1,650. Now, TD's $1,750 risk line appears to be the next hurdle that ETH must overcome to move further.
A decisive four-hour candlestick close above $1,750 could generate enough bullish momentum to push Ethereum above $1,830 or even $1,900. Nonetheless, ETH must remain above $1,680 to validate the bullish thesis. Failure to do so could spark a spike in profit-taking that could push Ethereum back to $1,600 or even $1,550.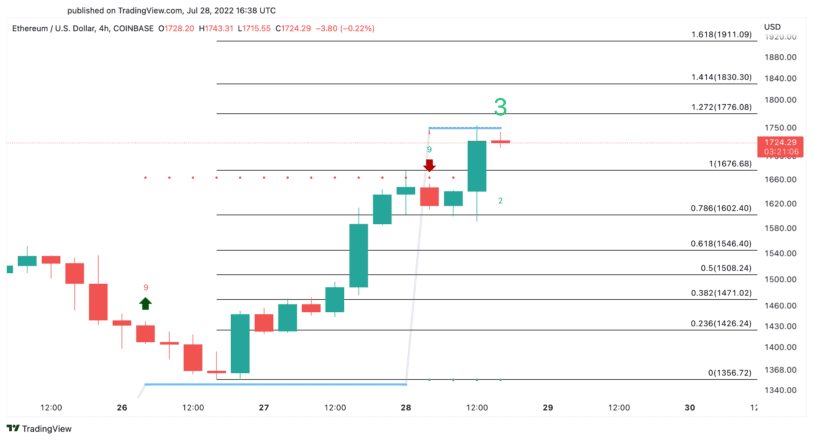 While macroeconomic conditions continue to deteriorate, market participants may consider the latest US GDP data to be priced in. Negative growth could also force the Fed to move to more accommodative monetary policy sooner than expected. Despite so much uncertainty in the global economy, crypto assets appear to be finding strength in the short-term recovery.
Disclosure: At the time of writing, the author of this article owns BTC and ETH.
For more key market trends, subscribe to our YouTube channel and get weekly updates from our Chief Bitcoin Analyst, Nathan Batchelor.
share this article