key takeaways
Bitcoin and Ethereum are down more than 8% in the past 48 hours. A technical indicator suggests that both assets could rebound soon. Nonetheless, the high level of optimism among traders suggests that a bear squeeze may be on the horizon.
share this article
Bitcoin and Ethereum have reached important support levels, gathering enough liquidity for a potential rally. In the longer term, however, a long squeeze appears to be underway.
Bitcoin, Ethereum on shaky ground
Bitcoin and Ethereum could rebound soon, but the level of optimism among traders could spell trouble.
Bitcoin has lost more than 4,000 points in value over the past 48 hours. The April 21 rejection of the $43,000 resistance level led to the latest correction. Nonetheless, Bitcoin appears to be poised to bounce off the support.
The Tom DeMark (TD) serial indicator is showing a buy signal on Bitcoin's four-hour chart. The bullish pattern developed into a red nine candlestick, which indicates a one to four candlestick rise. A surge in buying pressure near current price levels could help validate the bullish outlook leading to a move towards $40,650 or even $41,200.
Notably, Bitcoin must hold $39,400 as support for the bullish thesis to be validated. Failure to hold above this important support level could lead to a steeper correction as the following important demand areas are located at $38,500 and $37,300.
Ethereum also appears to be gathering momentum for a bullish impulse after retracing more than 8% in the past 48 hours. As long as the asset continues to trade above $2,950, it has a chance to bounce back. The TD Sequential indicator supports the bullish outlook and issued a buy signal on the four-hours chart of Ethereum.
Ethereum's market cap could rise by more than 150 points if buy orders increase around current price levels. A decisive close above $3,100 could lead to further gains with losses at $2,950 as support could take the asset down to $2,880.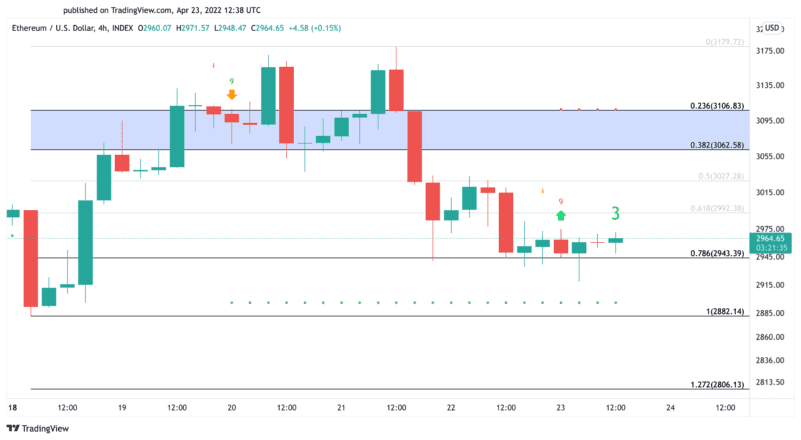 While the technicals point to a near-term future rally, the current level of optimism can be seen as a warning sign.

On Binance, about 77% of all Bitcoin positions are long. As of April 23, the BTCUSDT long-short ratio has risen to 3.32. Most traders on the leading exchanges expect prices to continue rising, which could create perfect conditions for a bull squeeze.
Disclosure: At the time of writing, the author of this article owns ETH and BTC.
share this article
Ukraine blocks bitcoin purchases in local currency
Citizens can now only purchase cryptocurrencies worth up to 100,000 UAH per month in foreign currency. Ukraine bans hryvnia for cryptocurrency purchases Ukrainians can no longer use hryvnia …
EU Officials Consider Banning Bitcoin Trading: Report
A document obtained through a freedom of information request reveals measures that EU officials are considering to help curb bitcoin's energy use. In addition to asking for top…
Vanguard to End Support for Grayscale Bitcoin and Ethereum Products
Vanguard customers may soon be unable to purchase both the Grayscale Bitcoin Trust and the Grayscale Ethereum Trust. This is the result of the company discontinuing its over-the-counter securities services, including…