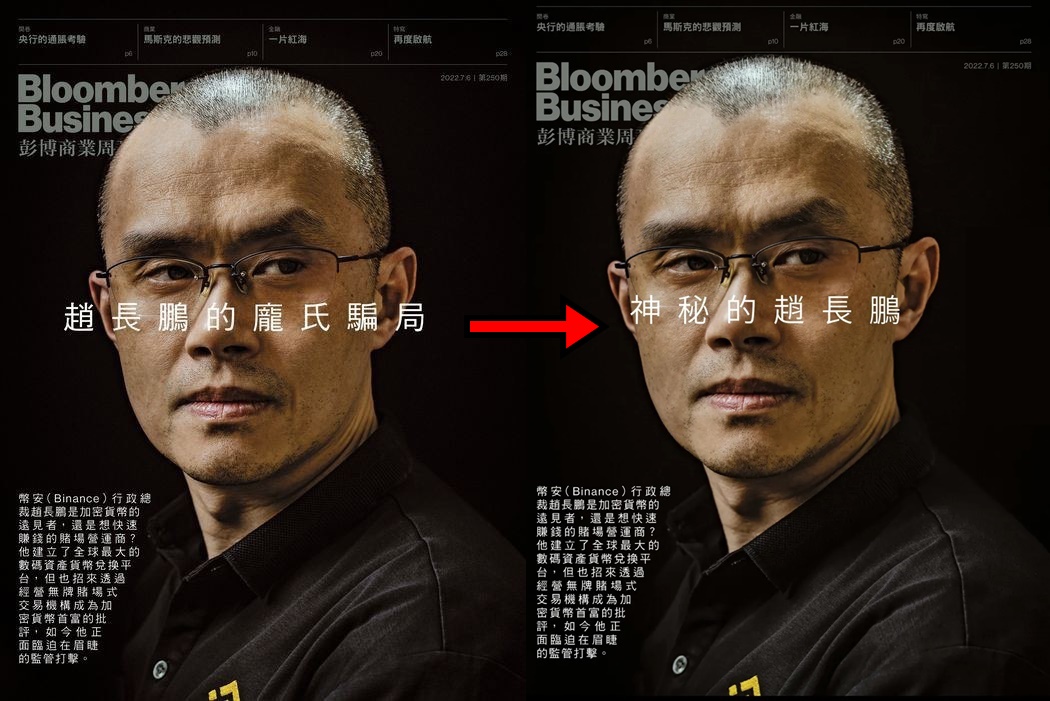 The 250th issue of the Chinese edition of Bloomberg Businessweek featured the founder Changpeng Zhao (CZ) as the cover character, and made a special report with the title of "Changpeng Zhao's Ponzi Scheme", which was later changed to "The Mysterious Changpeng Zhao". Expounds a series of controversies since Binance was founded in 2017, as well as explanations from Changpeng Zhao himself. So why exactly does Bloomberg describe Binance as a Ponzi scheme? The dynamic zone will take you to take a look today. (Recap:Bloomberg: SEC is investigating whether Binance BNB constitutes a securities sale; BNB slumps 5% in one hour) (background supplement:CZ: The crypto winter may last for 4 years, and Binance will expand investment; DCG CEO: The market has reached the "maximum pain")
PengThe 250th issue of the Chinese edition of Bo Business Weekly selected Changpeng Zhao (CZ), the founder of Binance, as the cover character. In the special article, he introduced a series of controversial events since the birth of Binance, and provided explanations from Changpeng Zhao himself. The title of the cover of the issue was changed from the original "Changpeng Zhao's Ponzi Scheme" to "The Mysterious Changpeng Zhao", which is quite intriguing.
According to the feature, Bloomberg Businessweek learned about Binance's corporate history through court filings, company filings, and interviews with more than 40 current and former Binance employees and business partners.
Further reading:Defeat Tai Chi Gate!Binance Strategically Invests $200 Million in Forbes Magazine to Help Develop Web 3 Infrastructure
Journalists can have two completely different narratives about the same thing, can't they?

You can say "this person escaped into a restaurant",

It can also be said, "He walked slowly into the restaurant and enjoyed the beauty of the sun."

——- Bloomberg Chinese Business Week 250
Argument 1: Binance is a huge garbage casino
Bloomberg described Binance as a giant junk currency casino, offering only a handful of mainstream stablecoins for trading compared to competitor Coinbase at the same time. An anonymous person told the weekly that Changpeng Zhao was aware of the speculative nature of cryptocurrencies, and he backed the dumbest tokens in the industry and encouraged people to buy them, just as people often say "Quick All in Dogs". Make a fortune."
The article states:
Binance grew by providing unregulated speculative trading for a number of smaller digital tokens (some of which were called altcoins or junk coins, the most famous one being Dogecoin, which was more than A joke, the total market cap is now $8 billion).

Binance has expanded from these types of transactions to highly leveraged financial products tied to the value of these tokens. These derivatives are illegal in many jurisdictions around the world, but this does not affect Binance itself as it is not based in any jurisdiction.
The topic also mentioned that Binance will hold various competitions, with prizes ranging from Lamborghini to Maserati, to encourage people to buy altcoins to make a fortune, the registration referral code also has a hierarchical system similar to direct sales, and even Binance Angels Volunteers such as promoting exchanges on Telegram, these are the marketing styles of Binance. But Binance spokesperson Jessica Jung said:
"These Binance Angels are not paid jobs, they are just unpaid, not for the sake of getting rich."
The article also pointed out that Binance's business model has potential conflicts of interest with customers. For example, newly listed tokens usually rise wildly, and the trading volume will skyrocket. Some people question that there are many insider trading. However, Jessica responded by saying that Binance employees must abide by a strict code of professional ethics and prohibit short-term trading, otherwise they will be fired.
According to previous reports from the dynamic zone, Binance announced the listing of Dogecoin in July 2019. With the rise of Shiba Inucoin, Shiba Inucoin will be listed in May 2021. As soon as the transaction opened, it attracted a large number of users to buy it, and even made Binance happen for a time. For the first time in history, there is a shortage of stored value addresses.
Further reading:WSJ broke the news: Gnosis suspected insider trading before listing on Binance! CZ: 0 tolerance, GNO-related wallets are not related to employees
Further reading:Binance has launched a rush to buy Shiba Inu Coin!For the first time in history, the supply of stored-value addresses is in short supply, CZ: Don't buy coins you don't understand
Zhao Changpeng said at the time that he did not hold or buy any Dogecoin or Shiba Inu coin, and Binance listing Shiba Inu Coin does not mean that Binance supports or even promotes Shiba Inu Coin, but only provides a neutral market for users who need it. It is recommended that users do not just follow the market boom and buy coins that they do not understand.
Argument 2: Binance lured investors into the Terra crash
The report also mentioned that Binance had encouraged customers to invest in a stablecoin called TerraUSD, which provided nearly 20% of annual income, saying it was both safe and high-yield. With the collapse of Terra, the $1.6 billion held by Binance has also returned to zero, but Changpeng Zhao doesn't care about it, saying that "I don't care much about money", and he has not issued a high-risk warning to customers before this.
Further reading:Binance's 1.6 billion magnesium Luna also returned to zero! CZ : 12 million UST has been pledged, which will support small investors to give priority to compensation
The article states:
As for the outcome, crypto enthusiasts know by now, and anyone who is accustomed to normal financial market laws will probably guess – Terra is neither safe nor high yielding. Critics point out that the token is a Ponzi scheme.
As a result, many investors who were exposed to Terra-related tokens from Binance were resentful, claiming that they had been misled by Binance about Terra-related risks, and filed a lawsuit claiming that Binance violated the law and failed to disclose appropriate investment risks.
But the report mentioned that Changpeng Zhao said when talking about Terra's collapse that, in fact, Terra's self-recovery ability surprised him, with no rescue measures, no central bank, and no government intervention. In other words, market crashes are the norm, and even so, the market will keep going.
After the Terra crash, spokesperson Jessica also responded by saying that Binance will begin evaluating how the token is promoted.
Argument 3: Decentralization? No office?In fact, there is a secret base in Shanghai
According to the report, Changpeng Zhao chose the popular entrepreneurial route of technology companies, ignoring government requirements at first, and then when it developed enough, he turned to deal with the government and began to lock in market share in a legal name.
Binance is a company registered in the British Virgin Islands as "Binance Holdings Ltd.", but the report believes that where the exchange is headquartered and who the actual owner is in time is a big question. The headquarters has moved to Dubai since last year. It is reported that he bought an apartment and a commercial vehicle, moved all the assets, and rented an office. Zhao Changpeng also praised his close relationship with the UAE government.
But the report said that in fact, in 2019, Binance once had its own office in Huangpu District, Shanghai:
Changpeng Zhao himself has been living a nomadic life, working in hotel rooms and rented apartments, and traveling frequently around the world, communicating with employees through text messages, emails and videoconferencing.

But former Binance employees say there was a time when Binance actually had a hidden home base. It wasn't easy to do so, not only because it went against the company's purported philosophy of being a decentralized organization, but also, The stronghold is in China, where trading in cryptocurrencies is officially banned.

While the Chinese government shut down the trading platforms of Binance's competitors, more than 100 of Binance's own employees clocked in at an office in Shanghai's Huangpu District every day, wearing bilingual work permits and sitting at traditional desks to go to work. Said that the company hired them under the name of Shanghai Ruique Culture Development Company, applied for work permits for them, and asked them to wear company logos carefully in public and not to tell anyone where they worked.
The special article wrote that until November 2019, after China issued a ban that shut down many cryptocurrency exchanges. Many employees were reassigned to co-working spaces across Shanghai or followed Changpeng Zhao to other countries. At that time, the cryptocurrency media The Block also reported that Binance had an office in China and was raided by the police.
Further reading:China|CZ Changpeng Zhao angrily refutes the news that "Binance Shanghai is being investigated by the public", Bithumb Shanghai is suspected of being "suspended"?
After it was reported that the Shanghai Huangpu District office was raided, Changpeng Zhao still denied that there was no police action, no raid, and no office. He said The Block's report was FUD and said he would prosecute, but Changpeng Zhao did not sue The Block later. Block . In this regard, when Bloomberg asked about the matter at the Four Seasons Hotel in Dubai, Changpeng Zhao did not deny the existence of the Shanghai office. He only said that reporters could adopt a completely different narrative about the same incident.
Argument 4: Seeking regulation, saying those scandals are a thing of the past
Now Binance has become synonymous with the cryptocurrency circle seeking legal regulation. Some countries have allowed exchanges to operate, but they are still blocked by some countries. The pursuit of compliance in the United States is even more bizarre to regulators.
In 2019, Changpeng Zhao established Binance.US in an effort to restrict the trading of high-risk products to meet U.S. legal requirements. However, Forbes reported that Binance.US is just a cover, mainly to prevent Binance's trading entities in the United States from being censored.
In this regard, Changpeng Zhao in Dubai said that the report was inaccurate at the time, but today the US SEC is still investigating the actions of Binance at the time. (Todd White) told Bloomberg:
These investigations are a consequence of Changpeng Zhao not taking compliance seriously, I know Binance is trying to build something, but AML rules are very important. When I urged Binance executives to take compliance seriously at a conference in 2018, I was rejected, and they were very dismissive.

-Todd White
In an interview, Changpeng Zhao in Dubai admitted that many mistakes in the past were the responsibility of the company, but those are all in the past. They have changed their practices since last year, and now they will not explain to the regulator why the unregulated large-scale Cryptocurrency exchanges are not a big deal.
We're not going to preach to them and change their minds about it, it's easier for us to change than to change them.

-Changpeng Zhao
According to previous reports from the dynamic zone, Binance is currently facing multiple investigations by the US regulatory authorities. In February this year, the SEC reported that it was investigating the relationship between Binance.US and two market makers suspected to be controlled by Binance founder Changpeng Zhao. In June of this year, the SEC also reported that it was investigating whether BNB constituted a securities sale.
📍Related reports📍
Seek national asylum!Binance Chuan wants to exchange "US$200 billion valuation" for sovereign fund investment, and Singapore is the first choice
Binance calls for listing in the US? SEC: Suspect "CZ controls two market makers", or investigate whether to pour water
Foreign media: US SEC launches "insider trading investigation" against cryptocurrency exchanges
The richest man in the currency circle, CZ, is the worst!Bloomberg: Zhao Changpeng's wealth evaporated 85.6 billion magnesium, and 500 rich assets evaporated 1.4 trillion