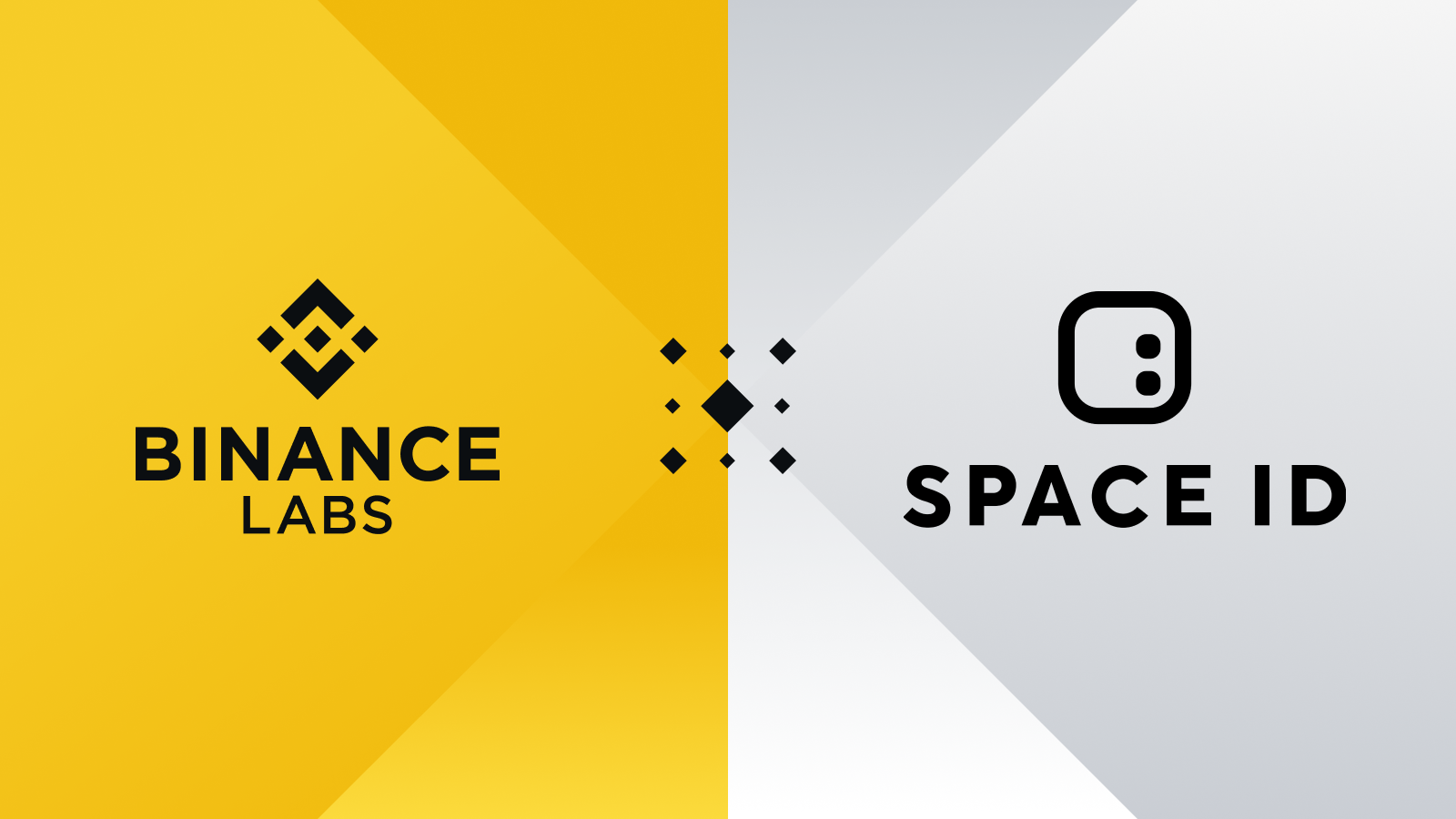 Binance Labs announced on the 2nd that it has led the seed round financing of SPACEID, a general domain name service provider. The funds will be used to allocate and upgrade the first .bnb domain name version of SPACE ID and assist it in the development of its upcoming cross-chain domain name. The current floor price of SPACE ID's .bnb domain name has soared to 0.2 BNB, and the total transaction volume has exceeded 4,700 BNB. (Recap:Binance announced: LUNC, USTC deposits and withdrawals on Ethereum and other networks will be suspended indefinitely from 9/7)
CompleteBinance, the world's largest cryptocurrency exchange, issued a press release announcing on the 2nd that Binance Labs, the venture capital and incubation arm of Binance, has led the seed round of financing for generic domain name service provider SPACEID. SPACE ID is a universal domain name service network capable of connecting people, assets and dApps across different blockchain networks.
Welcome @SpaceIDProtocol to the #Binance Labs Family! 🎉

SPACE ID is a universal naming service network that connects people, assets, and dApps across different blockchain networks. https://t.co/fE1HuSpamf

— Binance Labs Fund (@BinanceLabs) September 2, 2022
Introduction to SPACE ID
Binance said in a press release that the SPACE ID project is building a decentralized, censorship-resistant, open-source common domain name standard, a network of domain name services that allow users to use a human-readable domain name to indicate that they are in all individual domains. Identity in DApps and Blockchains.
Each domain name service is developed around the following properties:
Generic username with cross-chain interoperability A decentralized identity ad hoc oracle chain based on a Single source of truth (SSOT) system designed to enhance scalability and usability
According to Nicola W of Binance Labs' investment team, SPACE ID is building a common domain name standard and software development kit (SDK) that not only brings flexibility and simplicity to users' Web3 interactions, but also bridges the gap between Web2 and Web3 applications , Binance looks forward to working closely with SPACE ID to promote Web3 domain name services and further develop the BNB ecosystem.
.bnb domain name deals are hot
Binance pointed out that in August 2022, the first version of SPACE ID was officially launched, and the pre-registration of .bnb domain names was opened at the same time, providing standard domain name identification services for developers on the BNB Chain chain. So far, there are multiple .bnb Domain names are auctioned on the Binance NFT marketplace, and there are currently over 19,000 .bnb domains registered.
According to Element.market data, the current floor price of SPACE ID's .bnb domain name is 0.2 BNB, which is equivalent to 55 US dollars at the current price of BNB of 275 US dollars; in addition, the average price in the past 24 hours is 2.986 BNB, and the total transaction volume is 4700 BNB (currently nearly 1.3 million US dollars), the number of collectibles is 23,500, and the number of holders is 9,500.
SPACE ID officially announced on Twitter earlier that the .bnb domain name pre-registration activity has attracted a total of 8,984 participants, with a total of 23,518 registered domain names, and SPACE ID will begin to allocate bidding revenue (1019 BNB) on September 14. to domain name holders.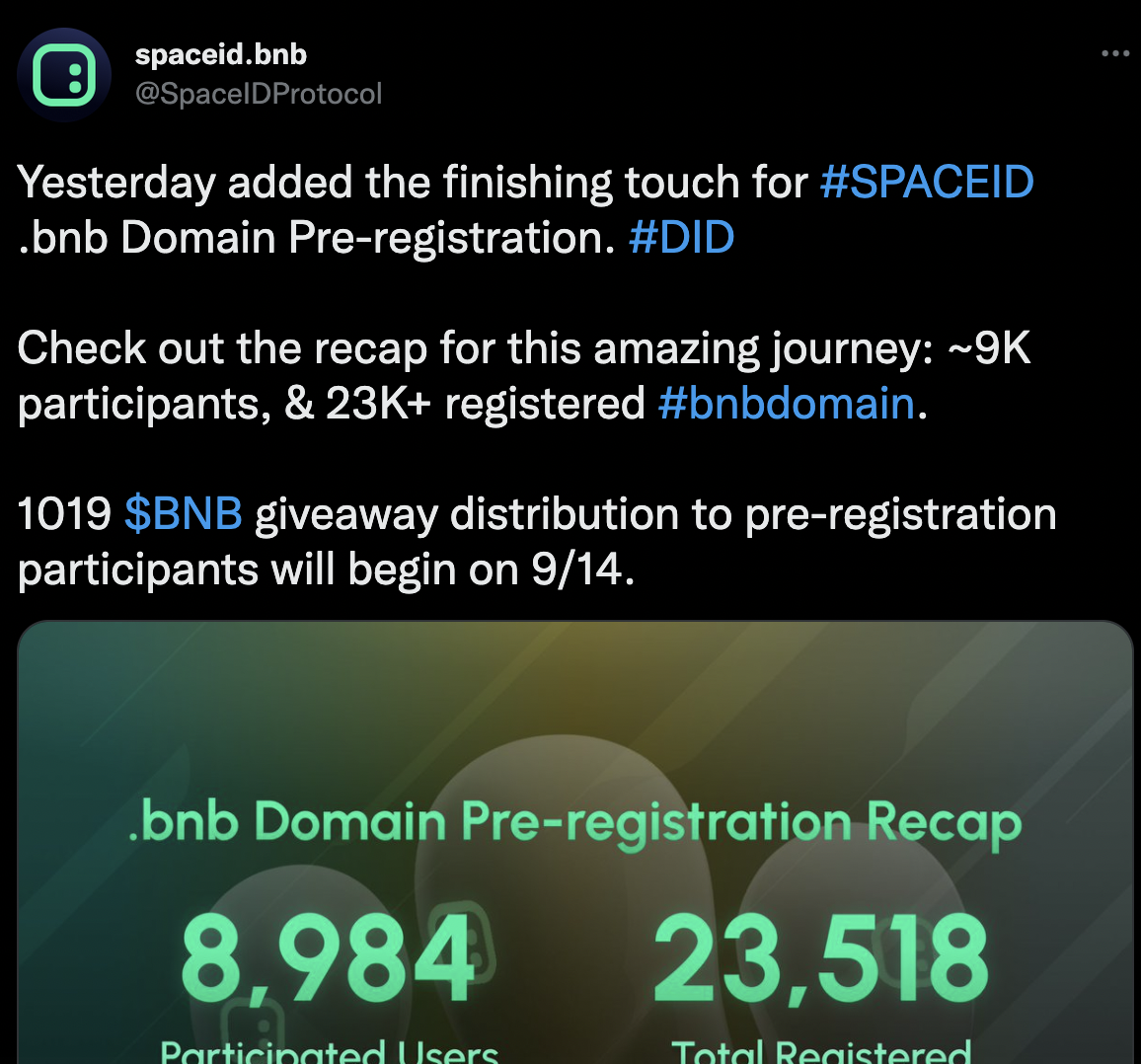 📍Related reports📍
Changpeng Zhao refutes the rumor: Chen Guangying is not the operator behind Binance, and Binance is not a Chinese company
Binance Freezes Assets of Founder of Arms Dealer Lobaev "Supporting the Invasion of Ukraine"; EU imposes 8th round of sanctions on Russia
Binance Announces Zero Handling Fees for ETH/BUSD Spot Before 9/26! Daily trading volume has overtaken ETH/USDT