Bitcoin trades in tight range as BTC price swings above $30k – May 16, 2022
Since May 12, BTC/USD has been consolidating above the $29,000 support as the BTC price fluctuated above $30K. Over the past week, Bitcoin has been fluctuating between the $27,900 and $32,000 price levels. The biggest cryptocurrency is yet to come.
Bitcoin Price Now – $30,348.87 Bitcoin Market Cap – $577,013,252,162 Bitcoin Circulating Supply – 19,042,012.00 Bitcoin Total Supply – $636,593,413,130 Bitcoin Coinmarketcap Ranking – #1
Resistance: $50,000, $55,000, $60,000 Support: $40,000, $35,000, $30,000
Since May 11, buyers and sellers have failed to control price action. On May 13, Bitcoin attempted to rally but was stuck at the $32,000 resistance level. Likewise, on May 12, BTC price fell sharply to a low of $26,591, but the bulls bought the dip. Neither bulls nor bears have the upper hand, hence the current range-bound move. As a result, Bitcoin was forced to fluctuate between the $27,900 to $32,000 price level. The coin is trading in a tight range as it continues to swing above the $29,000 support. On the downside, if the bears break below the current support, the market will drop to a low of $26,000. On the upside, a price rally above the current support will take Bitcoin to the psychological price level of $40,000.
Public opposition to 'slave coins' as ECB unveils 'anonymous' digital euro
The ECB has launched another working paper on a digital euro after the previous one drew more anger. This working paper provides an extensive technical analysis of a potential European CBDC and its place in the existing financial system. This working paper will address issues of financial intermediation, payment choice, and privacy in the digital economy, providing a number of relevant algebra-based conclusions. Based on public feedback, many Europeans oppose the adoption of CBDCs in the EU. They reject the idea of ​​a central bank-controlled digital currency and its associated lack of user privacy. They refer to CBDCs as "slave coins," opposing the "digital slavery" such financial instruments could introduce.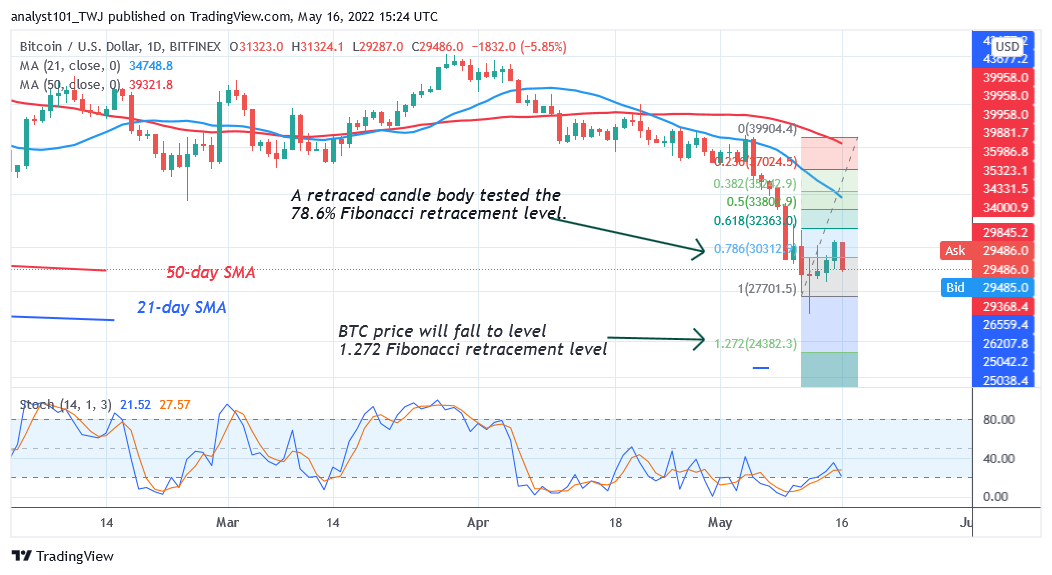 Meanwhile, Bitcoin is range-bound as the BTC price fluctuates above $30,000. On May 15, Bitcoin reached a high of $31,500, but was repelled at the $32,000 resistance. Yesterday, the market fell to $29,070, but the bulls bought the dip. Meanwhile, the May 12 downtrend; a retraced candlestick body tested the 78.6% Fibonacci retracement level. The retracement points to a further decline in Bitcoin towards the 1.272 Fibonacci extension or $24,382.30.

Want to buy or trade Bitcoin (BTC) now? Invest in eToro!
68% of retail investor accounts lose money when trading CFDs with this provider
Read more: • How to Buy Cryptocurrency • How to Buy Bitcoin