BTC Price Consolidates Sideways As Bitcoin Holds Above $40K – April 17, 2022
The price of Bitcoin (BTC) has started a series of sideways moves as Bitcoin remains above $40,000. BTC/USD is range-bound between $39,223 and $41,500. The price of BTC is now consolidating in the middle of the price range. Since April 14, price action has been characterized by small candlesticks called dojis.
Resistance: $70,000, $75,000, $80,000 Support: $50,000, $45,000, $40,000
Bitcoin's selling pressure has subsided since April 11, falling to a low of $39,223. Bitcoin has been trading above the psychological $40,000 level for the past week. The cryptocurrency is not trending up and the price has been stable above the current support. This is because price action is characterized by small candlesticks called dojis and spinning tops.
The appearance of these candlesticks will force the BTC price to stabilize above the current support level. Price volatility has been minimal. These candlesticks indicate that buyers and sellers have not yet decided where the BTC price is headed. However, if the bears break the $39,000 support, the market will fall to the $37,000 low. Furthermore, Bitcoin will resume its uptrend if the price rebounds above the current support and breaks above the $41,500 high.
El Salvador's Bitcoin Beach Project
Mike Peterson is one of those who funded the Bitcoin Beach project and encouraged residents to adopt cryptocurrency. On 60 Minutes of CBS News, reporter Sharyn Alfonsi interviewed Mike Peterson about the Bitcoin Beach project. According to a report, a crypto-friendly zone in El Zonte is a village located in El Salvador where residents and tourists can use Bitcoin (BTC) to pay for anything like utility bills.
According to the chamber of commerce, about 90 percent of companies say that adopting bitcoin will have little impact on sales. Additionally, only 14 percent of respondents to a survey said they had transacted with BTC since El Salvador's Bitcoin law came into effect. At the same time, this has not stopped the country from making progress in Bitcoin's lows. There is another report on the creation of Bitcoin City, a project funded by BTC bonds and powered in part by volcanic geothermal energy.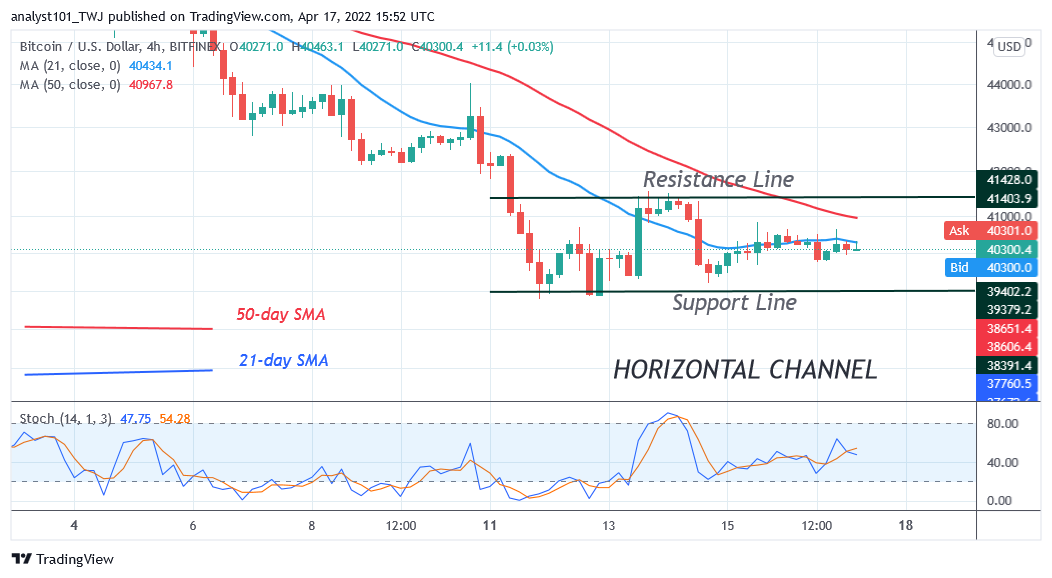 Meanwhile, Bitcoin continues to consolidate above current support levels as it remains above $40,000. BTC price action is insignificant due to the small candlesticks. As the market continues to consolidate, expect the price to rebound or collapse.
Want to buy or trade Bitcoin (BTC) now? Invest in eToro!
68% of retail investor accounts lose money when trading CFDs with this provider
Read more: • How to Buy Cryptocurrency • How to Buy Bitcoin