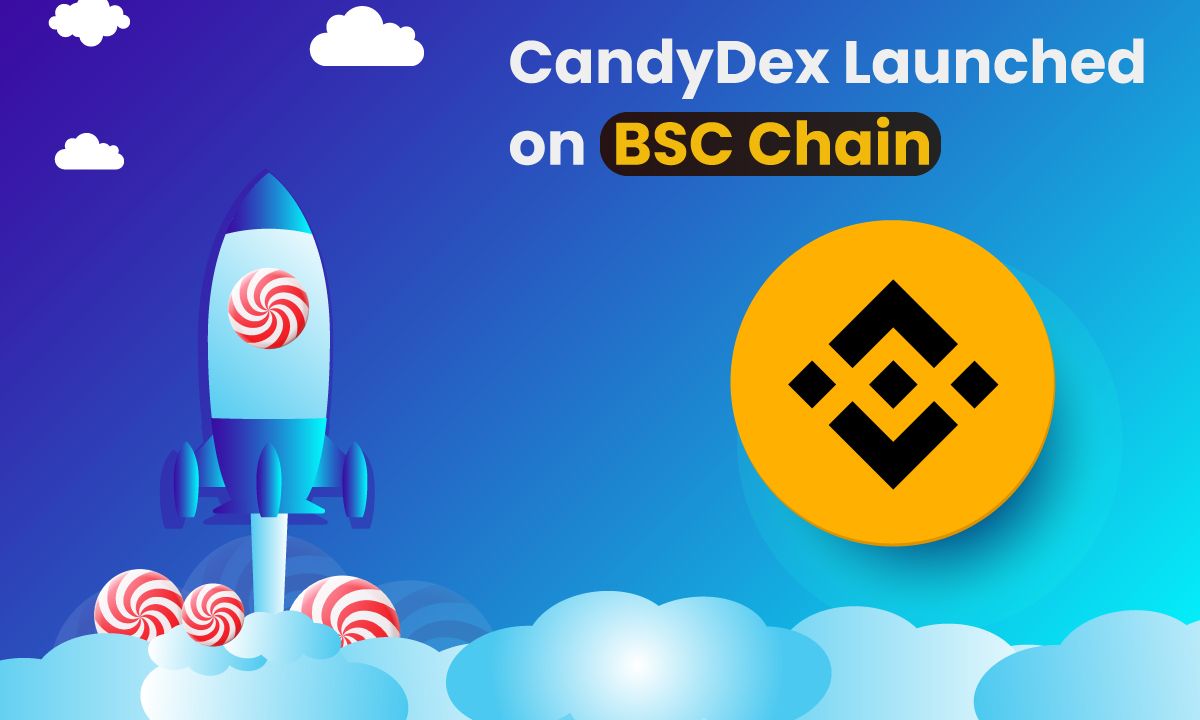 CANDYDEX Token has been announced on Binance Smart Chain with a new airdrop worth up to 1 million tokens.
Dear CANDYDEX Community,
After successfully completing the CANDYDEX IDO Sale Round-1. After months of construction and planning, today we are very excited to announce that we will be running a new happy airdrop for CANDYDEX tokens starting July 26, 2022.
As planned in our roadmap, we are currently working on a second round of AirDrop activities. This is to help grow our CANDYDEX community and reassure our members that the project is on track and can be trusted.
In fact, this is one of the best projects ever, and its goal as a unique asset to the DEX platform will lead CANDYDEX directly to Mars, not the moon.
We are launching the CANDYDEX token on the BSC chain, so it is a pleasure to conduct a CANDYDEX BSC airdrop for existing and new customers.
This is your chance to be a pioneer to be part of the adventure right from the start. This is also an opportunity to benefit for free before the CANDYDEX token is listed, which will be listed on secondary exchanges such as OKEx, Bitfinex, Probit, Indoex, etc. in September next year.
To attend our AIRDROP event, simply join and register here and follow the instructions below.
Users in the first round will receive 100 tokens at a price of $50, and buyers and new participants in the second round will receive 50 tokens at a price of $25.
claim your airdrop
Open our website airdrop page and connect Join our Telegram channels and groups and mention your username in the form Join us on Twitter and retweet any of our tweets and mention your Twitter username in the form Join us Instagram and mention your user Instagram name in the form to join our medium and become our follower. Enter your BSC chain address in the form and click Claim Tokens, you will get your CANDYDEX airdrop tokens in a few minutes.
What is AirDrop and why do we need it?
An airdrop is a free distribution of tokens to everyone (in limited quantities, of course). In our case, their goal is to fully popularize our token. The purpose of our AirDrop is to increase the popularity of tokens, which will help them get listed on major exchanges.
Why is it good for you?
You can get free tokens which you can then sell or exchange for other coins like Bitcoin, USDT, Ethereum and others
How many tokens will you receive?
Users in the first round will receive 100 tokens at a price of $50, and buyers and new participants in the second round will receive 50 tokens at a price of $25
How much does each CANDYDEX cost after going live?
After pre-sale, 100 CANDYDEX tokens will cost $100 – $300
Airdrop Duration Details
Participation time: 14:00 UTC July 26 — 14:00 UTC August 16 (20 days)
We can say that what you are seeing today is just the beginning of what will happen in the coming months. We wish everyone the best of luck in the sale of CANDYDEX IDO and thank you for all the support you have given so far.
Here you can find more information about CANDYDEX tokens
Official | Telegram Channel | Telegram Official | Twitter Official | Instagram Official | Medium Official | CandyDex Airdrop
Disclaimer
All information contained on our website is published in good faith and for general information purposes only. Any action taken by readers with respect to the information on our site is entirely at their own risk.