Entering 2021, "Leader Capital" has disappeared, and LD CAPITAL has begun to appear frequently in the financing news of various projects. The investment style remains aggressive, but this time it is slightly different. (Recap:Hasu talks to Su Zhu of Three Arrows Capital: How do sovereign individuals and cryptocurrencies deconstruct nation-states?) (event background:Character Story | a16z Legend: Media who don't want to be an agent are not good VCs, take a look at a16z's new way of supporting)
"Look, how beautiful this picture quality is in "BIG TIME"!"
The investor sitting on the opposite side showed the test video and introduced it in Mandarin Chinese with a Hunan accent.
The investor is Yi Lihua, the founder of LD CAPITAL.
With LD CAPITAL capturing many Alpha projects in this bull market cycle, Yi Lihua has also become the "Boss Yi" in everyone's mouth.
"Unbelievable", a Shanghai traditional investor who had contact with Yi Lihua commented on his experience, "A few years ago, Yi Lihua was still "pimping", at that time he was just a little brother on the basketball court, and he didn't want to change his body. I became a "big guy in the currency circle", and then I heard that they were dying in the bear market of the currency circle, but I didn't expect to make a comeback."
From a poor boy in rural Hunan to today's "VC boss", Yi Lihua's life trajectory vividly explains what is the blockchain revolution under the opportunity of the times. He also took off with him and founded LD CAPITAL.
Starting from $500,000 and without external financing, LD CAPITAL invested in hundreds of projects within four years, and quickly increased its asset size to over one billion US dollars, but it has been questioned and controversial.
Deep Tide TechFlow communicated with the founder of LD CAPITAL and several investment managers, trying to restore the growth trajectory of LD CAPITAL and the secrets behind its savage growth.
Sprouts and setbacks
"My life is completely devoid of moisture. You don't know how difficult it was in the past. I took a bad hand to come to this day, and I have a big dissatisfaction in my heart."
In September 2018, Yi Lihua said this when he returned to Loudi, Hunan, and donated money to establish the "Teaching Assistant Scholarship" at Xinhua No. 1 Middle School, his alma mater.
"I am a rural child with nothing. I have longed to get rid of that world since I was a child. I came to Shanghai to study at a university, and started a business in the university. From being cheated all the way, to earning the first pot of gold, to classical investment, those are not what I thought. I want the world until the blockchain gives me a weapon, and that desire sustains me."
This is a glimpse of Yi Lihua's life in the first half of his life.
Three opportunities to change your life.
In 2013, the municipal government of a certain place was attracting investment. After Yi Lihua got the news, he searched all the business owners he knew in Shanghai, selected 60 people from 400 people, and then helped them fill in the declaration of more than 40 pages. Materials, covering all aspects of technology, teams, and business models. In the end, 20 people applied successfully, and Yi Lihua earned the first 5 million in his life.
In 2015, I first learned about Bitcoin. Yilihua invested one-third of its assets into BitSE for mining, when a bitcoin was only 1,000 yuan.
At the end of 2016, the "Aisio" boom. Yilihua invested 100,000 yuan to participate in the angel round of Qtum Chain financing, and won 100,000 Qtums. In May, Qtum was launched for trading, and the price quickly soared to 100 yuan, reaching a maximum of 600 yuan at one time, earning Yilihua a hundred times the income. Since then, he has successively participated in the financing of many projects such as Vechain and EOS, and has achieved a lot.
Through "Aisio", Yilihua obtained the "first pot of gold" in the true sense. In January 2018, as a continuation of personal investment, Yilihua officially established the Crypto Fund LD CAPITAL.
From the first day of its establishment, Leade Capital has been very topical and controversial.
On the one hand, the online quarrel between Yilihua and the encrypted OG attracts countless attention; on the other hand, the investment of the capital is too aggressive and high-profile.
In the first ten months of its establishment, Leade Capital has invested in more than 80 projects.
GRE, Bitget, Bitgogo, Citex, Lbank, MEXC, BHEX, GGBTC, Coinsuper, BiLaxy… A terrific portfolio with tons of exchanges.
It is reported that Yi Lihua also got the opportunity to participate in Binance's earliest investment, but because of a few words of advice from friends, he did not personally DD (due diligence), and finally voluntarily missed it.
Or the regret of missing Binance, or the long-term optimism of the track, which has caused Yi Lihua to have an exchange scene.
In addition, Leade Capital continued Yilihua's investment style during the "Aisio" boom, and quickly invested in a large number of "domestic projects".
In an exclusive interview with Chain Catcher in 2018, Yi Lihua talked about the investment logic – "Do not define any project, just look at the speed of evolution". At the same time, he also introduced the investment decision-making process of DeCapital, and bluntly said, "The investment decision-making time is very short. Which project everyone thinks is good, if there is no problem in the discussion, you can invest immediately, and you can make a decision in one day."
At that time, both Leder Capital and Yi Lihua were extremely high profile in the industry.
A typical scene is that on a certain day in 2018, Yi Lihua released a news about "Lead Capital's strategic investment in Haichain" in a certain media celebrity group. After the WeChat red envelope bombed the group, the long-silent blockchain media reporter And related practitioners have "sent blessings".
Quick decision-making, massive investment, and a high-profile style of behavior give a sense of capital presence.
However, the short-lived false prosperity was quickly overwhelmed by the bear market. When the "Aisio" bubble burst, a large number of projects fell below the issue price when they went online, and even the project side frequently ran away.
Angry investors began to investigate the backgrounds of various "Tugou project parties", and frequently found familiar figures in investment institutions, "How come there is capital everywhere, and the money is taken away by them."
For the outside world's doubts, Yi Lihua said that he was understandable but innocent.
On the one hand, Leade Capital is considered to be the "sickle" for harvesting the market. On the other hand, Yi Lihua stated in the circle of friends that De Capital lost 600 million yuan in 2018.
"I understand the market's views very well. First, most of them do not know the project party, but they are very familiar with several investment institutions. Some people must blame the investment institutions for the failure of the project. Second, they lacked awareness and were not international enough. , the investment ability is average, but it is unusually high-profile, and it must be disliked by people."
Lost both fame and fortune, coupled with the bleak market environment, Led Capital was on the verge of bankruptcy for a time, and after a painful experience, Yi Lihua and the team conducted a profound reflection and made four adjustments:
First, focus on investment and cut off all businesses that have nothing to do with investment.
Second, try your best to keep a low profile and improve your understanding of the industry and the track.
Third, comprehensively improve post-investment service capabilities and gain recognition and support for high-quality projects.
Fourth, despite the tragic investment failure in the bear market, we must still believe in the future of the blockchain.
Since then, Leade Capital has gradually faded out of the field of public opinion and is in urgent need of a new life.
bull market winner
Entering 2021, "Leader Capital" has disappeared, and LD CAPITAL has begun to appear frequently in the financing news of various projects.
The investment style remains aggressive, but this time it is slightly different.
No longer only investing in exchanges and "domestic native dogs", Flow, Mina, Assembly, Flare, Immutable X, CoinList… Many international first-line projects have appeared in LD CAPITAL's Portfolio.
In the field of NFT and GameFi, LD's investment portfolio is even more Alpha: blockchain 3A game masterpieces Illuvium and Bigtime, distributed rendering network Render Network, Solana ecological star chain game Star Atlas, first BINANCE IEO Alien Worlds (TLM) …
Benefiting from the GameFi boom, LD has obtained an extremely exaggerated investment income ratio.
Illuvium up to 63,609% return on paper; Star Atlas up to 62,200% return on paper; Alien Worlds up to 23,8567% return on paper…
How did LD CAPITAL transform and obtain investment opportunities for high Alpha projects in the highly competitive primary market?
Views from a number of LD CAPITAL investment managers may provide a glimpse into the answer to the question.
1. Dare to vote
LD CAPITAL has always insisted on the style of daring to bet. Fortunately, this time, it was on the eve of the bull market.
On March 12, 2020, after a historic crash, the primary and secondary markets dropped to freezing point. Most entrepreneurs and investors chose to leave the market or wait and see. LD CAPITAL relies on its belief in blockchain. And a momentum, choose "ALL IN", and speed up the layout in the primary market.
In the words of investment managers, the short-term gap after 312 is actually a golden vacuum period in the primary market: the competition is small, and it is relatively easy to invest; the valuation is low, and the valuation of many high-quality projects is only about 10 million US dollars; in the trough of the industry Entrepreneurs who choose to move on are more worthy of trust and investment…
More importantly, LD dares to be the first investor in the project and does not care whether other VCs have already participated in the investment.
"We are the first investor in many projects, not only giving money, but also giving confidence to the founders. This is of course a risk, but we think it is worthwhile," said Yi Lihua.
2. All-round post-cast
LD CAPITAL regards post-investment service as an important bargaining chip for its own "winning" projects, claiming that all staff will go into battle to provide post-investment services, including but not limited to strategic consulting, economic model design, capital and platform relations, market brand growth, ecological cooperation, technology development and talent recruitment, etc.
For example, after investing in a transaction aggregation agreement, LD not only assists the project party to obtain top overseas VC investment; it also assists it in connecting with IDO platforms and large exchanges, finding overseas well-known KOLs and communities for cooperation, connecting with other DeFi projects for cooperation, and continuing to participate in During the development and construction of the project, a Token has not been withdrawn.
3. Talent and Incentive
People are the core of all investments, how to attract better investment managers? How to motivate investment managers?
Because it is its own funds, LD CAPITAL has a more flexible incentive mechanism: sharing the investment quota with the investment manager, up to 30% of the investment can be invested, and this proportion will continue to increase, and the final investment person in charge can participate in more than 50% of the investment. .
Therefore, some people once joked that in LD, they are investing for themselves, and by the way, they take the boss to vote.
In addition, partners can play an important role in the investment of top projects. Each partner has its own resource network and core competence circle. The pitch and investment of top projects such as Illuvium and Bigtime are largely dependent on partners. personal ability.
Compared with many other VCs who started to lie down, LD can be regarded as the most hardworking group in the industry. Partner Lee XI said that he has not slept well for two years.
Currently, LD has nearly 40 people and is still actively expanding.
4. Refresh the stove
Why did LD CAPITAL seize the investment opportunity of NFT and GameFi?
A blessing in disguise.
In 2020, after the DeFi Summer, the DeFi track is extremely hot. However, high-quality projects are mainly concentrated in Europe and the United States. As an Asian institution, it is difficult to participate in the investment of leading projects. To put it bluntly, LD wants to invest in top DeFi projects but cannot.
So, LD had to turn to research new tracks and opportunities. As early as two years ago, a partner of LD began to study NFT and GameFi. After discussion, LD decided to bet. The logic of judgment is that this is a track out of the circle. DeFi can capture a lot of TVL, but it is concentrated in a few people, while NFT and GameFi can bring in a large number of users, and any opportunity exists in a huge incremental market. The past Web2.0 era has proved this, and the future is owned by users.
5. Offshore & Offline
LD CAPITAL realized one thing very early, "the encrypted world is rising in the west and falling in the east", a large number of high-quality projects in the United States or Europe, "going overseas" has become a must.
Therefore, LD began to recruit in the United States and Singapore, actively participated in various offline conferences and activities, and expanded projects.
The epidemic has blocked the world, and a lot of communication is carried out online, but it is easier to establish trust and connection between people offline, and the Pitch project is simpler and more direct.
Through active offline operations, LD CAPITAL has invested in a large number of early-stage projects in the United States, many of which have not yet been exposed.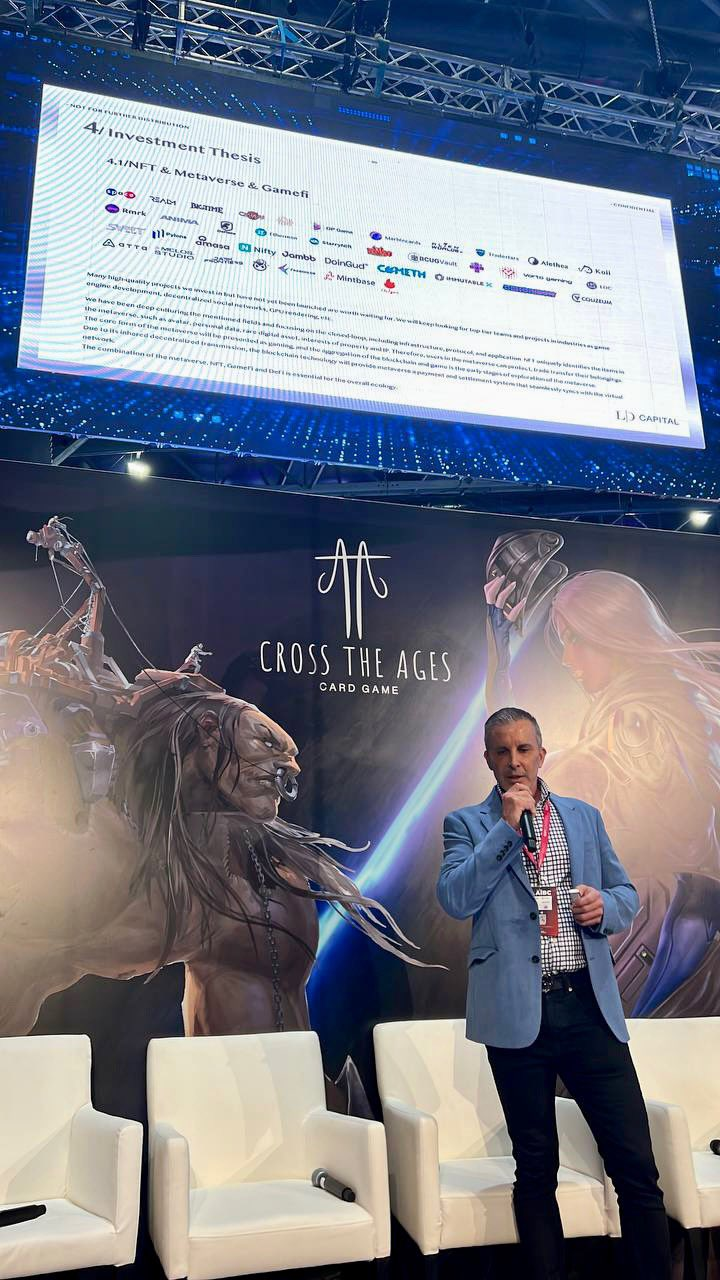 6. FOF and Resource Network
In September 2021, LD Capital announced the establishment of a $50 million blockchain parent fund to invest in outstanding global blockchain funds.
The official website shows that LD has invested in 1kx Capital, Kraken Ventures, Republic Fund, Shima Capital, BigTime Ecological Fund, DHVC and other Funds.

Yi Lihua said that FOF investment is mainly for two purposes, one is to make friends around the world, get to know more partners, and discover more good project investment opportunities; the other is to reserve more resources for projects and provide post-investment services. Many institutions have different We hope to combine the advantages of the project to help the investment project, and the post-investment service is the core.
On the one hand, Shima, Republic and other VCs have become LD's Deal Sourcing, and on the other hand, LD is also building a network to connect with top projects.
For example, after LD invested in DAOMaker, it got a lot of deals.
A top AAA GameFi project invested by LD has introduced other top projects to LD, such as P2E game association Polemos, which recently announced the completion of a $14 million seed round, led by Framework Ventures and Delphi Digital, with participation from LD Capital.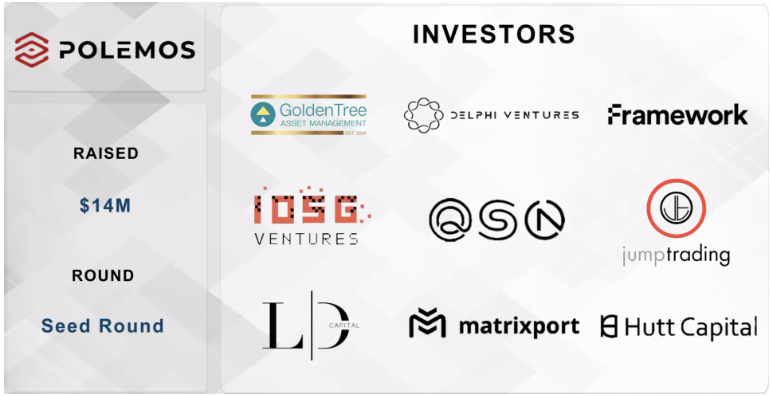 If I have to say the last point, it is persistence and persistence. In order to be successful in a project, LD is willing to "lower his profile and care for the cottage".
A project party once said that LD Capital communicated and promised many times, and finally let LD Capital participate in the investment under the "soft and hard bubble", "sincerity and persistence".
fight for bargaining power
In terms of financial returns, LD Capital can be called a big winner in this bull market cycle, but it is still far from the first-tier Crypto Fund.
Regarding the evaluation standard of VC, a Crypto VC practitioner said: "The standard of VC evaluation by laymen is how many times they earn, but in the industry, VC is based on the scale of capital, ecological card position, and right to speak."
Compared with the real first-tier VC, LD still lacks "bargaining power".
Today, among the countless VCs in the crypto world, only a few investment institutions such as a16z, Paradigm, Binance Labs, and Multicoin Capital have real bargaining power.
Bargaining power comes from brand and post-investment services (Value-added).
An objective phenomenon is that on the brand side, LD Capital is still dragged down by "historical memory", which leads to some projects and FUND that will reject LD Capital's investment, and even negotiated a deal. Fang repented temporarily because some of the other VCs involved in the investment believed that LD Capital was Pump & Dump Capital.
Generally speaking, there are two types of VCs in the industry. One is Pump & Dump, everything is only for greater financial returns, there is no value-added, and even all tokens will be sold off when it goes online, hurting the project side.
The other is DiamondHand, which not only keeps holding, but also continues to provide Value-added. For example, in January this year, Coinbase Ventures said that it has never sold the investment tokens.
Yi Lihua believes that LD is in the middle of the two, because it has its own funds, so the strategy is to withdraw from some projects to support new projects. However, when choosing to withdraw, LD will fully communicate with the project party to respect the demands of the project party, and invest in long-term projects that continue to strive for iterative growth, believing that the value will grow with compound interest.
"LD seriously opposes the smashing of the market when it is unlocked, and strongly opposes such investors. Between the ultimate profit and market respect, LD chooses the latter."
In addition, the previously circulated "LobsterDAO Encrypted VC List" also caused serious trouble to LD's investment. In the list, LD Capital was listed as a blacklist. Although LobsterDAO later refuted the rumor that the list had nothing to do with them, the list was already on the list. It was widely disseminated in major communities and social media.
Yi Lihua said that he no longer cares about the various opinions of the outside world, "Focus on doing your own thing well, times have changed, in addition to investment, LD will focus on overseas brands and creating better post-investment services. , Most of the newly recruited talents are preparing for post-investment services."
According to the LD investment manager, the number of rejected investment has also been greatly reduced, "Because there is a positive cycle in investment itself, it is easier to invest in other good projects if you invest in one good project. LD has proved itself with Portfolio, especially In the field of GameFi. What's more, LD will provide the project party with a full range of post-investment services."
So, will LD continue the previous style of sea investment?
"Perhaps our team is strongly optimistic about the future of the blockchain, and can't help but support those teams that show innovation and ideals, and dare to be the first investor in the project," Yi Lihua explained, but changes are also happening.
"We are also reviewing and continuing to improve. We should leave bullets to the best teams and use services and resources to support top-level projects. Therefore, we have recently begun to act and change. The investment in the past two months is basically a heavy investment in top-level projects. Note, I believe the market will see a new LD Capital in the future."
Regarding the promising direction in the future, the LD investment manager said that he is still looking for various WEB3 applications that can be widely distributed, and games are still an important sector, such as blockchain games such as Bigtime and Cradles.
Bigtime is a AAA-level chain game masterpiece launched by Decentraland co-founder Ari Meilich. The team members come from first-tier game companies such as Epic Games, Blizzard, EA, and Riot.
Cradles is an RPG game with a prehistoric civilization background. It creatively introduces the time and entropy system, and integrates the time and space rules of the real world into the game for the first time.
The Cradles team has developed a new NFT standard for this purpose, EIP-3664, which adds operational modules to static NFTs, turning them into a "flexible" and "living" NFT, such as NFTs with properties Attenuation features to simulate real-world item aging.
The modular public chain is another direction that LD is optimistic about.
A public chain can usually be decomposed into a consensus layer, a data availability layer and an execution layer, and most public chains at this stage belong to a single-chip chain. As there are more and more nodes on the chain and the blocks are getting bigger and bigger, transaction congestion is inevitable. Therefore, modularization has become a trend. The Rollup in Layer 2 that we often hear is also the product of blockchain modularization, which is responsible for executing transactions.
In this track, LD bet on the smart contract chain Assembly developed by the IOTA team. Assembly allows developers to freely create their own smart contract chain according to their needs, which is somewhat similar to a multi-chain network like Cosmos or Polkadot. The difference is that Cosmos is still loosely self-made by each chain, and there is no shared security, while the Assembly chain relies on the L1 consensus security layer of IOTA 2.0 to solve the shared security problem.
In general, the growth of LD has gone through three stages.
In 2018, LD Capital was more like a "speculative VC" with a nouveau riche mentality; in 2021, LD Capital began to internationalize and gradually formed its own investment methodology; now, LD Capital is moving towards version 3.0:
(1) Be more focused and bet heavily on top-level projects.
(2) Create a higher-quality all-round post-investment service system to deeply empower projects.
(3) Go overseas in an all-round way to enhance global brand influence.
(4) Dare to be the first investment institution of the project party.
In general, both LD Capital and its founder are full of stories and controversy. It is difficult to try to define LD Capital. It benefits from the belief and persistence in the blockchain, and even a little bit of luck, sweeping the world in WEB3 In the wave of the times, stepping on the wave and moving forward, it has become a typical Chinese Crypto VC sample.
In the future, WEB3 is bound to be a global competition, and the primary market will be more cruel and "class-solidified". Can LD Capital completely get out of the "brand shadow", find its own survival fortress in a more western encrypted narrative context, and gain more The right to speak?
I don't know, but the rushing river can only rush to the sea and can't turn back.
📍Related reports📍
Popular Science | What is the Metaverse? How will he change the future world?
Beyond the scale of a16z, Paradigm announces the establishment of the largest "$2.5 billion" cryptocurrency venture fund in history
Highlights | A16z : "Flip the World Operation Mode"!Start at the architectural level with cryptography
Bridgewater enters the game, Sequoia "All in Crypto"! Traditional venture capital is running, and institutions want to eat the new head of the encryption industry?
Venture Capital | Paradigm Partner's Methodology: How to Conduct Evaluation Surveys on Early Stage Projects?
Primary Market Entrepreneurship Must Read | What You Need to Know About Crypto Fundraising
Make the Telegram news channel of the dynamic zone powerful again! ! Join now to get first-hand blockchain, cryptocurrency news coverage.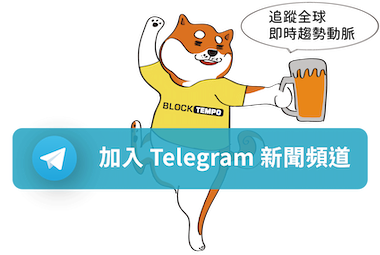 LINE and Messenger serve you from time to time


related news