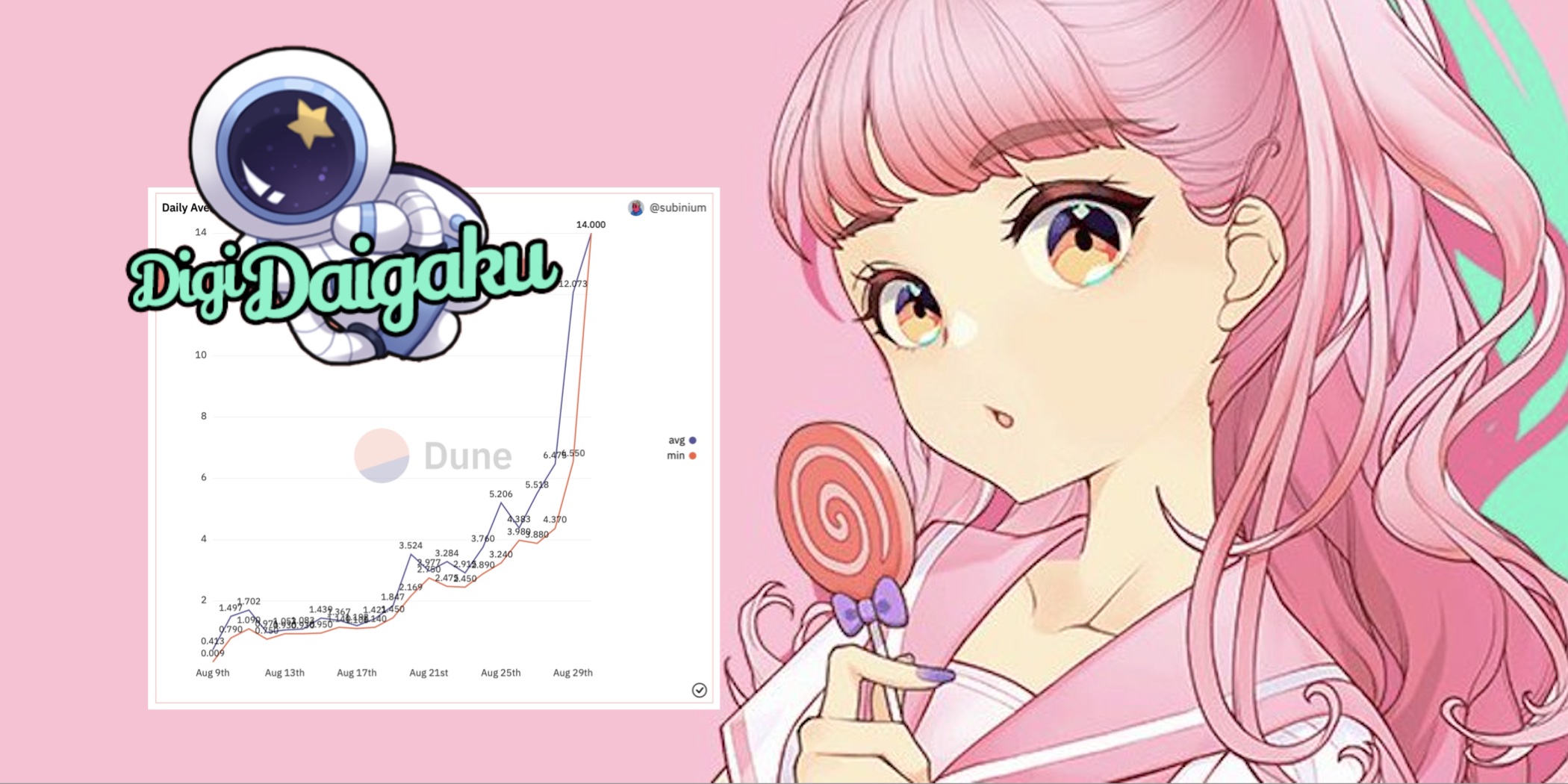 The NFT project DigiDaigaku has recently become popular, with the trading volume landing on the throne of Opensea, and the floor price has risen dozens of times. As for the reason for the skyrocketing, the judgment is related to the project's airdrop this week, the market discovery that it has just received $200 million in investment, and the background of the development team. (Additional background:William's Essay | Talking about the nature and future of GameFi at the time of the bull-bear transition)
allThe transaction volume of the physical NFT market this month reached a new low in nearly a year. But despite this, from time to time, we can still find some new projects bucking the trend and standing out in a down market. According to Opensea's nearly 24-hour record, the NFT project DigiDaigaku, which was only publicly released on August 9, saw a 394% increase in transaction volume in the past 24 hours, reaching 2,196 ETH (current price of about $3.5 million), winning over a number of blue-chip projects and landing the first place in Opensea. .
The increase in the floor price is even more astonishing. DigiDaigaku issued a limited number of 2022 pieces and adopted free minting (the gas cost was about 0.003 ETH at that time), but the floor price on the first day only came to 0.4 ETH and rose all the way. It is currently quoted at 15.8 ETH (current price is about 24,600 US dollars), a short period of time. In less than three weeks, it has created thousands of times the benefits.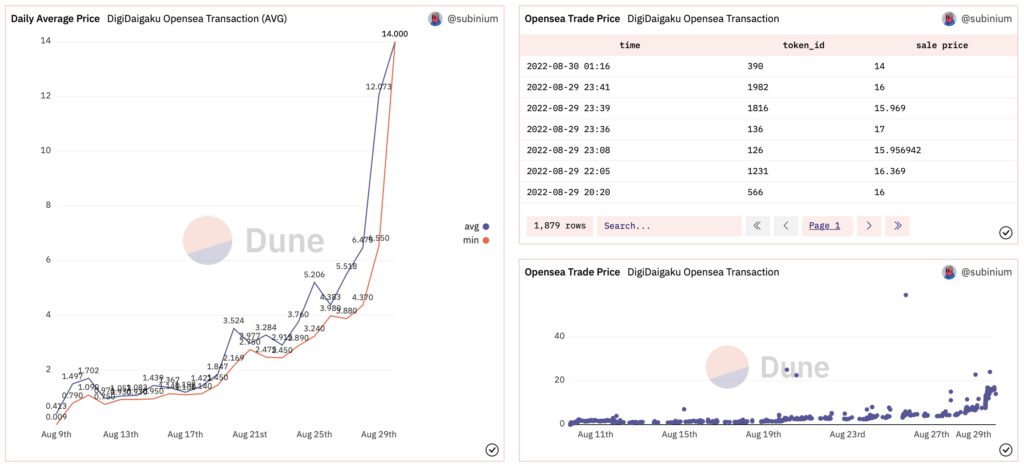 Why does DigiDaigaku continue to soar?
There are many people who wonder why DigiDaigaku can skyrocket in a short period of time, because the project is really mysterious, and there is currently no project introduction, Roadmap, team description on the official website… It only means that NFT is currently sold out and attaches the project and development The team's Twitter link, early access to information can be said to be quite limited.
However, with the official release of more information and more and more discussions in the community, we can roughly estimate that the project has skyrocketed due to the following reasons: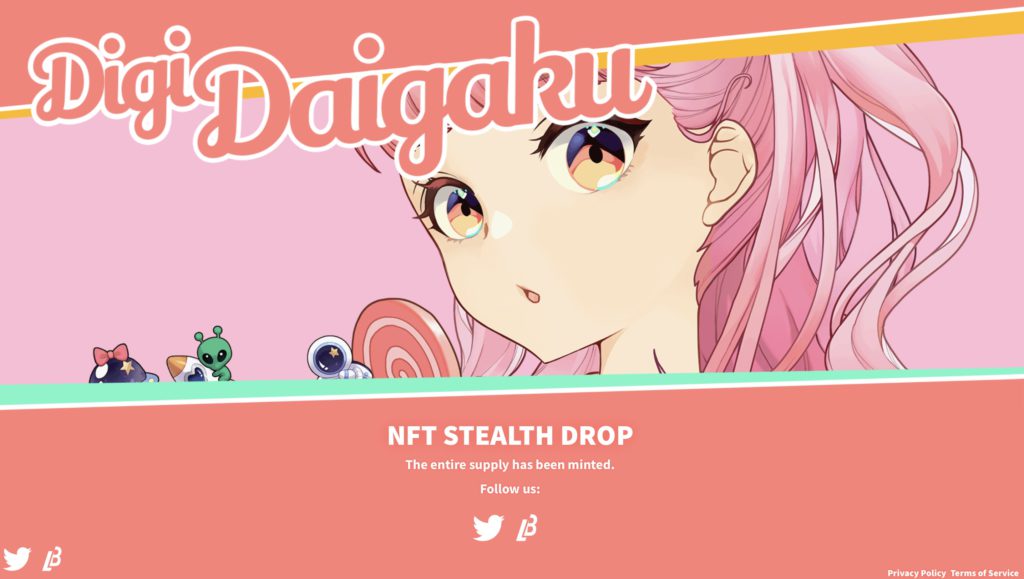 .Airdrop this Friday
First of all, the obvious short-term thrust is Gabriel Leydon, founder and CEO of Limit Break, the development team behind DigiDaigaku, who tweeted yesterday (29) evening that the project will be airdropped this Friday.
get ready DigiDaigaku Airdrop on Friday! More details will be released this week!
🚨🚨🚨🚨🚨🚨🚨🚨🚨🚨🚨

GETTING READY FOR THE @DigiDaigaku AIR DROP ON FRIDAY! MORE DETAILS THIS WEEK!!

🚨🚨🚨🚨🚨🚨🚨🚨🚨🚨🚨

— Gabriel Leydon (@gabrielleydon) August 29, 2022
.Parent company Limit Break raises $200 million
Another major factor with more long-term influence is that the development team Limit Break announced yesterday that it has raised $200 million through two rounds of financing, with the support of many well-known institutions: Josh Buckley, Paradigm and Standard Crypto lead the investment, FTX, Coinbase, Positive Sum, Shervinator and Anthos Capital participated in the investment.
It is reported that the new funds will be used to develop Web 3 MMO games. These DigiDaigaku Genesis NFTs will produce other NFT series through airdrops and more to enrich the promotion of the game.
🚨🚨🚨Limit Break is excited to announce that we have raised TWO HUNDRED MILLION DOLLARS ($200,000,000) over two rounds to build Web 3 MMO games. These rounds were led by @joshbuckley, @paradigm, & @standardcrypto 🥳

— Limit Break (@limitbreak) August 29, 2022
.The team leader is a well-known god in the game field
In addition, although Limit Break is a new team, its two founders, Gabriel Leydon and halbertnakagawa, are well-known gods in the game industry. They are the core members of Machine Zone, one of the largest game developers in the United States (CEO and co-founder respectively). founder).
Founded in 2008, Machine Zone is known around the world for its MMO strategy games Game of War: Fire Age and Mobile Strike. It can be said that it has brought the F2​​P (Free to Play) trend in the market, and both games have been among the revenue at the same time. It is one of the top ten mobile game developers and one of the most famous mobile game developers in the world. The Limit Break, led by the two co-leaders, can be said to be born with a halo.
Leydon also tweeted earlier today that he will replace the F2​​P (Free to Play) of traditional games through the Web3-driven F2O (Free to Own) model, showing his ambition and optimism for the Web3 game field:
I am an F2​​P expert. I've created top billion dollar F2P games. I know everything about it. F2P is the biggest business in video games.

My goal is to kill F2P and replace it with a better F2O (Free to Own) model powered by web3.
🚨POST FOR CLARITY:

I'm a F2P expert. I created multiple billion dollar+ top grossing F2P games. I know about all there is to know about it.

F2P is the biggest business in video games.

My goal is to kill F2P and replace it with a better web3 powered F2O model.

— Gabriel Leydon (@gabrielleydon) August 30, 2022
In general, DigiDaigaku, with its strong development team and luxurious investors, has created a spectacle that can make a thousand times profit even in a bear market. But to be honest, the project is still very early, and the details of the game have not yet been announced. It will take time to prove whether it can continue to grow vigorously in the future.
📍Related reports📍
X2Y2 added "NFT Transaction Zero Royalties"!Urgently clarify the abnormal state; Beeple: respect the creator
Nomad tweets: Hackers who pay back 90% of stolen funds will get white hat NFT airdrops; scolded by the community for being stupid
Brave Series RNFT Chapter 1 Final Review: From Figure Exchange Mode to Sandbox Metaverse Game