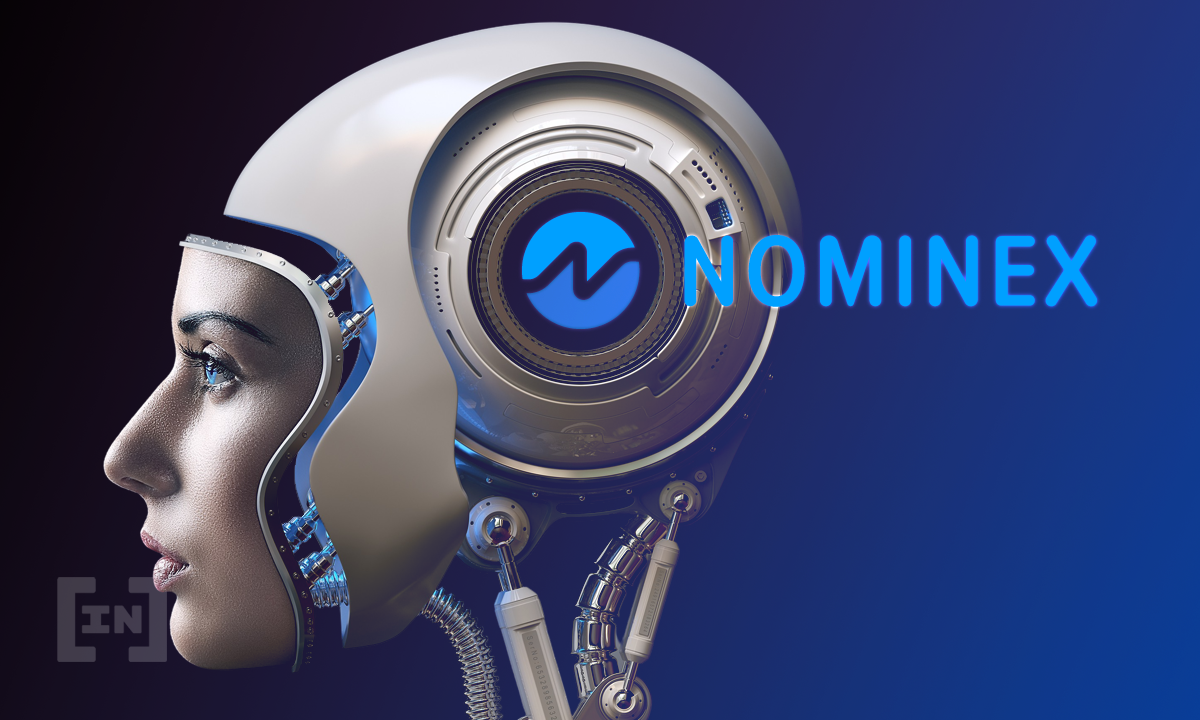 Nomiswap provides a decentralized exchange with the lowest fees and a binary recommender system.
The demand for decentralized exchanges has been on the rise. DEXs are gaining popularity due to the ability to trade and exchange your favorite cryptocurrencies. The absence of intermediaries combined with P2P transactions also ensures custody of funds.
The absolute anonymity offered by DEXs also attracts investors. Users do not need to go through the hassle of KYC and other procedures to trade. Most decentralized exchanges operate on the Ethereum blockchain. But only a few are purely dedicated to Binance Smart Chain.
Let's take a deeper look at Nomiswap. Nomiswap is a decentralized exchange platform powered by the cryptocurrency ecosystem Nominex. With key features, Nomiswap claims to stand out from the competition.
Nomiswap at a glance
Nomiswap provides users with a decentralized platform for trading and exchanging BEP-20 tokens. The platform also provides farming and staking features for users. It also offers fairly high APR and APY rewards for mid-sized DEXs.
The DEX started its service on December 30, 2021 and is audited by Certik. Currently, Nomiswap is fully focused on Binance Smart Chain tokens. But the team plans to deploy support for multiple chains in the near term.
Nomiswap is fully supported and integrated with the Nominex centralized exchange. The Nominex exchange went live in September 2019. The exchange is the official broker of Binance, providing users with 1000+ trading pairs with exactly the same liquidity as Binance. Nomiswap also charges a nominal 0.1% fee for token swaps.
The platform has a reasonable trading volume, which can be viewed from here. Unlike other platforms, nomiswap offers APR and APY rewards in NMX tokens. It also recently added new farming pools with fairly high APRs.
Nomiswap currently offers a higher APR for all normal pools compared to PancakeSwap. This could be a major factor for the platform as it offers higher returns than major DEXs.
"Nominex is the first centralized cryptocurrency exchange with a binary membership program, a native NMX exchange token issuance and distribution model based on decentralized exchange liquidity pools, and DeFi farming mechanisms.

In total, more than 40 people are currently working on Nominex. "

Chief Executive Officer Pavel Scheating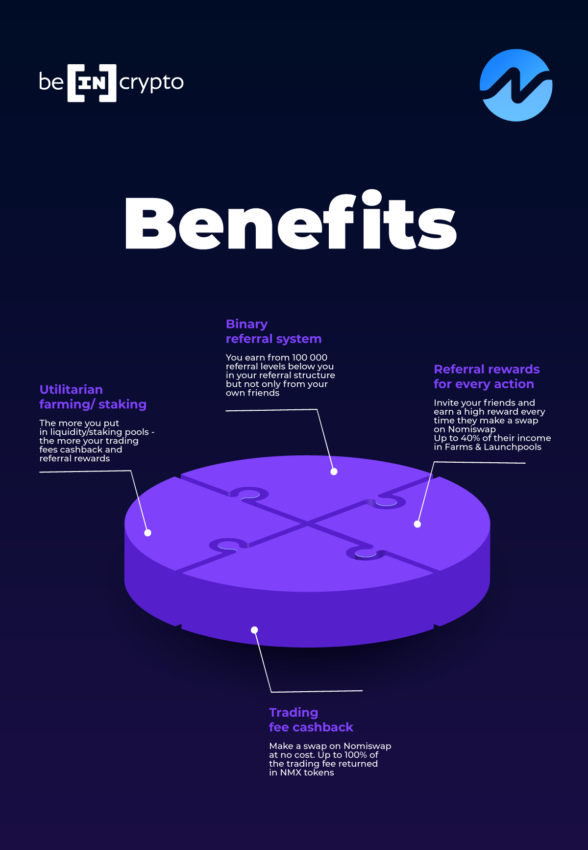 What's so special about Nomiswap?
Nomiswap envisions setting the benchmark for DEX platforms. Certain key features set Nomiswap apart from its competitors.
Can be traded with 0% fee
Nomiswap provides users with practical farming and staking functions. This feature allows users to receive transaction fees as cashback and referral rewards. This amount is purely based on the amount you put into the liquidity or staking pool. The more you hold, the higher the cashback transaction fees you get.
Integrate with systems outside of Nominex
Nomiswap is backed by the Nominex exchange, which is a big plus for DEXs. The integration is powered by the CeDeFi ecosystem, which offers users the rewards and benefits of just using the platform.
Holder bonus
The holding bonus is another important reward mechanism for the platform. Users who hold NMX tokens will be incentivized. Bonuses will be credited daily in the form of NMX tokens for participating in farming.
All farmers receive this incentive in proportion to the amount of money they put into staking/farming. Depending on how long you have been farming continuously, a rise factor is used to determine bonuses during farming.
Practical Agriculture/Pledge
Users receive LP tokens to add liquidity to the pool. Users have access to various farming options at Nomiswap Farms. You can stake your LP tokens to get NMX tokens. The more value you put into your liquidity and staking pools, the more you can improve farming. The level of farming increases when you put more money into the liquidity in the "upgrade pool".
Levels vary from Starter, Partner, PRO, VIP, Elite or MAX. Referral bonuses and cashback for your transaction fees in Nomiswap increase as you level up.
"In over two years, we have done a lot of work to create the nominex platform. The project was developed with our own money. In September 2019, the nominex platform went live."

Chief Executive Officer Pavel Scheating
How does Nomiswap's referral program work?
Users of Nominex and Nomiswap have an integrated referral program. The recommender is set up in the form of a binary tree with infinite recommendation levels. Referral rewards include four types of bonuses designed to motivate people to share information about nomiswap with others.
A binary recommender system acts as a branch, adding new members to the left and right of the tree. Each member has two places at the first level, four places at the second level, eight places at the third level, and so on.
You will receive two types of rewards, including team farming and team trading rewards. It allows a multi-level recommender system where you can earn rewards from users who didn't even sign up for your referral link.
The team rewards mainly include the weak team. An underdog is a team whose total value is relatively lower than another.
All referral transactions and team farming fee rewards are calculated based on the total transaction fee paid in Nominex and Nomiswap. That is, before the reward calculation, the system will add the transaction fees of the two platforms to reward the user.
Users can earn up to 20% of what the referrer pays. In the team transaction reward, users get 10% of the transaction fee paid by your "weak team" in the binary referral structure.
Referral rewards are shared from activities including exchange fees, farm tokens, and tokens earned through startup pools. Nomiswap also has an unlimited referral rating system. The recommended farming reward is up to 10% of the NMX directly recommended farming and 10% of the weak team farming, which is called the team farming reward.
How do users earn transaction fee cashback?
Nomiswap introduced cashback rewards, which are the return of transaction fees to traders. NMX, its native token, is used to reward users for transaction fees.
Users can earn 100% of transaction fees as cashback. The practice of using transaction fees to reward the community is known as (transaction fee cashback). Unlike other exchanges, Nomiswap refunds transaction costs to consumers in the form of NMX.
In short, when you swap on Nomiswap and pay a 0.1% transaction fee, you can get reimbursed up to 100% of your transaction fee. It will be immediately refunded to your Fee Rebate balance in NMX tokens. Your farming level affects how much cashback you get.
In certain scenarios, users will be fully reimbursed 100% of transaction fees in the form of NMX tokens. Cashback works by distributing 10% from the daily distribution pool. Once the cashback pool is completely depleted after paying the cashback, the remaining traders will not receive the cashback for the rest of the day.
NMX token
NMX is the utility token for Nominex and Nomiswap. It is a BEP-20 token with a total supply of 200,000,000.
NMX tokens can be used to pay transaction fees, with a 50% discount when paying in NMX when trading on nominex.
Future Roadmap and Vision
The Nominex team has deployed the first version of Nomiswap DEX. It also launched:
DEX includes utility farming/staking. Agricultural level for all NMX pools. Referral program with self-built structure. List exchanges on Coingecko, CoinMarketCap, Dappradar and Defilama.Blockchain statistics for all Nomiswap user activity
Future road planning:
Centralized liquidity and limit order functionality. The ability to trade on other DEXs via Nomiswap. Simple farming functions on DEX. Multi-chain support.

final thoughts
Nomiswap is backed by its sister exchange Nominex, itself the official broker of Binance. Additionally, Nomiswap has been audited by Certik to prove its reliability and security.
Nomiswap has the opportunity to earn cashback from your transaction fees, high APR yield farming, unlimited referral rewards, a safe and secure trading platform, Nomiswap is probably the DEX you should check out.
Follow Nomiswap on social media for news and regular updates:
Twitter | Website | Telegram | Telegram (Spanish) | Telegram (Russian) | Telegram (Turkey) | Facebook
Disclaimer
All information contained on our website is published in good faith and for general information purposes only. Any action taken by readers with respect to the information on our site is entirely at their own risk.