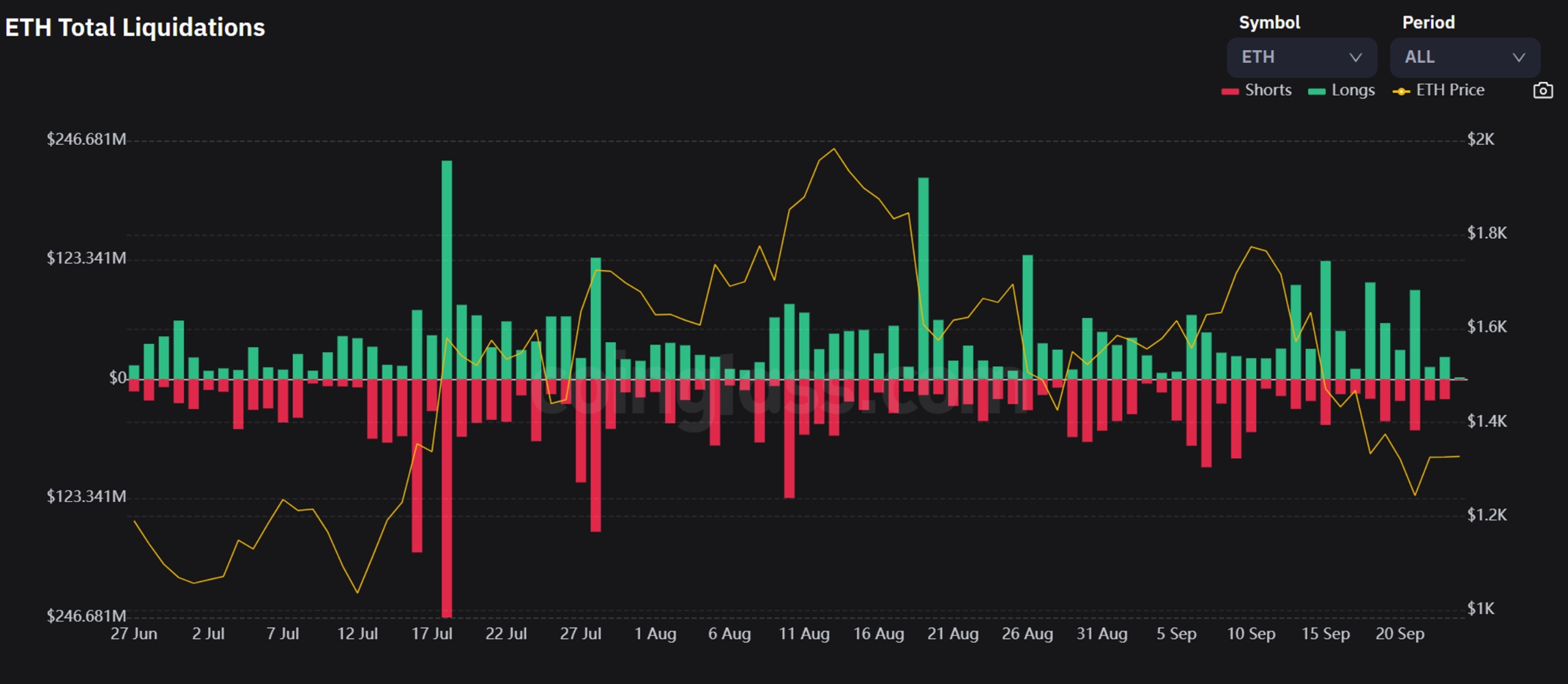 Since Ethereum completed the merger on the 15th, the total amount of contract liquidation (contract liquidation) on the Ethereum network has reached 759.11 million US dollars so far, of which more than 497 million US dollars came from long contracts. Experts believe that Ethereum lost its upward momentum after the merger, mainly due to the U.S. government's statement that it regards Ethereum as a security, speculative positions are closed, miners are selling, and the macroeconomic environment is bleak and many other factors. (Recap:Glassnode data report | "On-chain activity, market reaction" after the Ethereum merger) (background supplement:Full Arthur Hayes Opinion: Regulatory scrutiny after the merger of bitcoin, dollar indicators, ethereum)
sinceAfter Ethereum completed its merger on the 15th and officially switched from a proof-of-work (PoW) to a proof-of-stake (PoS) mechanism, the price of ether (ETH) has fallen by more than 20%. According to Coinglass data, since the 15th, Ethereum has liquidated $759.11 million, of which more than $497 million originated from long contracts, accounting for about 70%.
Why are there mass liquidations?Considered by the U.S. government as a security, miners sell off
Khaleelulla Baig, the founder and CEO of KoinBasket, told Benzinga that the main reason for Ethereum's loss of momentum after the merger was that the U.S. government had previously stated that Ethereum was regarded as a security, not a commodity, which led to the market's stricter regulation and Tax fear and uncertainty.
Further reading:Ethereum Merger "SEC Chairman: PoS Cryptocurrencies May Be Subject to Securities Laws!
Neeraj Khandelwal, co-founder of CoinDCX, said that the large-scale liquidation of ETH has led to downward pressure because some speculative positions are being unwinded. In addition, ETH is also facing selling pressure from previous hoarding of a large number of ETH miners.
Neeraj Khandelwal added:
This is further exacerbated by all the pessimism in the market due to the weak macroeconomic environment, the Fed's continued rate hikes, etc. Overall, however, we are very bullish on the impact of the Ethereum merger and future milestones in bringing efficiency and scalability to the DeFi world.
Merger fails to change market sentiment
Michael Young, product operations manager at AscendEX Earn, believes that one of the reasons for the large liquidation wave is a common misunderstanding that market transactions are more dependent on information than on events, and the merger event has been for a period of time. There is extensive dissemination of information.
Michael Young analysis:
"The actual development of the merger event does not mean that sentiment has shifted from bearish to bullish on the trend of ETH, because in the current macro context, the spot price of ETH in the past few months has reflected the market's interest in PoS ETH, while Valuation of non-PoW ETH."
Mech chief operating officer and co-founder Kyle Klemmer's view is that investors who are currently liquidating are likely due to external economic factors such as inflation and interest rate hikes. He pointed out that "As a whole, ether and cryptocurrency prices will continue to The decline is not a side effect of the merger."
Garry Krugljakow, founder of GOGO Protocol, an open-source DeFi protocol for asset management and savings, said bluntly that the Ethereum merger has been a success, but Ethereum has yet to prove that it can decouple from Bitcoin's slump, let alone accumulate drivers for a trend reversal. force.
Garry Krugljakow said:
It's no surprise that long positions have taken a major hit on expectations of a rate hike from the Federal Reserve. Still, it will take a massive sell-off for the cryptocurrency to break below the June lows, but everyone should tread carefully right now.
📍Related reports📍
Opinion | Don't expect CeFi to save Ethereum
Ethereum EIP-4895 "open pledge withdrawal" proposal, confirmed to be deployed when Shanghai upgrades
Dropped after the merger!Ethereum fell 15% a day, and the market value of cryptocurrencies fell below 1 trillion magnesium; analyst: ETH will suffer a serious blow