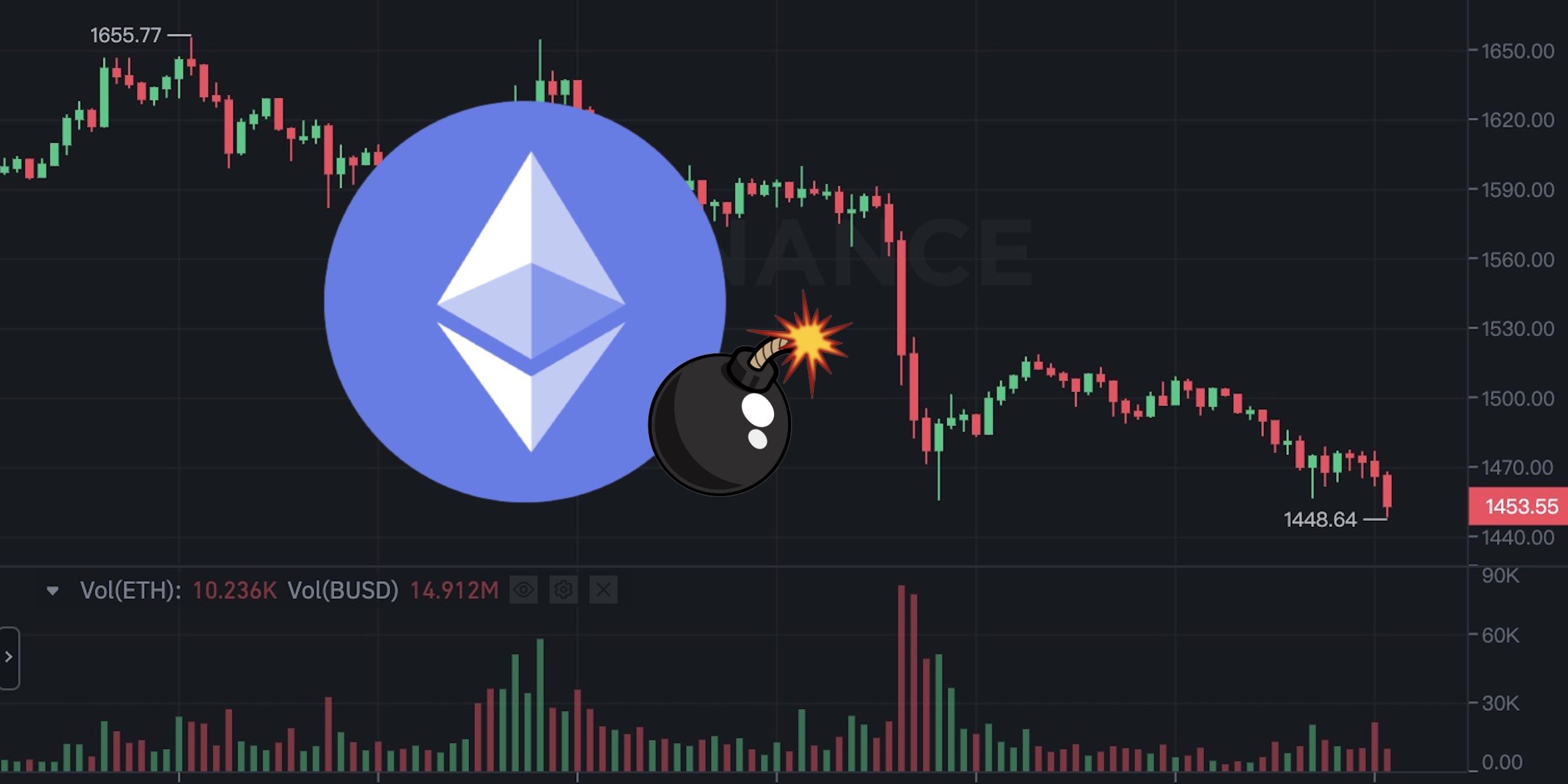 After the completion of the Ethereum Merge, a rapid decline started last night, falling below $1,500 and falling more than 10% in the past 24 hours. In terms of long-term development, the Polygon co-founder said: ETH merger may bring a billion users to Web3.(Recap:The Ethereum merger is completed, officially moving towards PoS! Buterin: This is a historic moment in the ETH ecosystem)(background supplement:Free mint for 72 hours! Consensys Celebrates Merger Successfully Pushes Ethereum "Rebirth" NFT )
byAfter The Merge was completed yesterday (16th) afternoon, although there was a short-term rise to a maximum of $1,655, the increase was unsustainable. At around ten o'clock yesterday evening, after failing to test to stand at $1,600, ETH quickly fell by more than 8% within an hour, and at the moment of writing, it reached a minimum of $1,448, down 10.53% in the past 24 hours.
On a year-on-year basis, although Bitcoin also fell below $20,000 again and is now at $19,706, the decline was much slower than that of Ethereum, down 2.6% in the past 24 hours.
The entire network exploded nearly 300 million US dollars, and Ethereum ranked first
The dramatic rise in Ethereum has also caused losses to many investors who are looking in the wrong direction. According to Coinglass data, more than 87,000 people have been liquidated in the past 24 hours, and the total amount of liquidation has reached 295 million US dollars. Among them, ETH is the most serious, accounting for $174 million, which is four times as much as the second-placed BTC ($39 million).

The amount of ETH pledged by ETH 2.0 breaks a record high
In addition, according to data from glassnode alerts this morning, the total number of Ethereum pledged in ETH 2.0 contracts has reached a record high of 13,736,885 ETH (current price of about $20.1 billion).
However, it should be noted that even if Ethereum completes the merger, users who have already pledged cannot withdraw the pledged ETH immediately, but it is expected to be gradually unlocked after the Shanghai upgrade is completed within 6-12 months after the merger; The exchange rate fluctuates rapidly, and the contract also limits the speed at which the user can cancel the pledge.
Further reading:Will staked ETH be sold after the Ethereum Merge ends?
📈 #Ethereum $ETH Total Value in the ETH 2.0 Deposit Contract just reached an ATH of 13,736,885 ETH

View metric: https://t.co/SzbMPqvhlb pic.twitter.com/ILZhEn7EBB

— glassnode alerts (@glassnodealerts) September 15, 2022
Polygon co-founder: Ethereum merger could bring a billion users to Web3
After Ethereum officially completed the merger and moved towards PoS, although the most criticized high fee problem could not be solved immediately. But Sandeep Nailwal, co-founder of ethereum scaling solution Polygon, said in an earlier interview with Coindesk that ethereum's successful merger is a huge step for the community and could be its path to the mainstream.
This is the first major step in a series of steps that could bring a billion users to Web3. In Web3's journey, it was one of the biggest inflection points to make Ethereum more mainstream.

The merger opens the way for future upgrades that will further ensure Layer 2's scalability. The merger also means that Ethereum is now more environmentally friendly, a major area of ​​focus for companies such as Starbucks, Disney, and Instagram, which have entered Web3 through NFTs.
📍Related reports📍
Short comment | Analyst: Ethereum merger risk is bigger than thought! 70% correlation between ETH and Nasdaq within 30 days
Disney Metaverse | CEO: In the past year, he has been exploring Web3 technology and promoting the strategy towards Metaverse
8 Years of PoW Comes to an End" A Brief History of Ethereum: Buterin, China's Mining Industry, and NVIDIA