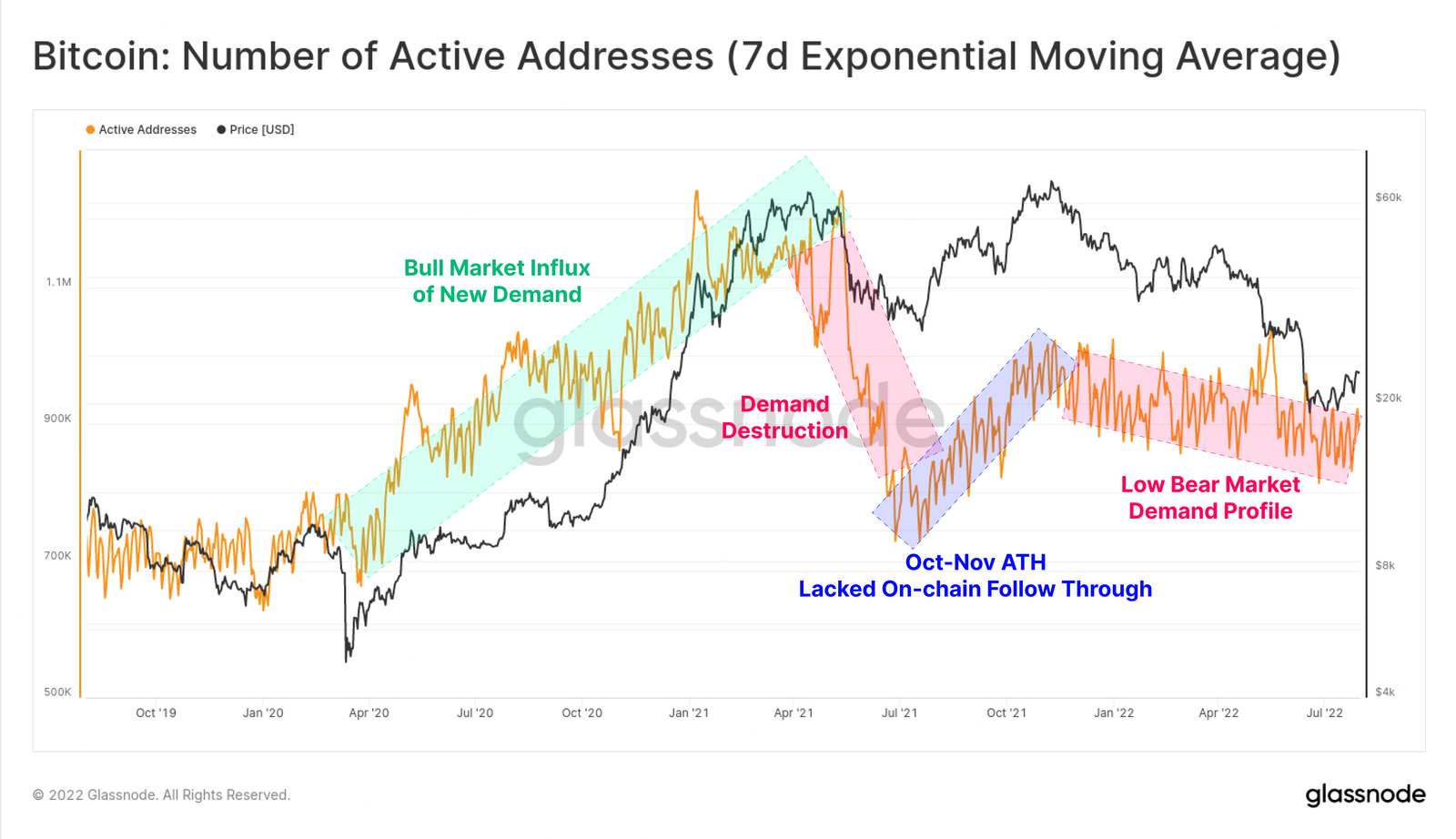 Bitcoin and Ethereum prices continued to rebound last week, escaping from extremely oversold conditions. However, on-chain data analysis company Glassnode released its latest weekly report on the 1st that the on-chain activity of Bitcoin and Ethereum is still at a low level, which may mean that the current bear market is only easing, rather than the beginning of a sustained upward trend. (Recap:Fed up 3 yards as scheduled!Bitcoin breaks through 23,000, Nasdaq jumps 4%; Powell said the pace of interest rate hikes may slow) (background supplement:Glassnode : The worst Bitcoin capitulation may be over!Institutional survey: 54% of investors have not sold coins in the past few weeks)
chainThe data analysis company Glassnode released its latest weekly report on the 1st and pointed out that after experiencing a continuous downward trend for nearly 9 months, Bitcoin and Ethereum have recently experienced positive price trends. After a period of risk aversion in the market, the current The focus is on whether this is a relief rally during a bear market or the start of a sustained uptrend.
Glassnode believes that the current market still has many characteristics of a bear market. For example, the number of active Bitcoin addresses is still in a clear downward trend channel. It should be noted that the peak of this indicator when the currency price reached a record high from October to November last year is obviously It is lower than the peak of the previous wave of all-time highs in April 2021, which indicates that a large-scale loss of users has occurred and demand has not followed up.
Glassnode states:
Aside from some spikes in on-chain activity during the main capitulation event, current network activity suggests that the inflow of new demand remains low.
The demand for on-chain transactions and block space also highlights a similar situation, Glassnode said. Due to sluggish transaction demand, transaction fees on the Bitcoin chain are still in bear market territory, with the current daily transaction fee totaling only 13.4 bitcoins.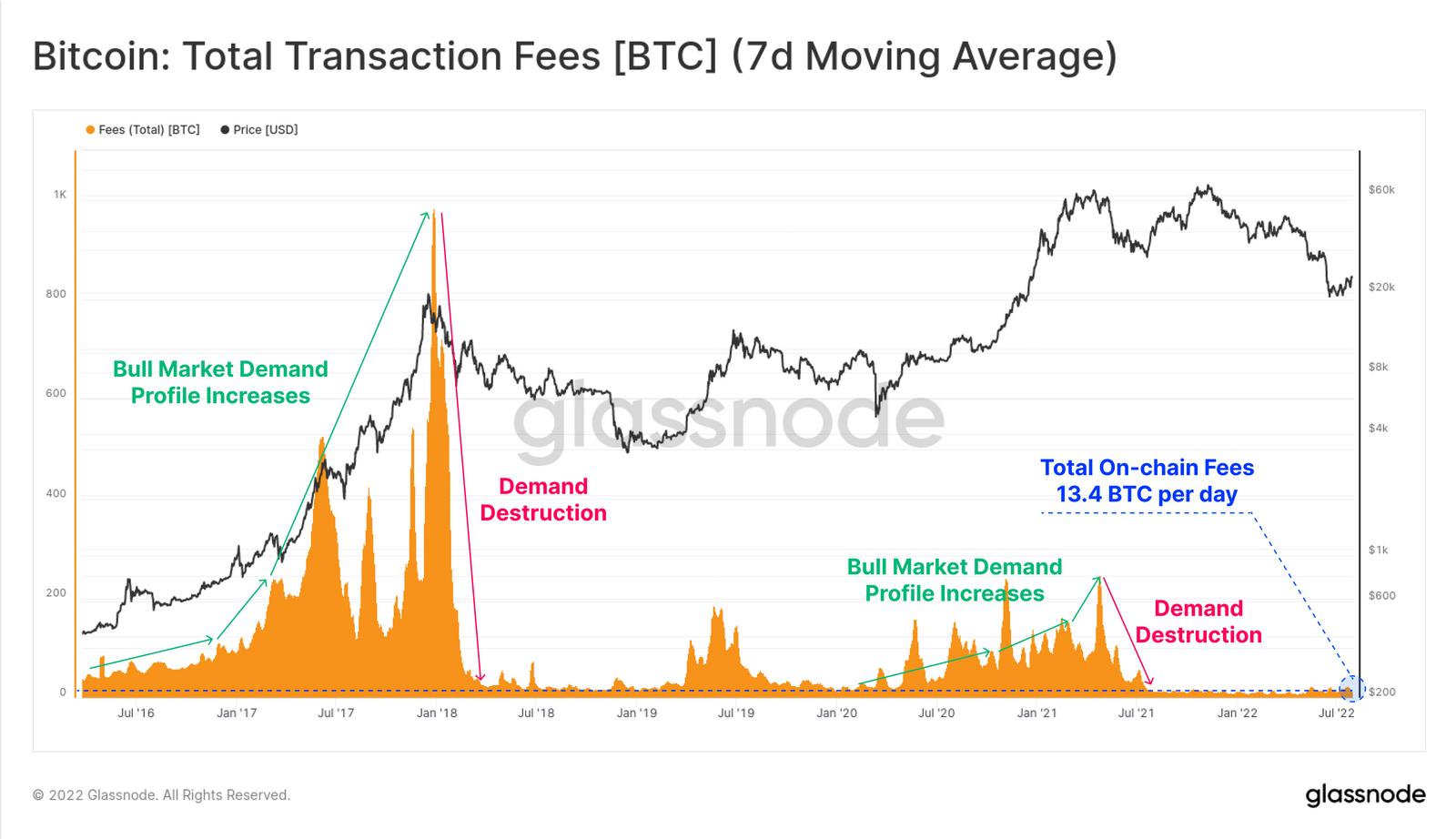 In addition, the average block size of Bitcoin has also declined significantly from the previous period. Glassnode pointed out that during the bull market, as miners actively fill up blocks to obtain maximum fee income, in the context of network congestion and full blocks, larger blocks will be generated, but now miners do not have enough transactions to fill all blocks, resulting in smaller blocks in the context of low network congestion, partially empty blocks.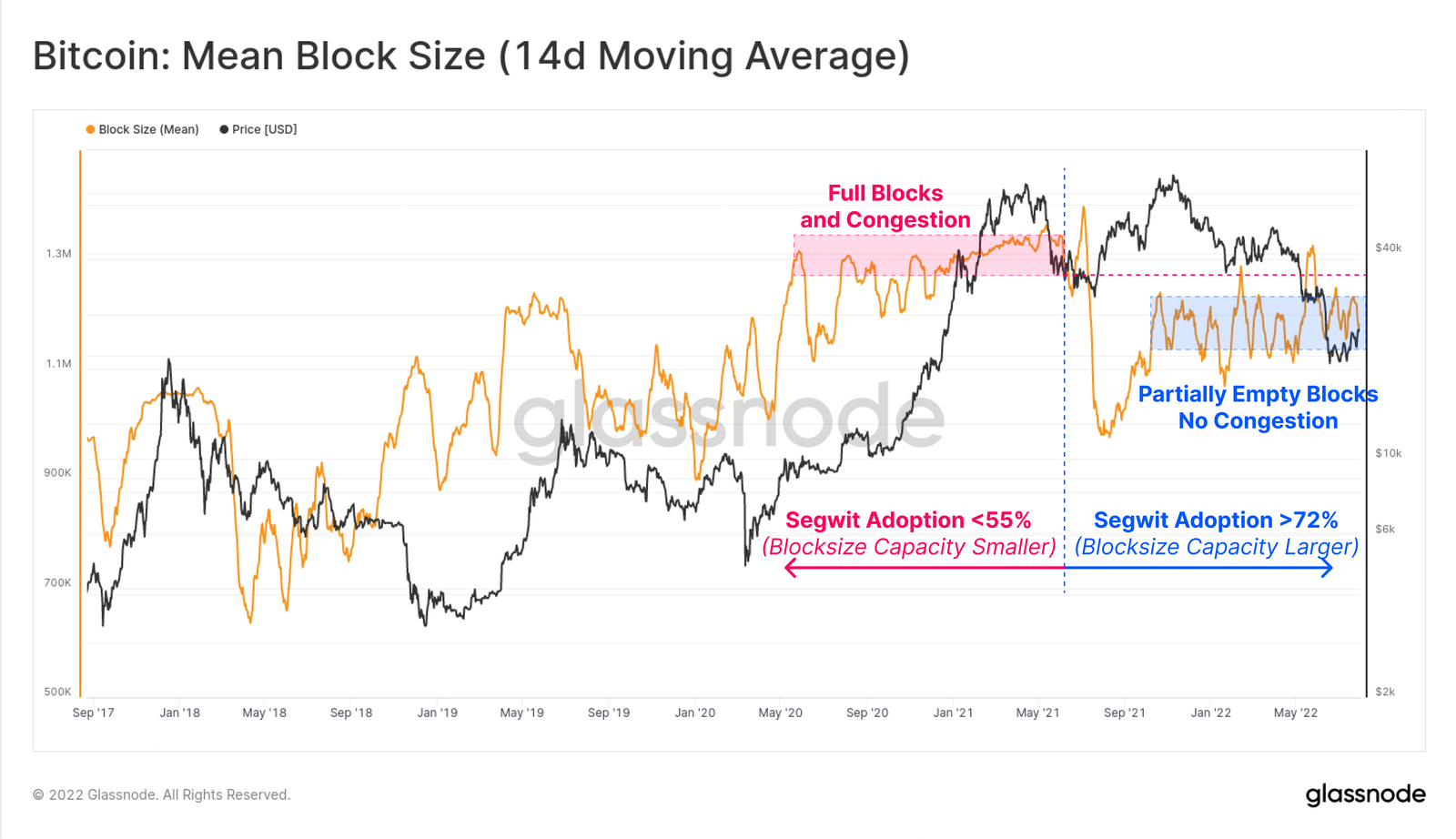 Glassnode states:
Overall, the Bitcoin network remains dominated by long-term holders, and so far, there has not been any notable pick-up in new demand, as seen through the lens of on-chain activity.
Activity on the Ethereum chain is sluggish
As for Ethereum, on-chain activity has similarly remained low. Glassnode mentioned that on a 7-day median basis, the average Ethereum gas fee recently slipped to 17.5 Gwei, the lowest level since May 2020, indicating that despite the recent price increase, there has been no new influx of usage , Overall, Ethereum's on-chain activity is relatively at multi-year lows.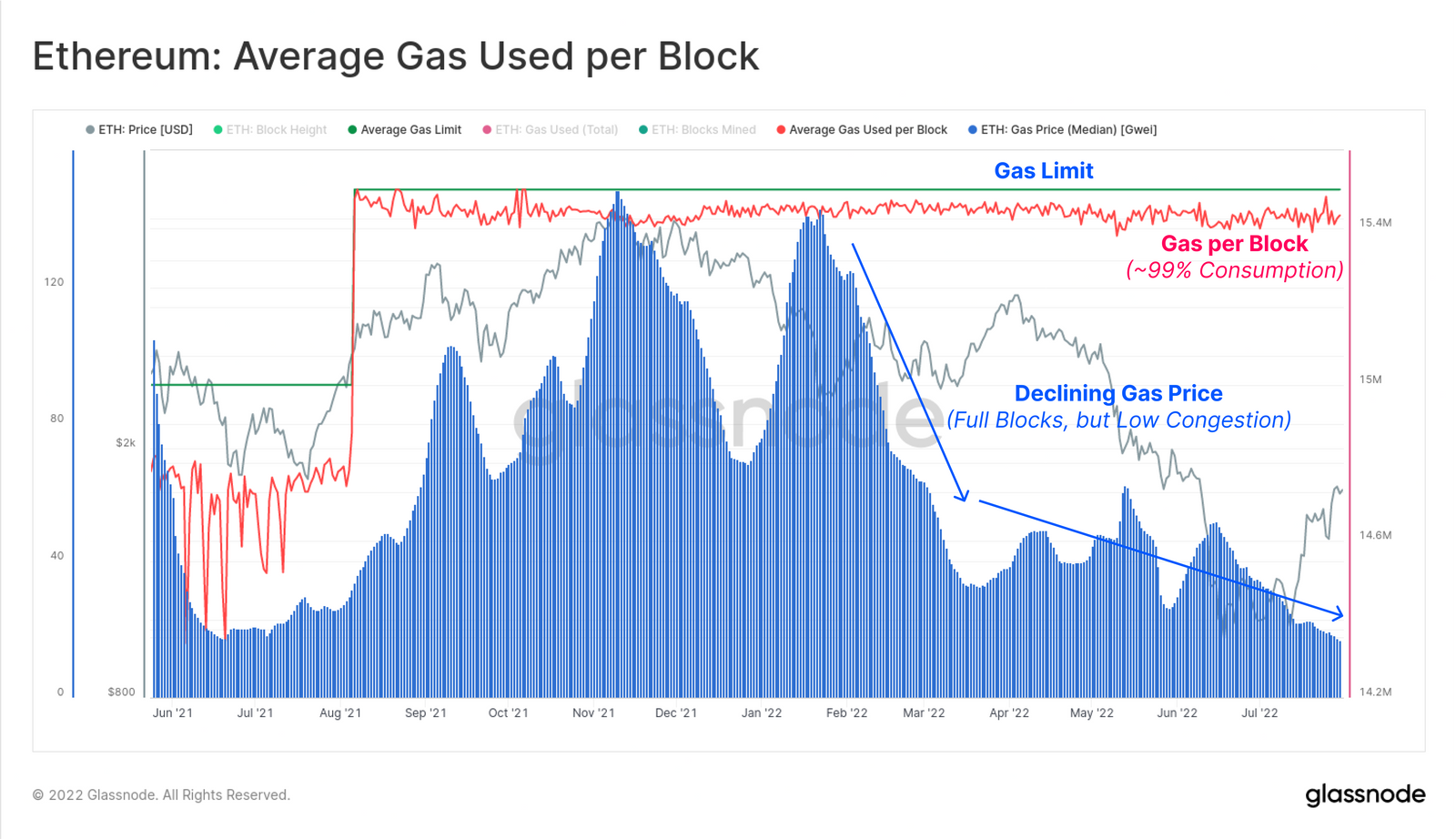 In view of this, Glassnode pointed out that the burn rate of Ethereum implemented through EIP-1559 is now also at an all-time low, and the total burn of Ethereum now accounts for only 11% of the total issuance. EIP-1559 was implemented in August last year. Since then, it has only entered the field of deflation three times in the past.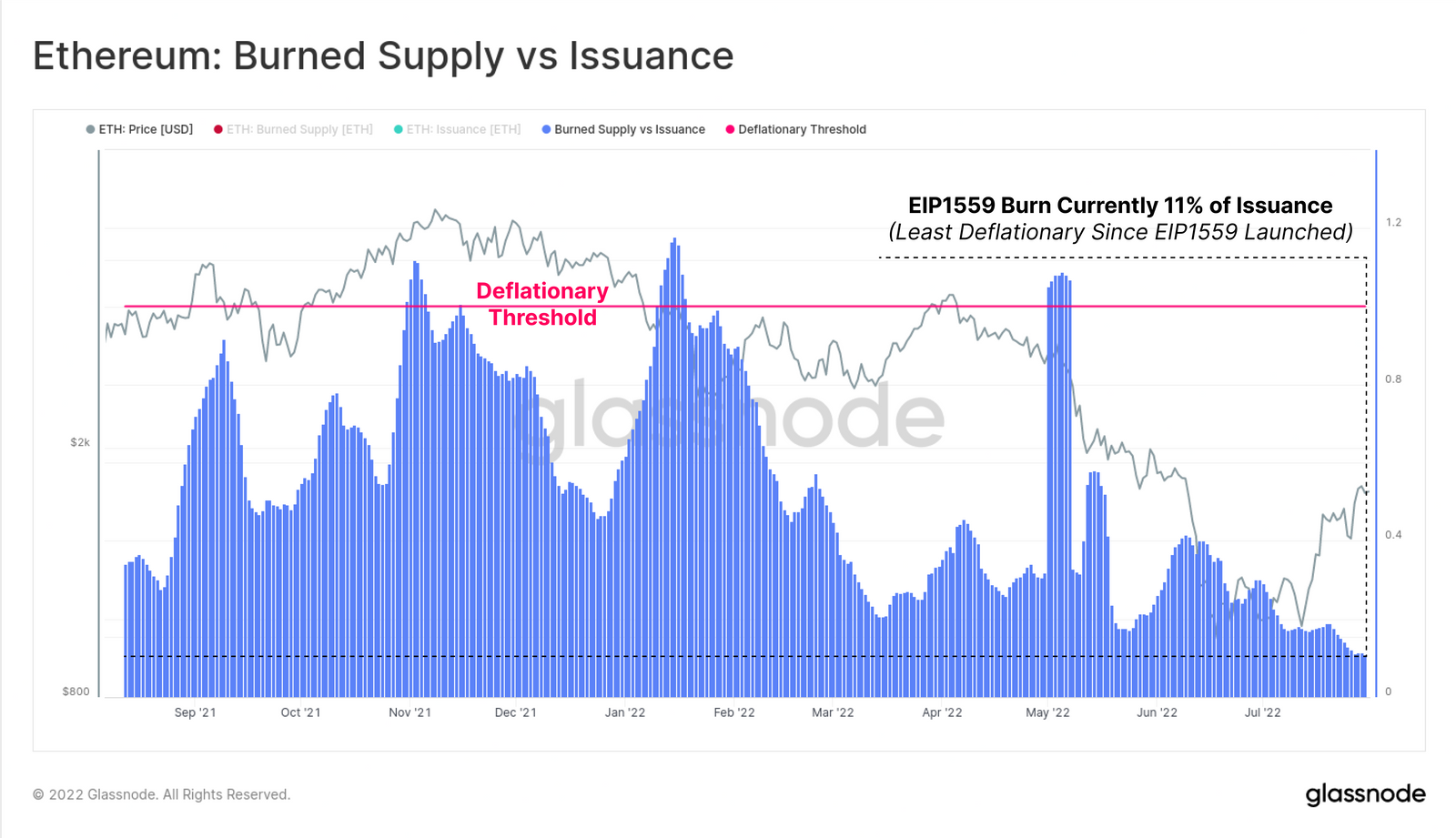 in conclusion
Glassnode concluded that on the surface, the demand for on-chain transactions is still lackluster, and in this round of rebounds, there has been no convincing follow-up progress in demand activity. The end result is that Bitcoin has partially empty blocks, and Ethereum has Gas prices are at multi-year lows and EIP-1559 burn rates are at record lows.
However, Glassnode mentioned that the cost-to-profit ratio (SOPR) of Bitcoin and Ethereum are showing early signs of recovery. The bull market support level of this indicator is 1.0, and Bitcoin is trying to break through the 1.0 mark for the second time since early June. Ethereum has broken through the 1.0 mark, and we can pay attention to whether this upward trend can continue and improve to measure whether the current market is a pure bear market rebound or a more constructive structural change.
📍Related reports📍
Legendary investor Jim Rogers: The "worst" bear market in my life is coming!but i didn't buy any bitcoin
Glassnode: Bitcoin price is more than a month below the realized price, maybe a real bottom is about to form
Glassnode: Bitcoin holder behavior data is "close to the bottom of the last bear market", 80% of the circulating supply has been held for more than 3 months