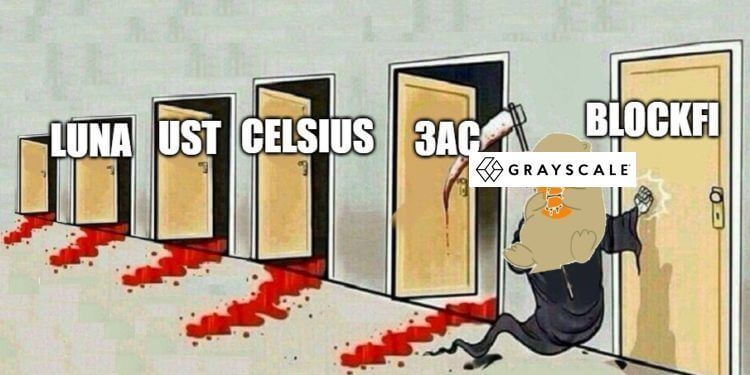 Why do investors choose to buy GBTC with a premium instead of actually holding BTC (Bitcoin)? The positive premium will be a stable arbitrage method for crypto institutions – buy BTC, deposit it into Grayscale, and dump it to retail investors and institutions in the secondary market at a higher price after the GBTC unlock period ends. And this is also one of the main driving forces for the rise of BTC in the second half of 2020 (previous summary:SBF says it all! BlockFi receives $250 million in FTX financial aid) (event background:Binance talks about saving the market: it will selectively bail out the cryptocurrency industry; CZ: BTC will not break through the peak of 69,000 within two years)
The bear market is the rest of the liquidity movement
writingFamous investor Charlie Munger once said: "There are three ways to bankrupt a smart person: Liquor, Ladies and Leverage."
For Charlie Munger, who is used to seeing market cycles, he has seen the power of leverage. However, upstarts like BlockFi and Three Arrows Capital in the crypto market have gradually ushered in their own end after the disorderly expansion of abundant liquidity in the bull market.
When we look back at the "crypto defeat", whether it is the former first-tier VC Three Arrow Capital (3AC), or BlockFi, which was once valued at as high as $3 billion, all stepped on the bitcoin trust fund GBTC issued by Grayscale.
Further reading:Musk sarcastic: Buffett mentions Bitcoin many times!Munger: Robinhood lets everyone gamble, now payoff
Further reading:"Comprehensive Review" From LUNA, Celsius to Sanjian's series of explosions, is BlockFi the next hidden crisis?
What used to be a bull market engine has now become an "oil barrel" that causes thunderstorms in many institutions. How did all this happen?
GBTC, the bull market arbitrage machine
The full name of cGBTC is Grayscale Bitcoin Trust, which was launched by Grayscale. Grayscale is a digital asset management company established by Digital Currency Group in 2013.
The launch of GBTC is designed to help high-net-worth investors in the United States invest in bitcoin within the scope of local law, just like buying a fund, but in fact Grayscale Bitcoin Trust is a neutered "ETF-like fund."
According to normal logic, in the primary issuance market, investors can subscribe for GBTC shares with their own BTC, or redeem BTC through corresponding GBTC. But since October 28, 2014, Grayscale Bitcoin Trust has suspended its redemption mechanism.
Secondly, after GBTC is issued in the primary market, it can only be traded in the secondary market after a 6-month lock-up period.
Under the macro background of the new crown, the encryption market has become a sweet pastry in the eyes of institutions. Due to good expectations for future Bitcoin price growth, GBTC has been at a positive premium for a long time in 2020-2021. This means that if an investor wants to buy 1000 shares of GBTC representing 1 BTC, it will cost more than buying 1 BTC.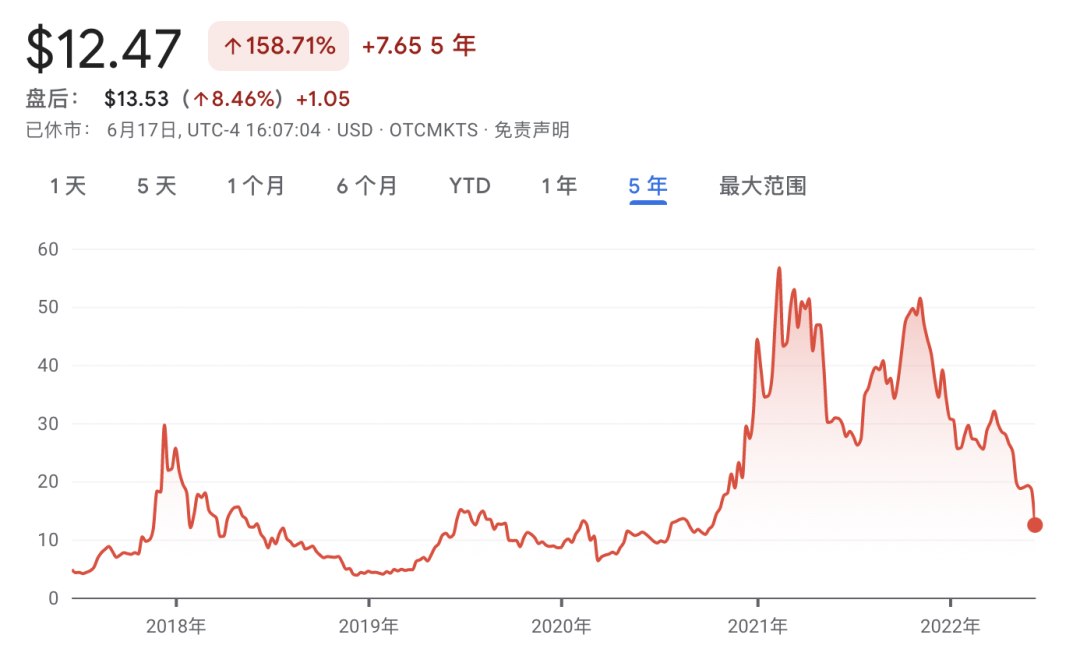 So why do investors choose to buy GBTC with a premium instead of actually holding BTC?
In the secondary market, the main holders of GBTC are qualified individual and institutional investors, and most retail investors can directly purchase GBTC through 401(k) (US retirement benefit plan) accounts without paying income tax. Therefore, as long as the GBTC premium rate is within an acceptable range for retail investors, they can profit by avoiding tax spreads.
In addition, there are also some traditional institutions that cannot buy coins and hold coins due to regulatory reasons, and will also make related cryptocurrency investments through GBTC.
There is also speculation that Grayscale artificially promotes the creation of a positive premium to attract more investors to invest. Just like the classic episode in the movie "The Wolf of Wall Street", if we want consumers to buy a pen in our hands, creating demand is the best way, and a positive premium is "demand", that is, investors' interest in profits. Pursue.
The positive premium will be a stable arbitrage method for crypto institutions – buy BTC, deposit it into Grayscale, and dump it to retail investors and institutions in the secondary market at a higher price after the GBTC unlock period ends.
And this is one of the main drivers of BTC's rise in the second half of 2020. As the spot available for purchase in the market continues to decrease, the price of BTC naturally rises, and American investors are more motivated to invest in GBTC, which is why GBTC has maintained a positive premium for a long time.
GBTC and its injustices
GBTC arbitrage, BlockFi and Three Arrows Capital are all too familiar.
According to the SEC Form 13F documents previously disclosed by Grayscale, only the GBTC holdings of BlockFi and Three Arrows Capital once reached 11% (the proportion of institutional holdings does not exceed 20% of the total circulation).
This is one of the levers of the upstarts – using the user's BTC for arbitrage, and locking the BTC into Grayscale, a Pixiu that can only be accessed.
For example, BlockFi previously absorbed BTC from investors at an interest rate of 5%. According to the normal business model, it needs to borrow at a higher interest rate, but the real demand for bitcoin lending is not large, and the utilization rate of funds is very low.
Therefore, BlockFi chose a seemingly safe "arbitrage road", converting BTC into GBTC, sacrificing liquidity and gaining arbitrage opportunities.
Relying on this means, BlockFi once became the largest GBTC holding institution, and was later surpassed by another injustice institution, that is, Three Arrows Capital (3AC).
According to public information, at the end of 2020, 3AC held 6.1% of GBTC's share, and since then has remained the largest holding position. At that time, the BTC trading price was $27,000, the $GBTC premium was 20%, and 3AC's holdings exceeded $1 billion.
Further reading:Three Arrows Capital's net debt was estimated to be 1.6 billion magnesium, and Zhu Su returned to Singapore to find a lawyer to clean up; V God sour bought a yacht
Further reading:SBF talks about institutional crisis: FTX wants to stop the spread of the crisis, raising interest rates to recalibrate risks in the market, and regulators may intervene

The news of "GBTC's largest holding institution" made 3AC quickly become an industry star. Of course, more people's questions are, how is 3AC so rich, and how did these BTC come from?
Now all the answers have surfaced – borrowed.
The author learned that 3AC has long borrowed BTC at ultra-low interest rates without collateral and converted it into GBTC, and then mortgaged it to Genesis, a lending platform that also belongs to DCG, to obtain liquidity.
In a bull cycle, it's all good, BTC keeps rising and GBTC has a premium.
The good times are not long. After the launch of 3 Bitcoin ETFs in Canada, the demand for GBTC decreased, so that the GBTC premium quickly disappeared and a negative premium appeared in March 2021.
Not only 3AC panicked, but Grayscale also panicked. In April 2021, Grayscale announced plans to transform GBTC into an ETF.
The content and frequency of tweets by the two founders of 3AC is basically a barometer of 3AC. From June to July 2021, they all quieted down on Twitter and started talking about TradFi, talking about safe-haven bets, and even a paragraph Time rarely mentions cryptocurrencies.
Until a wave of altcoins led by the new public chain made 3AC's book assets take off, the two founders also resumed their former vitality on Twitter.
Secondly, 3AC is oriented towards institutional lending, and there is not much immediate and scattered redemption pressure. However, BlockFi raises BTC from public investors, and there is more redemption pressure. Therefore, BlockFi has to continuously sell GBTC at a negative premium. In the first quarter of 2021 , all the way to sell and reduce holdings.
Even in the two-year crypto bull market in 2020 and 2021, BlockFi will lose more than $63.9 million and $221.5 million respectively. According to a practitioner of a crypto lending institution, BlockFi's loss on GBTC is close to $700 million.
3AC does not have the redemption pressure of BTC in the short term, but there is a risk of liquidation in the pledged GBTC, and the risk will be simultaneously transmitted to DCG.
On June 18, the Bloomberg terminal once emptied 3AC's GBTC holdings to 0. The reason given by Bloomberg is that since January 4, 21, 3AC has not submitted the 13G/A document, and they could not find any confirmation. Three arrows Data of $GBTC is still held and deleted as stale data.
Less than a day later, the data was restored, and Bloomberg said:
"Until we confirm they no longer own the position, which may require looking at the 13G/A file."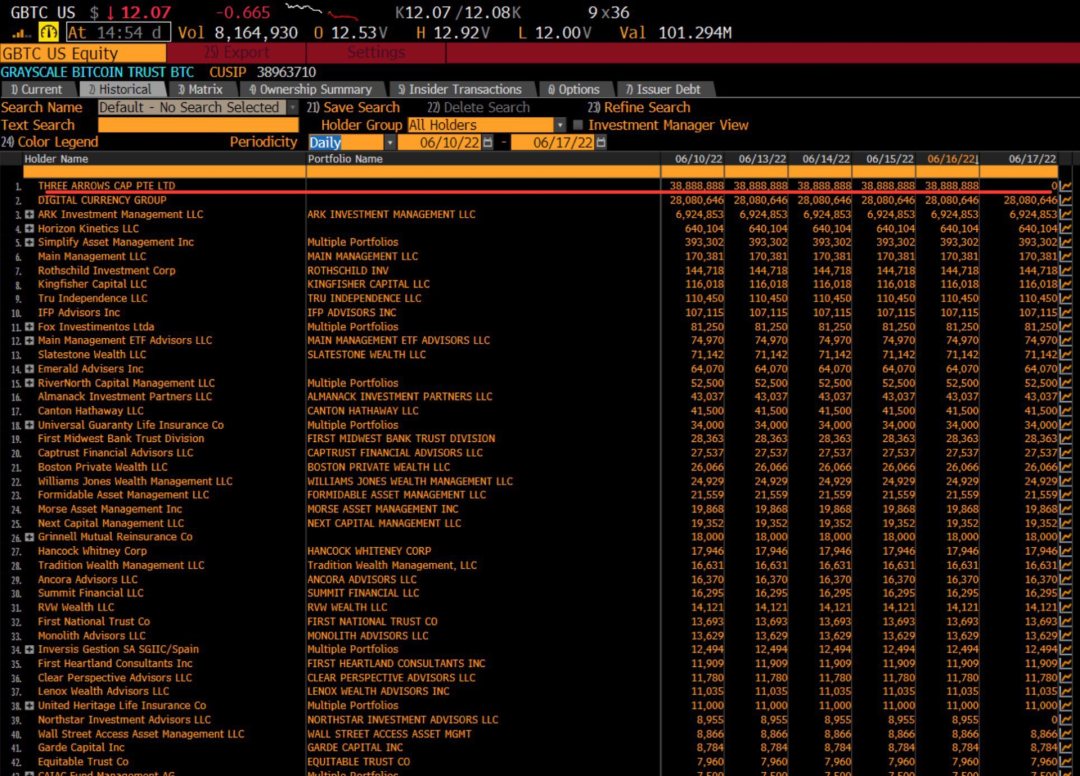 At present, it can be confirmed that at the beginning of June, 3AC still held a large number of GBTC positions, and hoped that GBTC could save 3AC.
According to The Block, starting from June 7, TPS Capital, an over-the-counter trading company under 3AC, has been promoting GBTC arbitrage products on a large scale, allowing TPS Capital to lock Bitcoin for 12 months and return it after expiration, and receive a promissory note to In exchange for Bitcoin, there is a 20% administrative fee.
An encryption institution told Shenchao that 3AC contacted them around June 8 to promote arbitrage products, saying that through GBTC arbitrage, 40% of the profits could be obtained within 40 days, and the minimum investment amount was 5 million US dollars.
In theory, there is still room for arbitrage in GBTC with a severe negative premium.
DCG is actively applying to the US SEC to convert GBTC into a Bitcoin ETF.
Further reading:Grayscale again calls on investors to write to SEC in support of converting GBTC into Bitcoin spot ETF
Further reading:In-depth analysis | Why is the US "Bitcoin Spot ETF" difficult to come out?These unsolved conditions are the main reason
Once successful, the ETF will track the price of Bitcoin more effectively, eliminating discounts and premiums, which means that the current negative premium of more than 35% will disappear, leaving room for arbitrage.
At the same time, DCG promised to reduce GBTC management fees and upgrade GBTC's trading venue from OTCQX to NYSE Arca, which has higher liquidity.
As the largest GBTC holding institution, what Zhu Su has been looking forward to is that GBTC will soon regain its name and be upgraded from a trust to an ETF, so that the value of its holdings will jump by more than 40%.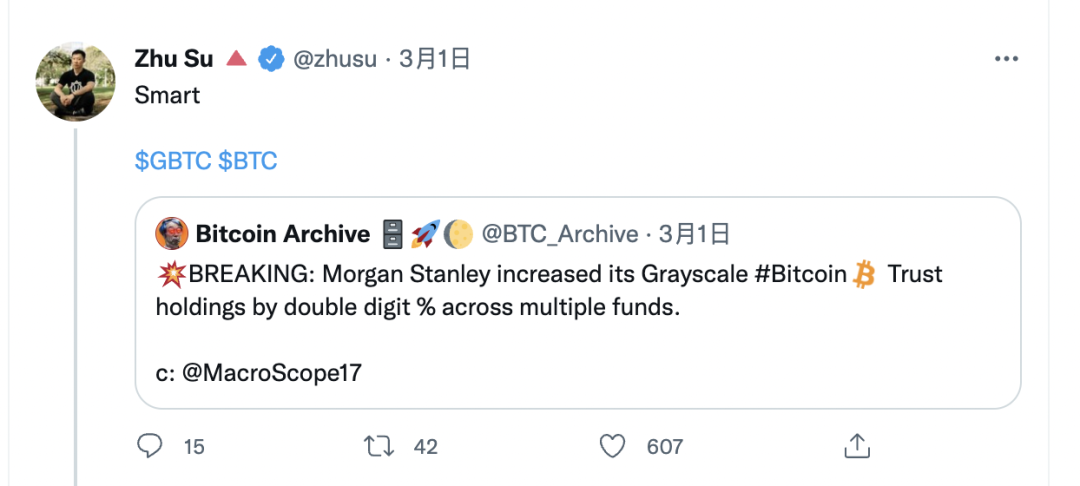 In October 2021, Grayscale submitted an application to the US SEC to convert GBTC into a bitcoin spot ETF. The deadline for the SEC to approve or reject the application is July 6, so 3AC told a large number of institutions that it will only take 40 days. More than 40% of the profits can be obtained, essentially betting that the SEC will approve the application.
But for the arbitrage product, Bloomberg ETF analyst James Seyffart said:
"In traditional finance, they call this operation a structured note, but no matter what, they take ownership of your bitcoin and also make money off your BTC.

They take your BTC and in either case (GBTC converted to ETF or not) take the return from the investor. Even if Three Arrows/TPS is solvent, this is definitely a bad deal for any investor. "
It is reported that 3AC did not rely on this product to obtain too much external funds, waiting for 3AC or a tragic liquidation.
On June 18, Genesis CEO Michael Moro tweeted that the company had liquidated the collateral of a "large counterparty" that failed to meet margin calls, adding that it would pass all possible options. Means to actively recover any potential residual losses, whose potential losses are limited and the company has escaped the risk.
Although Moro did not directly name 3AC, considering the current market dynamics and Bloomberg's intention to clear 3AC's GBTC holdings data on this day, the market believes that the large counterparty is likely to be Three Arrows Capital.
Success or failure is arbitrage, and the star who dances on leverage and arbitrage eventually falls because of leverage.
As Zweig said, maybe it was too young at that time to know all the gifts of fate, and the price had already been marked in secret. Under the liquidity crisis, no one can survive alone. The institutional bull market driven by institutional purchases of BTC has finally disappeared due to the liquidation of institutional leveraged assets.
Their names will fall into history, and BTC will be that BTC.
📍Related reports📍
Musk: I didn't say people should invest in cryptocurrencies!On the reasons for supporting Dogecoin, Twitter acquisitions
Worrying about Solana's giant whale causing a liquidation crisis! Solend initiated the proposal to "take over the power of the giant whale account" and was approved by 90%
Beginners must read|Understanding "GrayScale": Wall Street Pusher of Bitcoin Bull Market, Why GBTC Premium over Spot?
👇Get first-hand blockchain and cryptocurrency news for the first time👇