Unconsciously, it has been almost two years since the last Bitcoin halving this year, and the next halving is still two years away, even if we observe the evolution of Bitcoin itself, which has received little attention. (Recap:Analyst: Bitcoin halving cycle model predicts a possible bottom of $24,000 by the end of 2022) (event background:The number of users of Bitcoin Lightning Network payment exceeds 80 million!800 times annual growth)
4 On March 5, the US listed company MicroStrategy officially announced that it had purchased 4,167 bitcoins for about $190.5 million between February 15 and April 4, with an average of $45,714 per bitcoin. As of April 5, 2022, MicroStrategy owns 129,218 bitcoins, and the current average holding price is $46,742.
As a veteran of Bitcoin, MicroStrategy's buying and buying of Bitcoin is already a big-ticket strategy, but just this year, a more generous rookie has begun to appear, so that in less than three months In that time, nearly one-third of MicroStrategy's bitcoin inventory has accumulated.
Further reading:MicroStrategy's Q1 Bitcoin "depreciation by $170 million" dragged down the financial report, holding a total of 129,000 BTC
Further reading:Microstrategy CEO: Bitcoin will become a '$100 trillion' asset class, replacing gold within 10 years
The successor of the Bitcoin "Ming Brand" Tunjia LFG
Before 2021, Grayscale Investment (Grayscale Investment) is almost the only giant whale that plays an important role in the entire encryption world, especially its massive bet on Bitcoin, and every move has a profound impact on the market:
Grayscale's total assets under custody was US$825 million at the end of December 2018, soared to US$2.1 billion by the end of 2019, and exceeded US$20 billion by the end of 2020, surging 10 times within a year, becoming the crypto world A pivotal giant whale.
However, with the acceleration of the layout of Internet giants and traditional institutions in 2021, Grayscale's own influence and voice are gradually weakening. The annual position in 2021 will only increase by about 15 billion US dollars, far less than the pace of growth in 2020. (This does not take into account the price factor in 2021).
At the same time, a new generation has replaced the old. Since the beginning of this year, another well-known organization that surprised everyone has picked up the baton of Grayscale's "buy, buy, buy" – February 23, Terra ecological non-profit The organization Luna Foundation Guard (LFG) completed a $1 billion financing through the over-the-counter sale of LUNA Token, and the funds raised are planned to be used to build a Bitcoin-denominated foreign exchange reserve for UST.
Further reading:Bloomberg interviews Terra founder Do Kwon, how did the king of Lunatics become a "Bitcoin madman"?
Further reading:Do Kwon: Terra will become the largest single Bitcoin holder after Satoshi Nakamoto!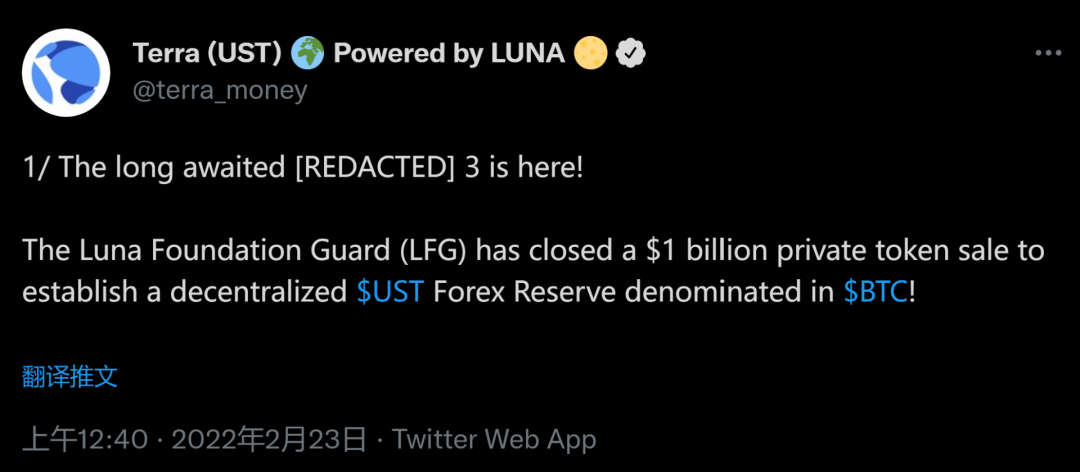 Luna Foundation Guard is a Terra ecological non-profit organization established by Terraform Labs (the actual operating entity of Terra) on January 20 this year. According to the official statement, the purpose of LFG is to ensure the stability of UST and to develop and research Terra ecological open source technology. Allocate grants to groups that contribute to education, community growth.
In short, LFG sold $1 billion worth of LUNA to a group of investment institutions, and then planned to use the $1 billion to buy Bitcoin, inject capital to create reserves, and act as a redemption mechanism for UST to ensure a significant increase in the crypto market. During the sell-off, the price of UST remained pegged to the U.S. dollar.
In the following two and a half months, LFG began to try to downplay its stable properties by continuously and rapidly increasing its Bitcoin reserves:
Since January 27, Bitcoin holdings in addresses marked as Luna Foundation Guard (LFG) have continued to increase, with an average of about 3,000 BTC in two days.
According to the reserve data on the official website of the Luna Foundation Guard (LFG), an ecological non-profit organization in Terra, as of April 20, the balance of Bitcoin reserves was 42,500, USDC reserves were nearly 400 million US dollars, LUNA reserves were 2.25 million, and UST reserves were 150 million US dollars. .
Terra founder Do Kwon even made a bold statement: In addition to Satoshi Nakamoto, we will become the world's largest single holder of BTC, which reminds people of the 140,000 BTC raised by EOS parent company Block.one through EOS. currency.
So if according to Do Kwon's statement, LFG will at least buy more than 100,000 bitcoins in the secondary market, with a market price of more than $4 billion, which is undoubtedly a long-term bullish power for the bitcoin market.
Accelerate the siege to the traditional world
At the same time, this year's Bitcoin 2022 conference can also be described as the best show for Bitcoin, and the "traditional" attributes are obviously bursting – gathered many politicians, financial giants, technical elites and celebrities in the technology industry.
Including Visa, Mastercard, Galaxy Digital, Paxos, etc., which also shows the peculiar charm of Bitcoin in the traditional world.
Among them, Aparna Chennapragada, chief product officer of Robinhood, said in a speech at the Bitcoin 2022 conference in Miami that Bitcoin is the most frequently bought asset by the company's largest users so far in 2022.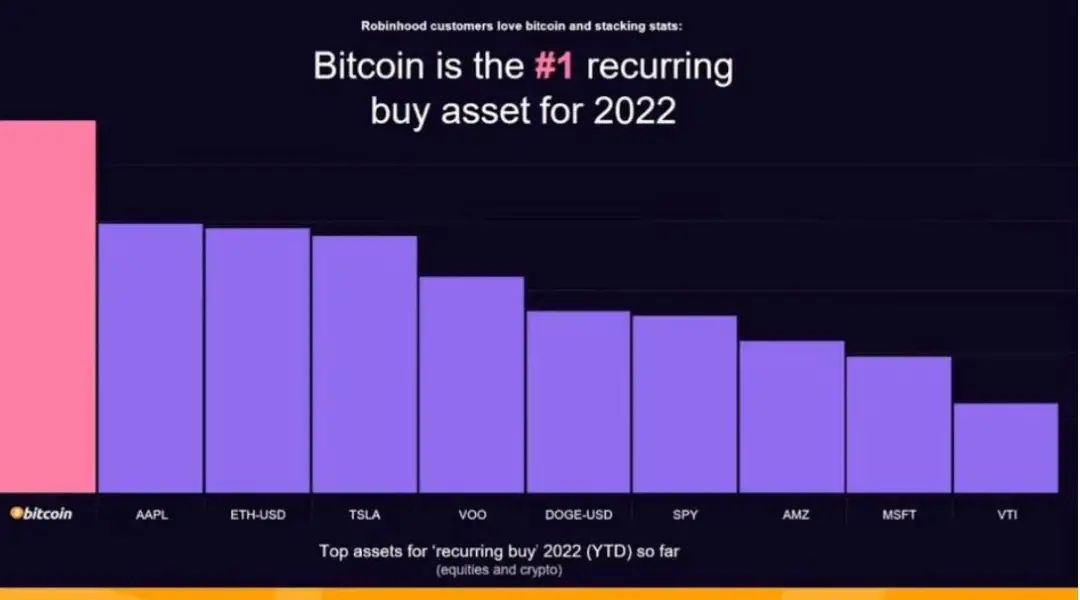 Robinhood's cryptocurrency wallet will also support the Bitcoin Lightning Network, and users who were previously on the waiting list can already send and receive crypto assets through their cryptocurrency wallet.
Miles Suter, head of bitcoin products at Cash App, a mobile payment service run by Block (formerly Square), also announced at the conference that U.S. customers will be able to automatically invest some (or all) of their deposits in bitcoin.
The former SoftBank CEO even said that he now has 10% of his portfolio in bitcoin, and concerns about the possibility of an impending recession prompted him to increase his bitcoin holdings by 80-90%, even in Mexico The third-richest people all say 60% of their portfolios are in bitcoin and bitcoin-related stocks.
Further reading:Mexico's third richest man: I invest 60% of my liquid assets in "Bitcoin"; Mexican lawmakers propose that BTC be included in legal tender
Before 2021, only Grayscale served as an intermediate channel for qualified investors and institutions to intervene in the Crypto market in the entire crypto industry. Now, traditional institutions, capital, and even sovereign countries have begun to rapidly change their perceptions and attitudes toward crypto assets, so much so that they take the initiative to enter the market. Layout, this is a bright scene that has never been seen since the birth of Bitcoin.
Bitcoin has been declared dead or dead about 390 times since 2010. In 2020, it has been killed much less frequently, only 11 times, and since 2021, it is almost zero.
At the same time, in the field of blockchain development in 2021, Ethereum's "London Upgrade" in July almost occupied the main media coverage, but unlike the vigorous ecology of borderless innovation in Ethereum, Bitcoin is in The "Tarpoot Upgrade" in November was very quiet.
Even users in many industries feel that the development of bitcoin may be at a standstill, which is almost the most realistic portrayal of the gradual neglect of the bitcoin network development process by the market.
Further reading:Viewpoint|From an investor's perspective, a comprehensive insight into the Bitcoin Taproot upgrade
The muffled advancement of the Bitcoin ecological picture
In fact, since 2020, everyone seems to have gradually acquiesced to the positioning of Bitcoin as "digital gold", and has forgotten the "global currency" payment attribute behind the industry debate and even the fork. It seems that the upgrade of technology application has not So important.
Although most of the mainstream DeFi is still in the Ethereum ecosystem, the Bitcoin network is still evolving, especially last year's Tarpoot upgrade brought new combinations and possibilities of performance, privacy and even smart contracts to Bitcoin. Perhaps More complex programming capabilities will also be gradually added in the future.
Further reading:Create the purest cryptocurrency" Bitcoin Taproot is wider than you think
The continued evolution of the Lightning Network
At the same time, the payment function of Bitcoin has been basically transferred to Layer 2, especially the Lightning Network. El Salvador, the only country in the world that recognizes Bitcoin as legal tender, uses the Lightning Network. There will be other developing countries to follow up (including other countries that have made an oolong in the past two days, etc.).
Statistics from the 1ML website show that as of April 12, the number of bitcoins locked in the Lightning Network, which is dedicated to bitcoin micropayments, has exceeded 360 (3619), and the number of nodes has exceeded 36,000 ( 36263).
On April 2, the Kraken platform also announced that it has supported the Bitcoin Lightning Network and is open to all users. Kraken said that supporting the Lightning Network would allow users to achieve instant settlement and lower fees when transferring BTC to or from Kraken accounts.

Financial Scenario Exploration of Bitcoin Bonds
On March 20, El Salvador said it may delay the issuance of bitcoin bonds due to the turmoil in the international situation. The bonds were originally planned to be launched on Liquid, a bitcoin side chain created by Blockstream, and carry a 6.5% coupon.
"The funds raised from the bond issuance will be used to build a city called Bitcoin City, and this bond issuance will make El Salvador the new world financial center", November 2021, then Blockstream Chief Strategy Officer Samson Mow (Samson Mow) Speaking at a rally for El Salvador's Bitcoin Bonds.
However, even if it is delayed, the government of El Salvador plans to issue "Bitcoin Bonds" on the Bitcoin sidechain "Liquid". Half of the funds raised will be used to buy Bitcoin and hold it for five years, and the rest will be used for Fund Bitcoin-related construction content.
Further reading:Moody's: 'Bitcoin bond extension' is increasing El Salvador debt default risk
Further reading:El Salvador to issue "$1 billion bitcoin bond"! 500 million to buy BTC and cooperate with Bitfinex on L2
summary
Unconsciously, it has been almost two years since the last Bitcoin halving this year, and the next halving is still two years away, even if we observe from the evolution of Bitcoin itself, which has not received much attention:
The RGB protocol, Slashtags (identity accounts, contacts, communications, and payments that serve the Bitcoin Lightning Network ecosystem), the Impervious browser that integrates many P2P services, the Taproot-based asset protocol Taro, and the Lightning Token OmniBOLT are all worth looking forward to.
In 2020, Bitcoin has been deeply branded as "digital gold". In 2021, under the currency experiment of El Salvador's "first crab", combined with the Lightning Network and the "most ambitious upgrade" Taproot upgrade, Bitcoin " The payment attribute of "global currency" has also ushered in a counter-attack.
In 2022, with the debut of LFG, a new bright brand, as well as the evolution of the Bitcoin Lightning Network ecosystem and the derivation of financial scenarios such as Bitcoin bonds, the expansion of Bitcoin in all dimensions has obviously ushered in new variables. It is worth looking forward to where Bitcoin will eventually lead.
📍

Related reports

📍
Musk sarcastic: Buffett mentions Bitcoin many times!Munger: Robinhood lets everyone gamble, now payoff
Curve suffers governance attack, USDM stablecoin protocol Mochi "swept away $35 million"
Cream Finance suffers third flash loan attack, loses $130 million, hackers leave mysterious message
Full Analysis | 3 Must-Know "Defi Reentry Attacks": Basic Concepts, Details Behind, and Techniques – Amber Security Director
Make the Telegram news channel of the dynamic zone powerful again! ! Join now to get first-hand blockchain, cryptocurrency news coverage.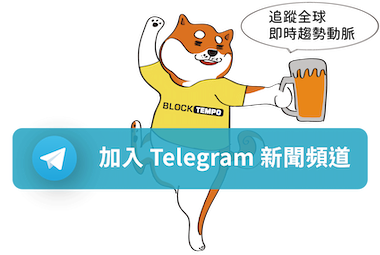 LINE and Messenger serve you from time to time


related news