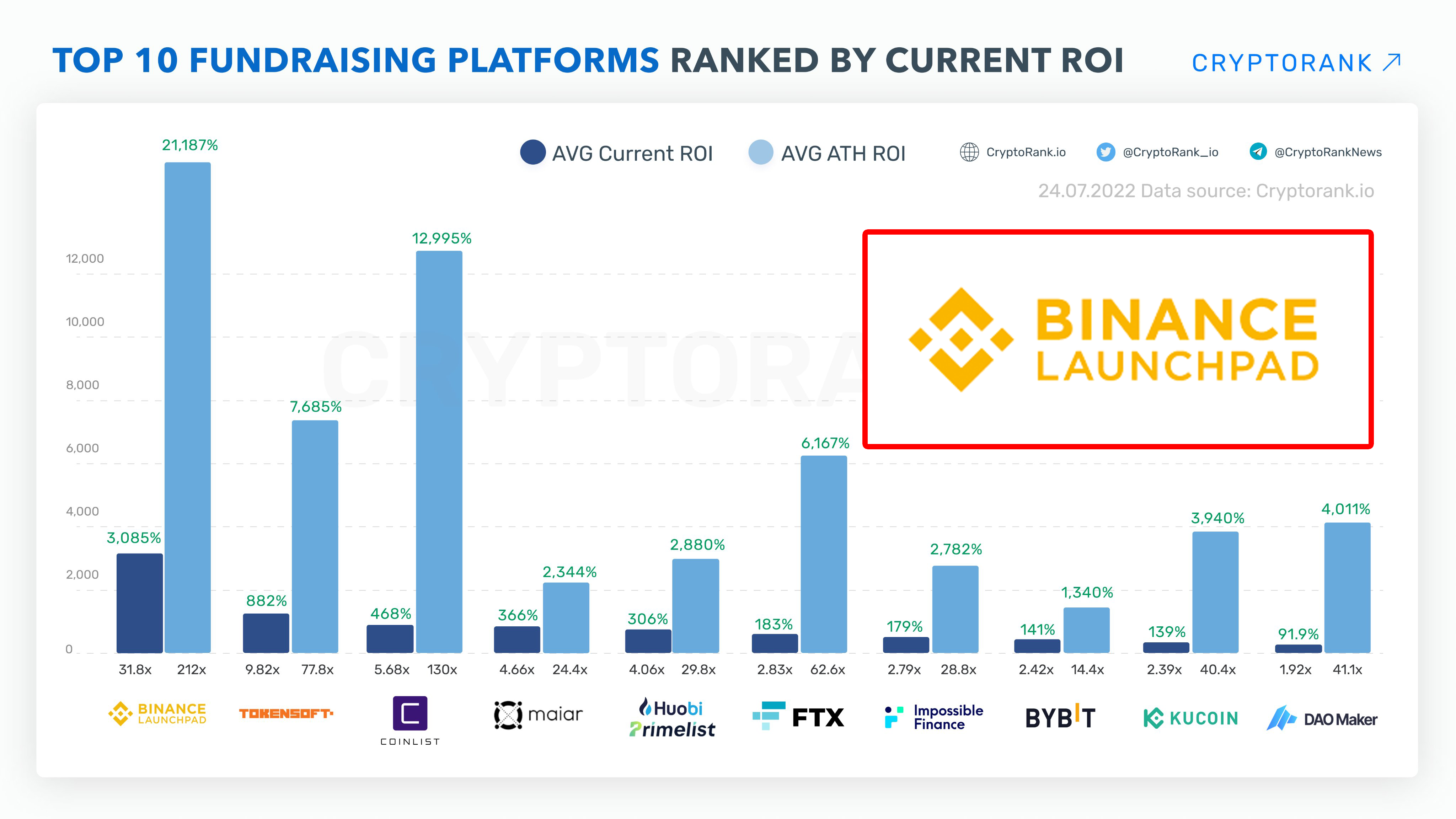 According to the latest blockchain research data, Binance's Launchpad ranks first among the ten cryptocurrency token fundraising platforms with the highest ROI, with an average ROI of 31.8 times and a record high ROI of 212 times. , far away from other token fundraising platforms. ICO fundraising platforms TokenSoft and CoinList came in second.(Recap:FTX IEO|IP3 spot trading was launched yesterday, and it still "instantly rose nearly 9 times" in the bear market) (background supplement:Primary Market Entrepreneurship Must Read | What You Need to Know About Crypto Fundraising)
AreaThe blockchain research institute CyptoRank announced on Twitter yesterday (24th) the ranking of the ten cryptocurrency token fundraising platforms with the highest return on investment (ROI). Among them, Binance's Launchpad topped the list, with the current average ROI of 31.8 times, and the all-time high (ATH) ROI of 212 times. Before the deadline, according to CyptoRank data, Launchpad's market value was $14.23 billion.
📈 Top 10 Fundraising Platforms Ranked by Current and ATH ROI

You can check real-time statistics of IDO/ICO/IEO returns on https://t.co/OiMrtCRWZD

Fundraising Platforms Rank List 👉https://t.co/5ThK1wlFl3 pic.twitter.com/CCIJmkbFQP

— CryptoRank Platform (@CryptoRank_io) July 24, 2022
ICO fundraising platforms TokenSoft and CoinList take second place
Binance Launchpad is followed by TokenSoft and CoinList, with an average ROI of 9.82 times and 5.68 times, respectively, while ATH ROI is recorded at 77.8 times and 130 times, but they are still largely sold off by Binance Launchpad. It is worth mentioning that although the ROI of Binance is far higher than that of TokenSoft and CoinList, according to CyptoRank data, the market capitalization of TokenSoft and CoinList is 24.47 billion and 34.67 billion US dollars respectively, surpassing the Binance Launchpad platform by at least 10 billion. The gap in market value is believed to be related to the difference in fundraising methods. Launchpad belongs to IEO (Initail Exchange Offering), while TokenSoft and CoinList belong to (ICO Initial Coin Offering).
The difference between IEO and ICO lies in the fundraising process and division of labor between the two. IEO is the exchange responsible for fundraising, while ICO is the issuer's own fundraising, and after a successful issuance, it has to apply to the exchange for listing, but IEO is You can directly click to list the relevant exchanges. Since the fundraising responsibility is shouldered by IEOs, their listed projects must be strictly reviewed first. The number of projects successfully listed in disguise is far less than that of ICO platforms, which also explains why the market value of the two is so different.
Further reading:[Independent point of view]Diversified token issuance, IEO, IAO, IFO, ICO are dazzling… What's the difference?
Binance's rival FTX IEOs ROI is 2.83 times, and the market value is only 3% of Binance's
The performance of FTX, which can rival Binance in cryptocurrency exchanges, is slightly inferior in IEO, and even loses to Huobi PrimeList, with an average ROI of only 2.83 times, but ATH ROI performance is relatively good, once reaching 62.6 times. According to CyptoRank data, FTX IEOs only started in 2019, two years after Binance, and its market value is only 515 million, which is 3% of the market value of its rival Binance Launchpad.
However, FTX IEO obviously intends to rush to catch up. Recently, it has made frequent moves. Last month, it was even braver to push new IEO pre-sale in the bear market. According to an earlier report by "Dynamic Zone", the project is called CRIPCO, which focuses on the NFT trading market of the "IP 3.0 ecosystem". It will start pre-sale on the 8th of this month, with a pre-sale price of $0.2, and the end price of the first day will reach $1.1 US dollars, $0.80 at the time of writing, good results.
Binance Launchpad has listed BitTorrent, StepN GMT and other famous projects
According to an earlier report by "Dynamic Zone", after the famous file sharing protocol BitTorrent was successfully acquired by TRON founded by Justin Sun at the end of 2018, it immediately issued a white paper on the Binance Launchpad platform and completed a 7.2 million token sale. The project was removed from the platform in September of the same year.

So far, according to the official website, Binance LaunchPad has also listed a number of famous GameFi projects, including The Sandbox, Axie Infinity, etc. It is worth mentioning that on March 1st this year, Binance Launchpad successfully listed StepN GMT, a famous running earning project, and completed the sale on the 9th of the same month. Previously, Binance Launchpad has also promoted fan tokens for several teams and sports clubs, and the response has been enthusiastic.
📍Related reports📍
Coin98 | The 5 million-magnesium Solana Fund has only been established, and the Southeast Asian Defi ecosystem will be listed on "Binance LaunchPad"
Community debate over fairness after Binance updates Launchpad crowdfunding rules
Make millions in seconds! FTX's new IEO "C2X" soared 50 times at the opening!Announced $25 million in financing