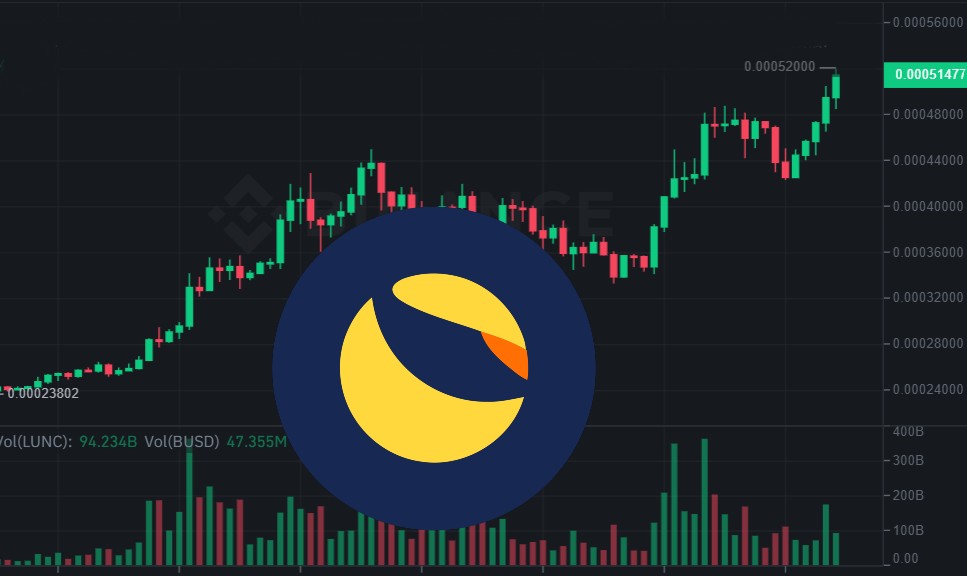 LUNC's introduction of a 1.2% burning fee has triggered a meme-like surge, which has recently surged by 45%. Edward Kim, the initiator of the burning fee proposal, also announced on his personal blog that the burning parameter voting is scheduled to start on 9/10, and it is expected to start on 9/20 formally implemented. Among them, Kucoin and Gate.io also issued announcements claiming that intra-exchange transactions will support a 1.2% burning fee, but this has aroused questions from the community. (Recap:Meme rush to buy "LUNC trading volume soared four times and then rose by 69%! Kucoin was temporarily suspended due to "sold out") (background supplement:Interpretation" The community has spread wildly that LUNC's goal is back to $1. Why is it impossible to analyze the four levels?)
maleAfter the collapse of the chain Terra, the old chain token LUNC has been hot recently, and the community publicity will introduce a 1.2% burning fee to detonate the meme-style crazy rumor that "LUNC will return to 1 USD", attracting a large number of fans to the exchange to buy, once the LUNC trading volume skyrocketed Four times, even some exchanges reported that LUNC's trading volume surpassed that of Bitcoin, and even KuCoin reported that trading was suspended because the spot was sold out.
The initiator of this wave of memes was a Korean-American professor named Edward Kim, who led the proposal related to burning fees in the community. On September 1, he launched a discussion about the 1.2% burning fee parameter. After the community passed the #4159 proposal in August, and now the mainnet has deployed a large number of V22 version node client code according to this proposal, but the default combustion coefficient of the system is 0, so Edward Kim advocates calling on the community Adjusted parameter claim in V22 node client to 0.012.
Edward Kim also officially announced the "Lunc Classic Revival Road" on his personal blog on the previous (6) days. The content of the article mentioned that the burning fee parameter setting vote is scheduled to be opened on 9/10, and it is expected to be officially announced as soon as 9/20. implement.
LUNC continues to soar
With the upcoming vote on combustion parameters, LUNC also saw a sharp increase again. Since 4 pm yesterday, the quotation once reached $0.00033991, and the deadline was temporarily closed at 0.00052019, with an increase of 45.03% in the range.
Community Questions How Centralized Exchanges Burn 1.2%
Both Kucoin and Gate.io announced today (8th) that intra-exchange transactions will also support the LUNC burning fee 1.2% protocol.
However, this statement aroused suspicion in some communities. The LUNA DAO Twitter account with more than 62,000 followers tweeted doubts. Some centralized exchanges claimed to support the 1.2% burning fee protocol. Traders take 1.2% from their hands and do not destroy:
Some CEXs claim to support a 1.2% burn tax, but in fact they don't, most just take 1.2% away, which means it doesn't make any sense. It's just trying to keep people from leaving centralized exchanges. The real support for the protocol is that all buys and sells are burning 1.2% fees.
According to Edward Kim's proposal on September 1st, the scope of the 1.2% burning fee does not include transfers within the exchange, so how to conduct the 1.2% burning of the transaction is still a problem, so far Kucoin and Gate.io and other exchanges have not yet detailed Explain how to implement a 1.2% burn fee on centralized exchanges.
A few CEXs are claiming to "support the 1.2% tax", but they're not really. What most are referring to is a 1.2% tax on withdrawals. This means nothing. All it serves to do is reduce the chance of people leaving the CEX. Real support means burning 1.2% on all $LUNC buys and sells

— 🔥🙏 𝕃𝕌ℕℂ 𝔻𝔸𝕆 🙏🔥 (@LUNCDAO) September 7, 2022
📍Related reports📍
The Power of Superstition" LUNC soared 80% to a record high, rumored that Do Kwon called back $1; USTC on 0.043
Nearly 70% of Terra Classic nodes have updated the burn mechanism! Community excitement led LUNC coins to jump 25%
Ditch Do Kwon! 33 projects migrated to the old Luna chain; Lunc surged 15%