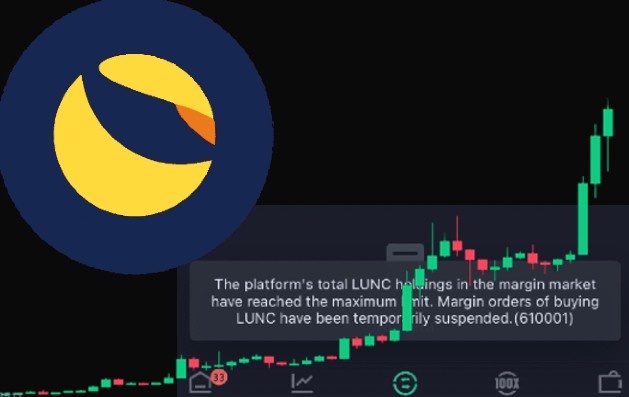 Today (6) days, LUNC has seen a 4-fold increase in trading, an astonishing 69% increase in a single day. The Twitter community even reported that Kucoin exchange was temporarily suspended because the spot was sold out, showing the popularity of community fans . (Recap:The Power of Superstition" LUNC soared 80% to a record high, rumored that Do Kwon called back $1; USTC on 0.043) (background supplement:Interpretation" The community has spread wildly that LUNC's goal is back to $1. Why is it impossible to analyze the four levels?)
maleThe old token $LUNC (Terra Classic), the old token $LUNC (Terra Classic) after the fork after the collapse of the chain LUNA, saw an explosive increase again today (6). According to a recent report by the dynamic zone, LUNC has broken through LUNA since September and changed its name to LUNC after the crash. The all-time high of , many online communities are frantically touting and predicting that it is about to return to one dollar, causing community frenzy. At the same time, the community has also promoted that the upcoming 1.2% transaction burn fee will be expected to reduce the token supply in the long term, resulting in a sharp increase in the LUNC transaction volume of many exchanges.
A single-day surge of up to 69%
Since the deadline for writing, LUNC has temporarily closed at US$0.0004031, and has risen to a maximum of US$0.0004404 at 4:00 pm today (6), compared with the quoted price of US$0.0002596 at 4:00 pm yesterday (5), the largest single-day increase is as high as 69% . According to Coinmarket Cap, today's trading volume has risen by 428% since the deadline, and even exceeded 500% at its peak.
According to the community Twitter picture, on the 5th day of yesterday (5) days, the exchange Kucoin even experienced too much trading volume, which led to the appearance of a page that could not be traded, which caused intense discussion and even touted in the community. Some netizens even posted pictures below. , the trading volume of some exchanges exceeds that of Bitcoin.
However, the dynamic zone reminds readers that the project is still speculative and high-risk, and relevant risks should be carefully evaluated before investing.
More #LUNC traded than #BTCs pic.twitter.com/hS20D4hXMJ

— Andy S (@Andy_Shepherd) September 5, 2022
📍Related reports📍
The Power of Superstition" LUNC soared 80% to a record high, rumored that Do Kwon called back $1; USTC on 0.043
LUNC token surged 71% in a single week! Binance and Kraken support "1.2% burn fee", 74% of nodes have been updated to V22
Ditch Do Kwon! 33 projects migrated to the old Luna chain; Lunc surged 15%