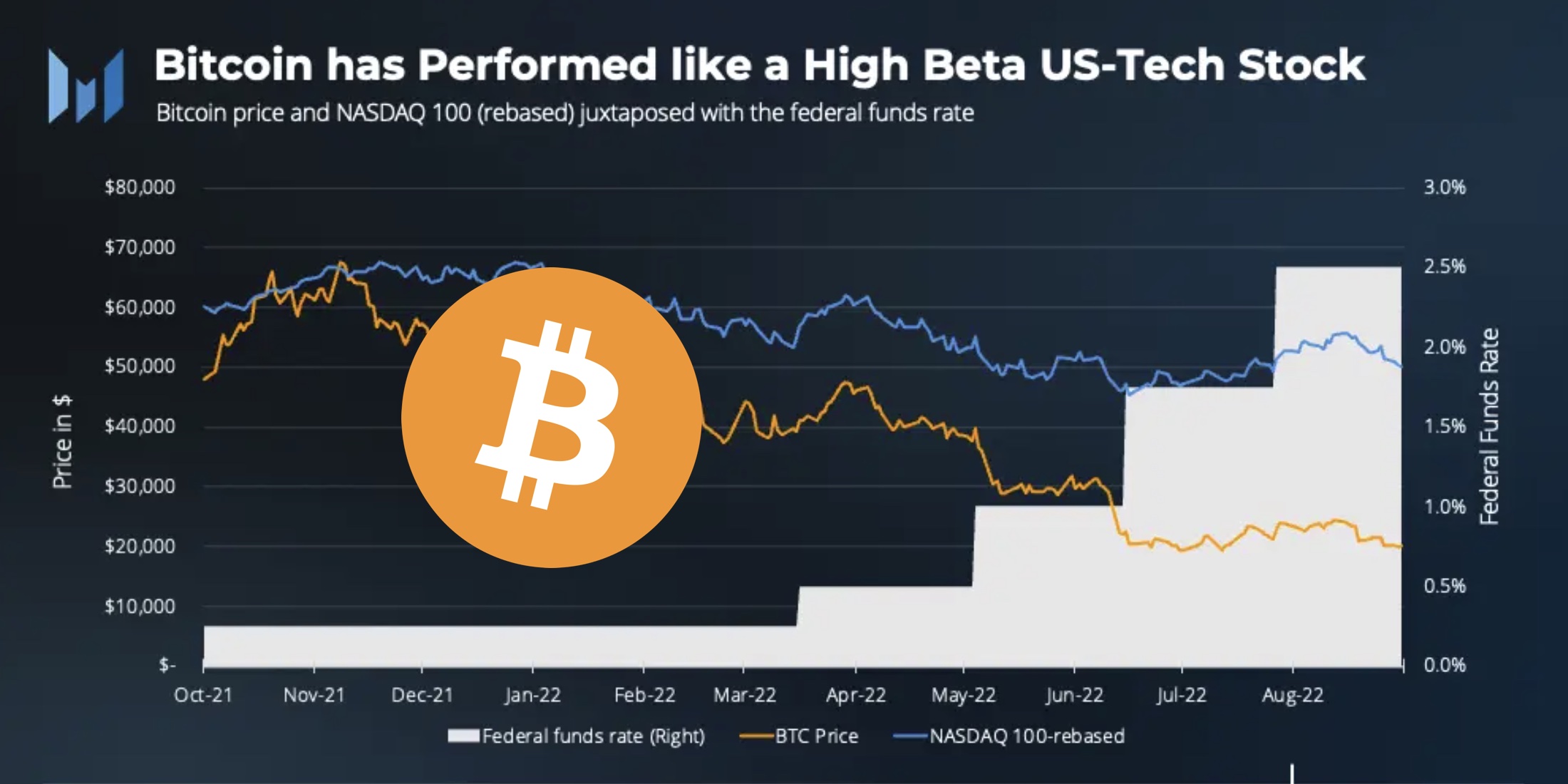 Messari recently released the report "The State of Bitcoin in the Third Quarter of 2022", pointing out that Bitcoin basically followed the trend of U.S. stocks in Q3, losing the function of hedging inflation and storing value, and the income of miners continued to decline. But at the same time, the volatility of BTC is decreasing and the Lightning Network is steadily increasing. (Recap:Coin Market Commentary" CoinShares: It is unlikely to rise sharply this year; BitMEX founder: Bitcoin market is determined by the US dollar liquidity index) (background supplement:Messari Report: Nearly 1,200 Cryptocurrency Fundings in the First Half of This Year, Focused on Cefi, NFT, Not Defi)
CompareBitcoin (BTC) has lost more than 70% of its blood so far since hitting a high of $69,000 last year. Messari, a well-known cryptocurrency analysis agency, recently released the "The Status of Bitcoin in the Third Quarter of 2022", pointing out that Bitcoin basically lost its role as a hedge against inflation and a store of value in Q3.
With inflation in the U.S. reaching multi-decade highs and Bitcoin hitting new cycle lows, Messari said its price action is less like a store of value and more similar to the price of U.S. Nasdaq tech stocks trend. The average correlation between Bitcoin and the Nasdaq 100 was 0.6 in the third quarter as inflation and interest rate hikes dominated, the data said; digital gold and physical gold were less correlated in comparison Much more, the average correlation between the two assets in Q3 was 0.2.
At the same time, Messari warned that Bitcoin prices will remain under severe pressure as the Federal Reserve (Fed) shifts to a more conservative, less liquid and higher interest rate economic backdrop.
Further reading:Bloomberg is optimistic about becoming a reserve asset! Michael Saylor Predicts: Bitcoin Will Demonetize Gold
Bitcoin Volatility Declines, Lightning Network Steady Growth
But despite the continued slump in prices, Messari noted that Bitcoin's volatility was trending lower in the third quarter. The 30-day average volatility in August was 60%, compared to over 80% in June. Lower volatility also allows for less liquidation in the cryptocurrency market.
Long liquidations totaled $5 billion in August, less than half of June ($10.8 billion); short liquidations were also significantly lower, at $3.5 billion in August compared to $6.6 billion in June.
Further reading:Michael Saylor: Micro-Strategy is exploring the Bitcoin Lightning Network and developing enterprise application solutions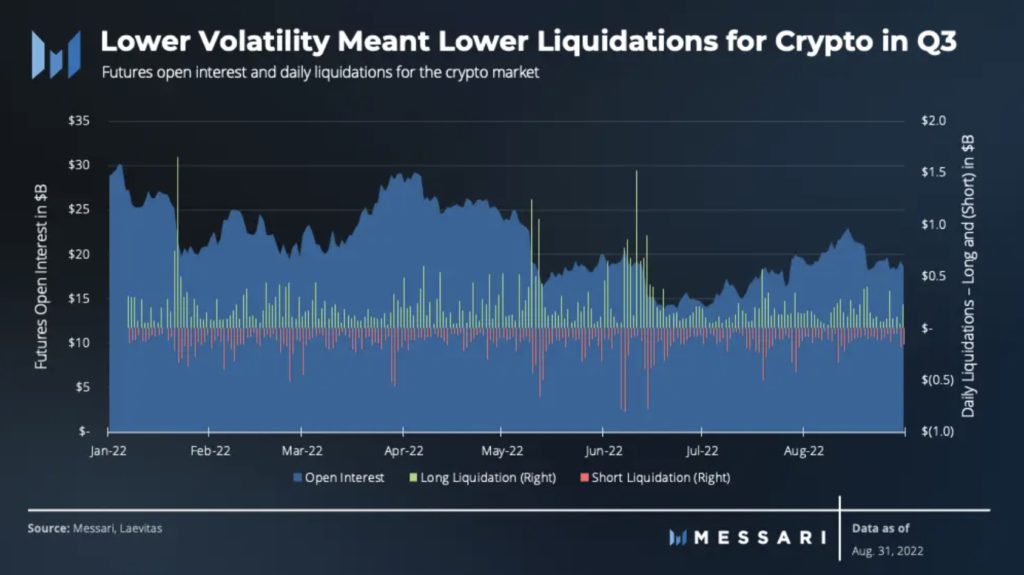 In terms of the ecological development of Bitcoin's "Lightning Network", it has continued to grow steadily despite the impact of the market downturn. At present, the public channel holding capacity of the Lightning Network has reached a new high of 4,618 bitcoins, valued at about $83 million. Some of the big businesses adopting the Lightning Network in 2022 include: Cash App, Kraken, BitPay, and Robinhood.
The daily transaction volume of the Lightning Network has remained roughly constant throughout the year, averaging around 250,000 transactions per day. Transaction fees have also been very low since the first bull run in 2021. The average fee per transaction to date is just $1.4, down 21% for the quarter and 55% for the year.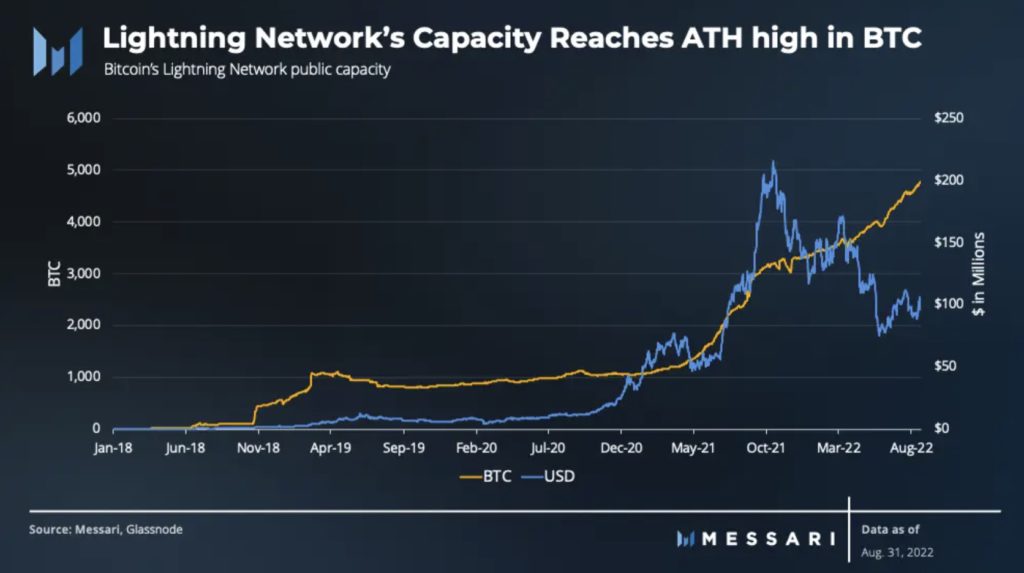 Miners' income continues to decline
Basically cryptocurrency miners have two sources of income: block rewards and transaction fees. The level of their income is directly dependent on the price of Bitcoin and the demand for block space.
Miner revenue peaked at $4.8 billion in the fourth quarter of 2021, but has since declined along with Bitcoin's price decline. Quarterly revenue for miners fell by 28% and 22% in Q1 2022 and Q2 2022, respectively. If Bitcoin's price remains range-bound at the end of the third quarter, quarterly miner revenue is likely to continue its downward trend given high energy prices.
Further reading:Texas heatwave cools!Bitcoin Mining Difficulty "Reached a New All-Time High"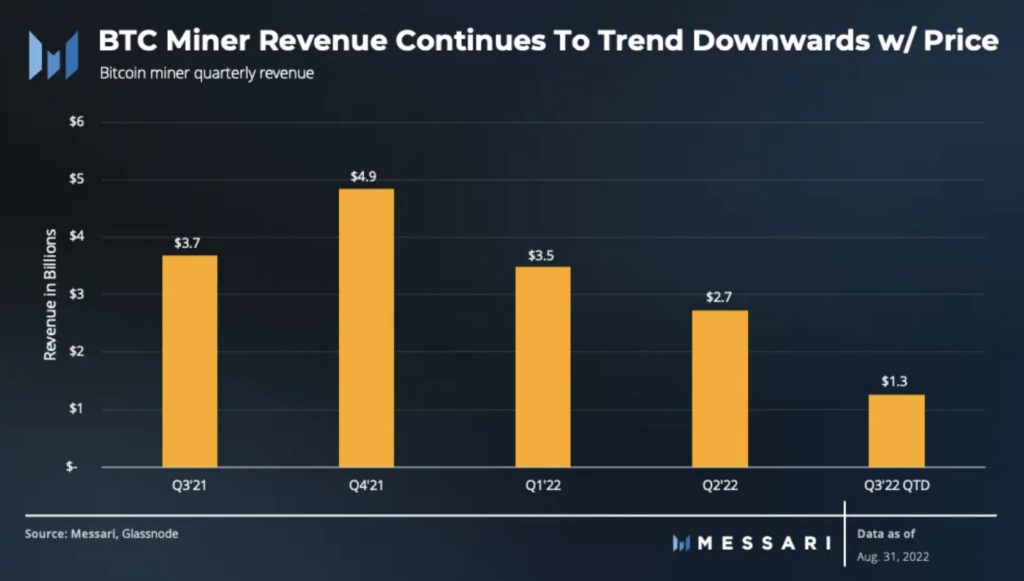 It's also worth noting that Bitcoin's hash rate (hash rate) has not declined significantly with the price drop, but is approaching its all-time high.
As mining difficulty rises instead of falling, miners may be forced to abandon their long-standing HODL strategy and sell their bitcoin holdings to cover the exorbitant costs.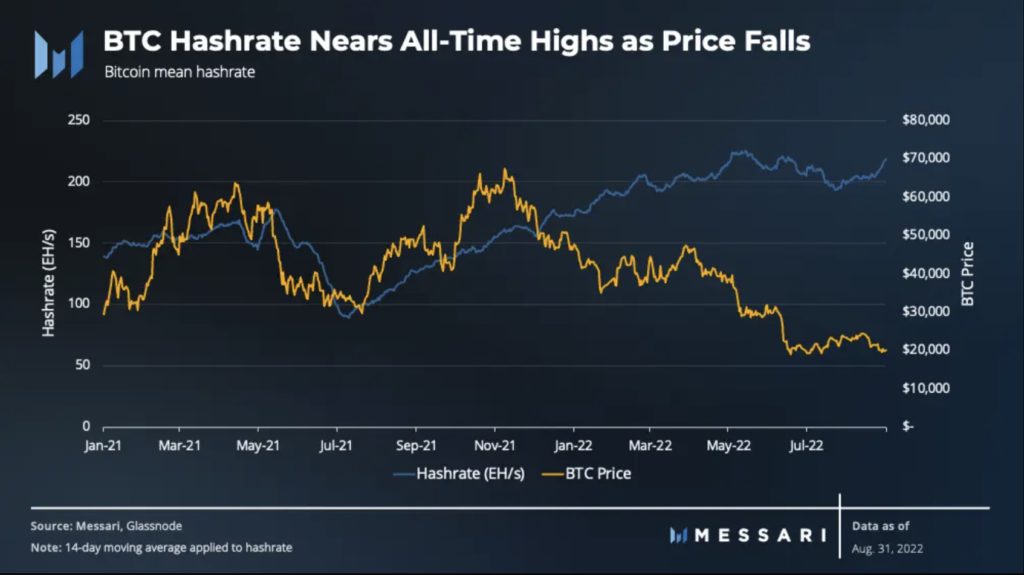 BTC has not yet realized its value as a hedge against inflation and a store of value
Overall, Messari sees Bitcoin as neither a hedge against inflation nor a store of value over the past year, with on-chain metrics showing a slowdown in transactions, new and active users.
But having said that, the report says Bitcoin has had worse times in its history. As developers are building new features that bring smart contracts to Bitcoin, and the Lightning Network ecosystem continues to grow, the oft-maligned mining can also fight climate change by reducing emissions and strengthening the power grid. Eventually, we may see new narratives replace the old ones.
📍Related reports📍
Bitcoin Taproot upgrade officially activated!Smart contracts are coming, 54.65% node support, BTC rebounds slightly
Founder of BitMEX: Bitcoin may backtest the price of 17500!U.S. dollar falls on liquidity crunch
JPMorgan Chase CEO choked in Congress: Bitcoin and other cryptocurrencies are "decentralized Ponzi schemes"!