New blue-chip NFT project Moonbirds had a project sold at an all-time high of 240 ETH earlier today! However, some analysts found that the transaction was completed by an arbitrage robot, and the community suspected that it was an accident or deliberate speculation by the user. (Recap:Moonbirds NFT's initial market value exceeds $167 million! The highest transaction was 150 ETH, and the floor price soared to 22.69 ETH) (background supplement:The market value of blue-chip NFT "Moonbirds" exceeded 500 million US dollars)
Depend onA high-quality Podcast focusing on the NFT field – the new NFT project "Moonbirds" with the image of an owl launched by PROOF has received enthusiastic attention after the launch of the public sale. The floor price in Opensea has reached 36.1 ETH, which is higher than the public sale price (2.5 ETH) jumped nearly 15 times; and just earlier today (22), the NFT number #3730 was successfully sold at a new all-time high of 240 ETH in Looksrare!
But according to an earlier post by blockchain analyst @bertcmiller, he discovered that the deal was done through a new MEV arbitrage bot. When the robot found that an anonymous user (wallet code name: c8c722) was willing to buy any Moonbirds NFT for 240 ETH at LooksRare, it immediately bought the NFT with number #3730 at the floor price of about 44 ETH at that time, and immediately resold it. out, and now earn nearly 180 ETH after deducting the handling fee!
New MEV just dropped: @moonbirds_xyz arbitrage

Searcher bought for 44 ETH and sold it for 240 ETH in the same transaction, pocketing a cool ~180 ETH for themselves after fees https://t.co/KvJ1dlKu43 pic.twitter.com/HCLyvrIfzi

— @bertcmiller⚡️🤖🛡️ (@bertcmiller) April 21, 2022
Accidental or deliberate hype?
Since the anonymous user's quotation of 240 ETH is much more than five times higher than the floor price, and there is no special rare NFT specified, it is not common sense. Therefore, the community speculates that the user may have accidentally pressed the wrong button, but because he was immediately attacked by the robot The transaction is detected and completed, so the loss is heavy.
However, some people found that the user's wallet had recently transferred a large number of Moonbirds NFT to the same address, suspecting that he may have deliberately hyped up the project's highest bid by switching his left hand to his right.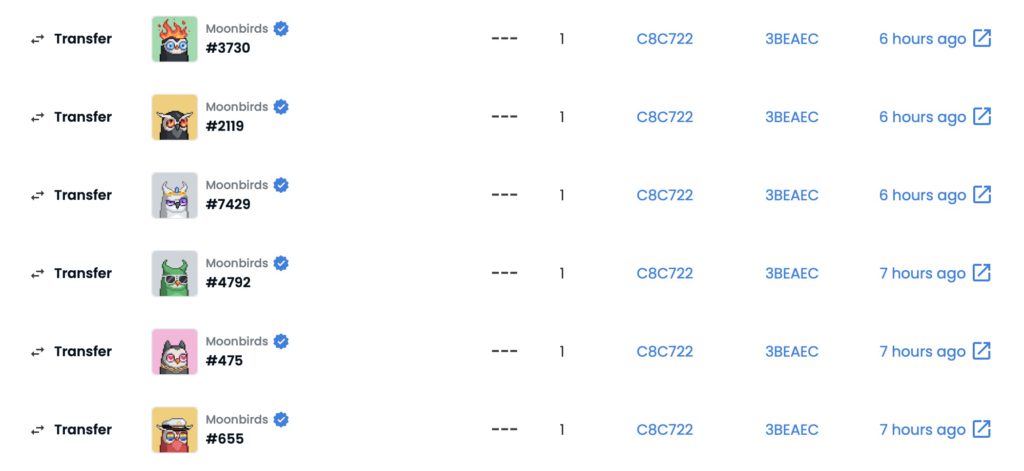 Moonbirds continues to grow strongly
Regardless of the truth of the matter, Moonbirds has continued to grow strongly recently. According to NFTScan data, the trading volume of Moonbirds series NFTs rose by 75% in the past 24 hours to about US$56.69 million, and the market value reached US$263 million.

In addition, we can find that among all wallets holding this NFT, the number of giant whales is growing steadily; and the vast majority (90.75%) choose to continue to hold, and only 9.25% of users have traded within 24 hours.

📍

Related reports

📍
The reason for the NFT market battle royale? Moonbirds project attracts a large number of collectors to "pledge 2.5 ETH" to draw a whitelist
Discord groups such as BAYC, Doodle… are hacked, how should users protect themselves?Must-know anti-fraud rules, de-authorization of robots
Boosted by Musk, Twitter confirmed that it will test the "editing" function; some Twitter employees left angrily, CZ: It is more important to solve the fraud!
Make the Telegram news channel of the dynamic zone powerful again! ! Join now to get first-hand blockchain, cryptocurrency news coverage.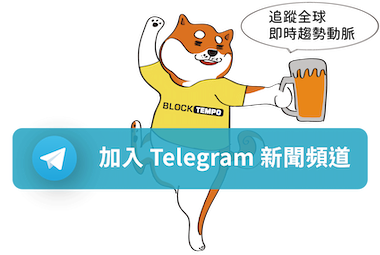 LINE and Messenger serve you from time to time


related news