key takeaways
Polkadot is consolidating between $8.55 and $10.70. Likewise, Kusama is between $64.80 and $87.85. DOT and KSM must break support or resistance to determine their direction.
share this article
Cryptocurrency markets kicked off the week in the green, helping Polkadot and Kusama surge past key resistance areas. Still, neither asset has yet found the catalyst it needs to break out.
Polkadot, Kusama stagnated
Polkadot and Kusama are still consolidating in the non-trade zone, waiting for volatility to spike.
Polkadot defines a clear support level at $8.55 and resistance at $10.70. A decisive four-hour candlestick close outside that range could determine where the blockchain's DOT token will go next. The formation of a symmetrical triangle on the four-hour chart suggests that its price could rise by nearly 42% after the stagnant period ends.
If this technical formation remains the key controlling pattern driving Polkadot's price action, a break above the $10.70 resistance could lead to a rise to $14.80. However, if the selling pressure builds and DOT breaks below the $8.55 support, a plunge to $5.18 is likely.
Kusama also showed ambiguity, trading between $64.80 and $87.85. A four-hour close below support or above resistance could help determine where KSM is headed next. However, due to the ongoing uncertainty across the crypto market, the direction of KSM may not be clear until the trend subsides.
Additionally, Kusama appears to be forming a parallel channel on its four-hour chart. The height of the pattern suggests that a breakout of the $64.80 to $87.85 range could lead to a price change of 35.34%.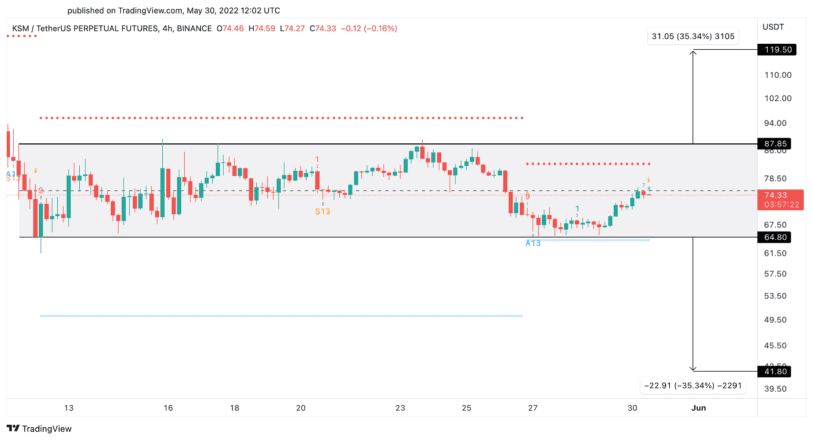 Although Bitcoin bullish price action Opening the week, Polkadot and Kusama have yet to find a new catalyst to help them get enough volume to break out. The price pocket in which both assets are currently struggling can be considered a non-trade zone. Their direction may remain unclear until they decisively violate their points of interest.
Disclosure: At the time of writing, the author of this article owns BTC and ETH.
For more key market trends, subscribe to our YouTube channel and get weekly updates from our Chief Bitcoin Analyst, Nathan Batchelor.
share this article