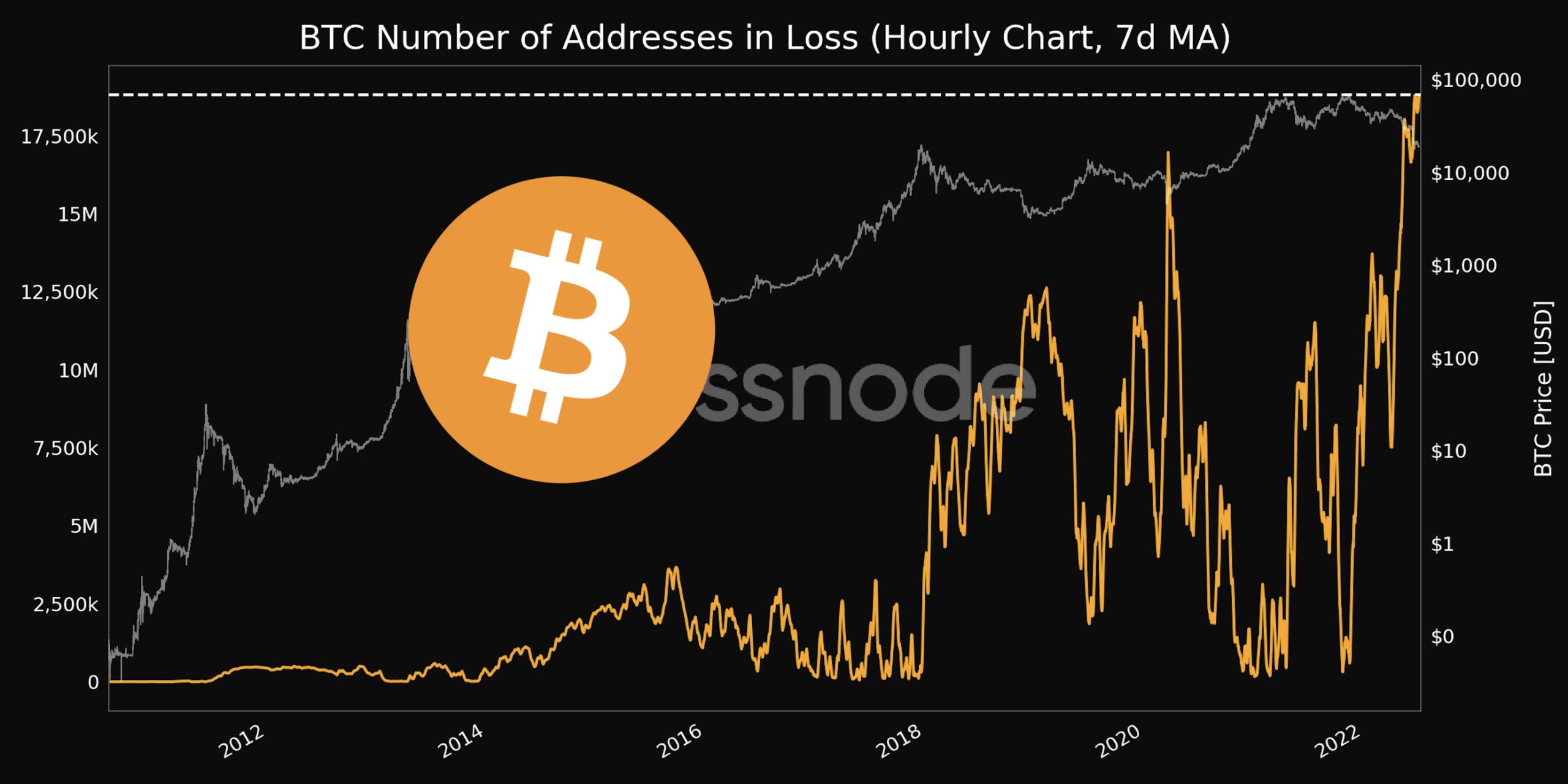 Bitcoin continued to fluctuate around $19,000 for several days. According to the data on the chain, the number of Bitcoin addresses currently in loss has exceeded 18.8 million, a record high; in addition, the gas price of Ethereum has recently dropped to 19.37 Gwei, a new low in more than two years. (Recap:Bitcoin whales are actively increasing their holdings!Those holding more than 1,000 pieces control 45.6% of the supply; Babel Finance hires an investment bank or will restructure) (relevant additions:Author of Rich Dad: When Bitcoin drops to $1,100, I will hunt for the bottom; netizens are sour)
CompareBitcoin (BTC) once again tried to stand above the $20,000 mark this morning, touching $19,647 at one point, but the rally could not be sustained and fell, and it has continued to fluctuate in a narrow range around $19,000 for four consecutive days. Before the deadline, it was reported at $19,292, up 0.24% in the past 24 hours; Ethereum was reported at $1,072, up 0.8% in the past 24 hours.
BTC loss-making addresses hit record highs
According to the on-chain analysis company Glassnode's tweet on the evening of yesterday (3), the number of BTC addresses that have not realized losses (7-day average) has reached 18,809,386, a record high; it should be proved that Bitcoin is experiencing the worst one in 10 years. quarter.
📈 #Bitcoin $BTC Number of Addresses in Loss (7d MA) just reached an ATH of 18,809,386.232

Previous ATH of 18,801,669.798 was observed on 20 June 2022

View metric: https://t.co/s2ciFMlDcX pic.twitter.com/BPSB4wBIgZ

— glassnode alerts (@glassnodealerts) July 3, 2022
Crypto Tony, a trader with 207,000 followers on Twitter, also posted earlier that the price of BTC may drop to the support of $18,000 again:
With us below $19,300 (BTC), look for a pressure to push it down to the lower support area of ​​$18,000.
$BTC / $USD – Update

Looking for a push down to the lower support zone at $18,000 while we are below $19,300. Quick scalp and tight invalidation ..

🤝 pic.twitter.com/lldnVvowZk

— Crypto Tony (@CryptoTony__) July 3, 2022
Ethereum gas fees drop to two-year low
The downturn in the market has also reduced the scale of users using Ethereum for transactions or Defi operations. According to data from the on-chain data analysis platform ycharts, the gas price of Ethereum as of the 3rd was 19.37 Gwei, a new low since May 2020. ; Compared with the high of $218.55 in January this year, a drop of more than 90%.

Etherscan's current estimates state:
Average Gas Fee for OpenSea transactions: $1.96 Average Gas Fee for currency exchange on Uniswap V3: $2.38 Average Gas Fee for USDT transfers: $0.7

Analyst: BTC is approaching peak opportunity area
However, not all analysts are pessimistic. Analyst Rekt Capital, which has 321,000 followers on Twitter, tweeted on the 2nd:
Historically, the 200-week MA has been seen as BTC the bottom indicator, butDuring this cycle, things may be different.

BTC will notAt the bottom of the 200-week SMA, it could form amacro range.Anything below the 200MA could represent a peak opportunity
Indicating that it may currently be at a bottom indicator, or facing sell-side exhaustion, long-term investors can reap the rewards.
Historically, the 200-week MA has figured as a bottom indicator for #BTC

In this cycle, things may be a bit different

Instead of $BTC bottoming at the 200MA, it may form a macro range below it

Anything below the 200MA will likely represent peak opportunity #Crypto #Bitcoin

— Rekt Capital (@rektcapital) July 1, 2022
📍Related reports📍
Three Arrows Capital has no money to pay! Voyager Digital has issued a "$675 million default notice", the stock price fell another 24.6%
Zhu Su borrowed money to buy a "$50 million yacht" to show off his wealth? Voyager Digital borrowed over 650 million magnesium from Three Arrows Capital, and its stock price plummeted 60%
Bitcoin mining machine prices plummeted! $4 billion "miner mortgage" makes lenders nervous; Celsius seeks multiple advisers to prepare for potential bankruptcy
Founder of BitMEX: This round of crash is caused by opaque and high-risk lending by "centralized institutions"