Glassnode data shows that,bitcoinWeekly short-term implied volatility hit a new low in nearly a year, indicating that investors are pessimistic about the short-term;The foundation LFG increased its holdings of 123.89 BTC yesterday,make itBitcoin holdings reached 42,530.8.(Recap:The Luna Foundation address increased its holdings of "$100 million in bitcoins", and 42,406.92 became the 18th largest holding address)
CompareBitcoin (BTC) fell 4.2% from US$41,300 on the evening of the 14th and fell below the US$40,000 mark again. Although it has recovered slowly in the past two days, it still continues to hover around US$40,000 and is temporarily reported at US$40,419 before the deadline. , an increase of 0.97% in the past 24 hours.
Bitcoin's 'implied volatility' hits nearly one-year low
Wu said blockchainToday (16)Citing data from the on-chain data analysis company Glassnode, Japan said,Bitcoin's "implied volatility (IV)" has continued to decline across time periods and has fallen below 65%.
Among them, the weekly short-term implied volatility hit a new low in nearly a year, which means that investors are pessimistic about the short-term.
Note. Implied volatility is an estimate of the level of future price changes, which can reflect the current and expected volatility within a specific time frame, and is also a reference to measure sentiment about stock or market volatility.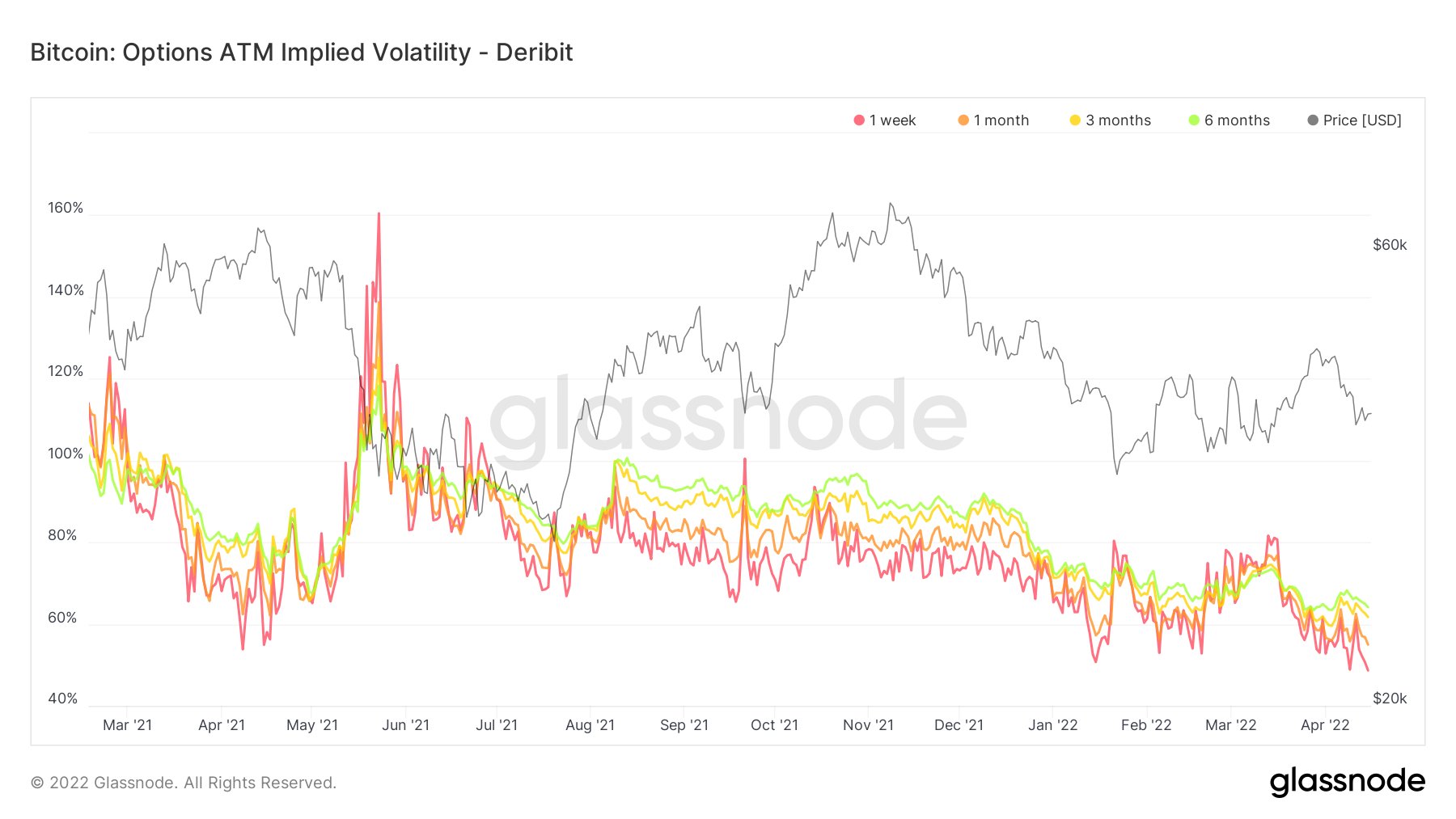 According to Alternative.me data, the Crypto Fear & Greed Index, which fell into "extreme fear" on Friday, has returned to "fear" today, rising from 22 to 28.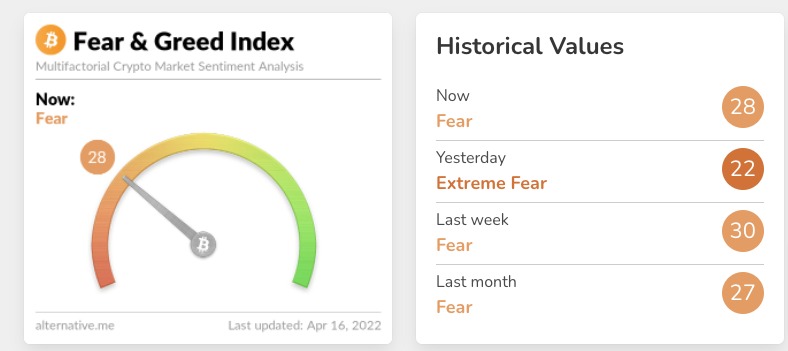 Further reading:Glassnode: BTC investors have exited with appropriate profits, and almost no new investors have entered
Analyst: BTC support at 37K, resistance at 46K
Bitcoin has oscillated between $39,200 and $42,414 so far this week, holding near $40,000 for the past three days,Shows investor uncertainty.
The analysis of the "Coindesk" Market Wrap team pointed out that most of Bitcoin's index indicators are neutral, with support at $37,000 and resistance at $46,000.Short-term buyers are likely to remain active between the $35,000 to $37,000 support area.
On the weekly chart, the 100-week MA currently sits at $35,388, and buyers need to hold Bitcoin above that level to support the recovery.Still, strong at $46,800 at the 40-week MAresistance.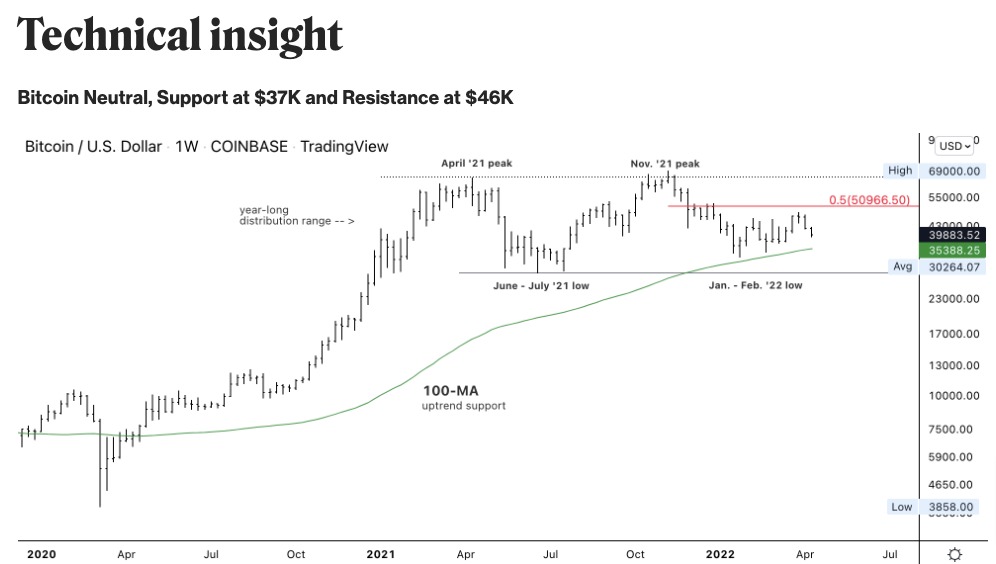 Terra added 123 bitcoins, and the total BTC holdings reached 42530.8
On the other hand, according to Bitinfocharts data, the Luna Foundation Guard, which has been buying Bitcoin as a UST reserve since January this year, added 123.89 BTC at 9:55 a.m. on the 15th, worth about $4,954,226 to make this addressThe total bitcoin holdings reached the current 42,530.82, and the current value is as high as 1.71936 billion US dollars.

In addition, Utoday reported that Terraform Labs gave LFG 10 million LUNA tokens (about $813 million) on Thursday, possibly to continue supporting the Bitcoin reserve program. Subsequently, LFG will exchange the vast majority of tokens into UST.
According to LFG accounting records, LFG currently has reserves worth $2.45 billion, of which Bitcoin is worth 70.2% of the total reserves.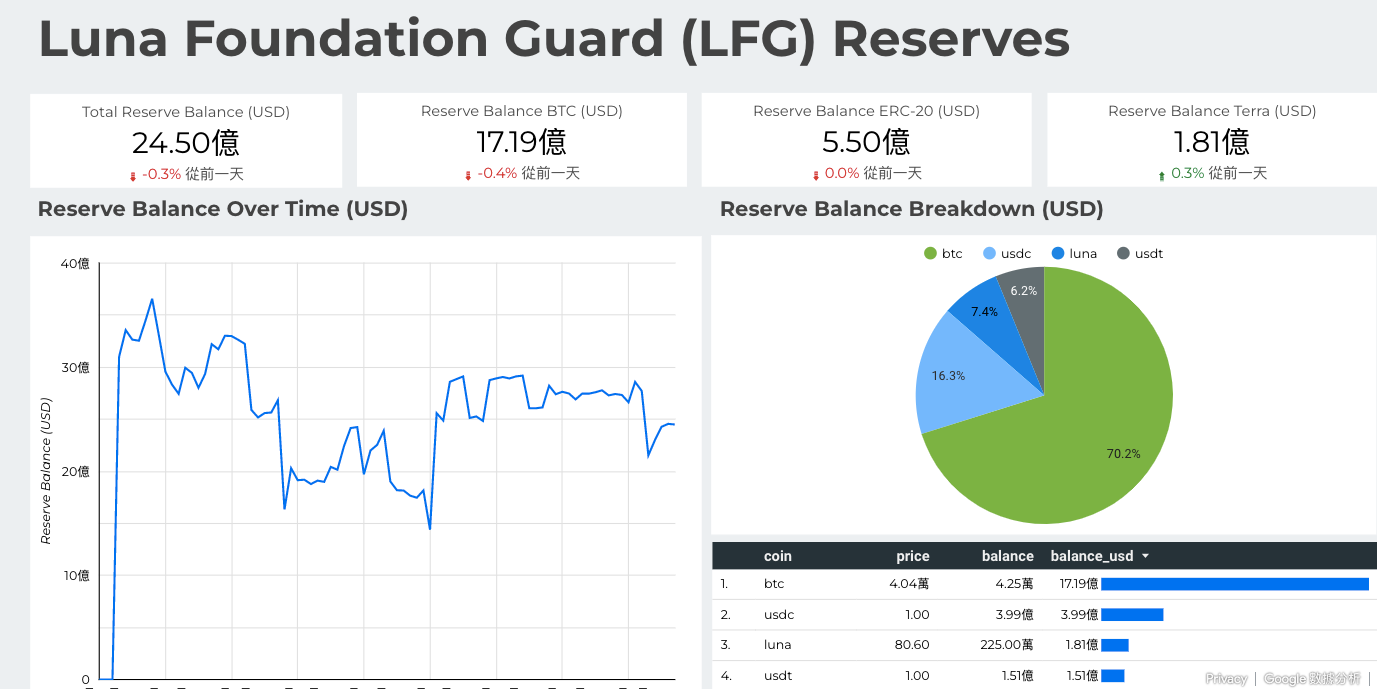 📍Related reports📍
Terra buys another $100 million in AVAX, the LUNA Foundation: to support the stablecoin UST reserve
Terra Founder Announces Buying Another "$230 Million" in Bitcoin! The total value of BTC holdings reaches 1.62 billion magnesium
S2F Model|Analyst Plan B: Bitcoin's "realized market value" is close to an all-time high, or pushes BTC to a new high
Make the Telegram news channel of the dynamic zone powerful again! ! Join now to get first-hand blockchain, cryptocurrency news coverage.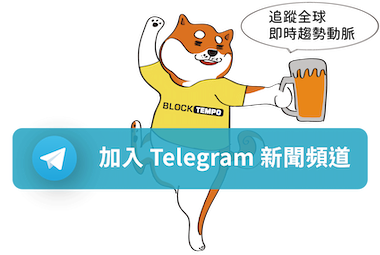 LINE and Messenger serve you from time to time


related news