At a time when risk aversion has enveloped the global market, Bitcoin has continued to drop for several days after a single-day crash of nearly 10% on the 5th and fell below the US$36,000 mark. Today, it fell below the US$35,000 mark in one fell swoop. Bitcoin has largely moved in step with tech stocks in recent months, with the 40-day correlation between Bitcoin and the Nasdaq 100 hitting a record 0.84, according to Bloomberg data. (Recap:Galaxy Digital CEO: The Fed can't make a successful soft landing!Nasdaq to Continue to Plunge, Affected by Cryptocurrencies) (event background:Sequoia Capital Partners: Many institutions will withdraw from cryptocurrencies; the Fed will meet this week, and the market expects a two-yard rate hike)
existAfter the US Federal Reserve announced on the 4th that it would raise interest rates by 2 yards and announced that it would start to shrink its balance sheet in June, US stocks and Bitcoin surged on the 4th, but on the 5th they staged a full-scale massacre, with Bitcoin crashing nearly 10% in a single day. %, fell below the $36,000 mark. Afterwards, Bitcoin continued to drop and fell below $35,000 today. As of the deadline, it was reported at $34,470, a drop of 3.96% in the past 24 hours.
Coinmarketcap data shows that the overall cryptocurrency market fell across the board. Ether (ETH) fell nearly 4.59% to $2,552, Terra (LUNA) fell more than 17%, Solana (SOL), Cardano (ADA), Avalanche ( Mainstream currencies such as AVAX) and Polkadot (DOT) all experienced declines ranging from 5% to 6%.
Cryptocurrency markets have been hit hard by the current risk aversion that is sweeping global markets as central banks seek to fight inflation while trying to ease stimulus during the Covid-19 pandemic, Bloomberg reported. So far, the price of Bitcoin has fallen by more than 20%.
Bitcoin, tech stocks correlation hits record high
In recent months, the trend of Bitcoin has basically synchronized with technology stocks. In November last year, Bitcoin and the Nasdaq 100 index dominated by technology stocks both hit record highs, and then they have been on a downward trajectory. The Nasdaq 100 is now down for the fifth week in a row.
The 90-day correlation between bitcoin and the Nasdaq 100 is now above 0.67, the highest level since 2010, according to Bloomberg data. A correlation of 1 means the two are moving in sync, and a negative 1 means the two are moving in opposite directions.
Another Bloomberg chart shared on Twitter today by Christophe Barraud, chief economist at Market Securities LLP in Paris, shows that the 40-day correlation between Bitcoin and the Nasdaq 100 index has risen sharply in recent days, and the correlation between the two has reached 6%. The day hit a record 0.84.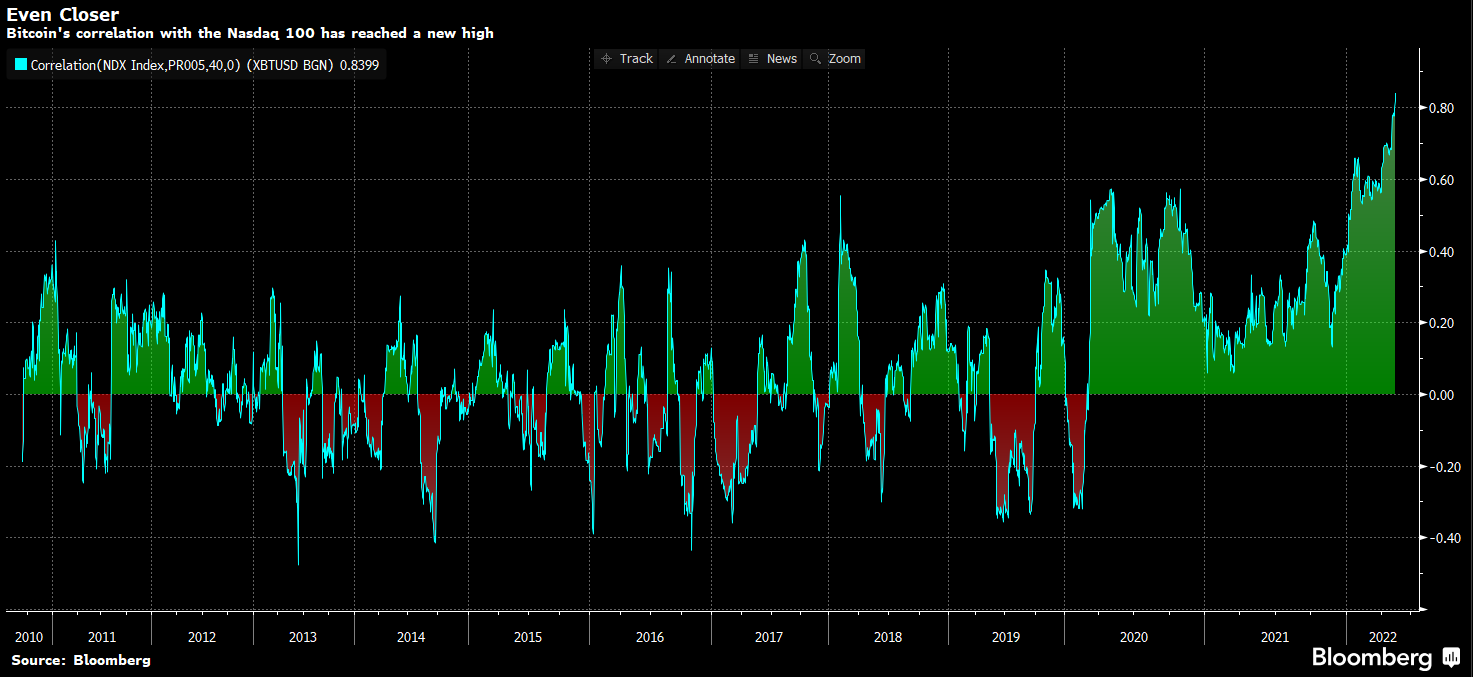 Downtrend likely to continue
David Duong, head of institutional research at Coinbase, the largest U.S. cryptocurrency exchange, told Bloomberg that cryptocurrencies and other markets face a number of headwinds this year, including tougher central bank policies and uncertainty on the path of the global economy. .
Edul Pate, CEO and co-founder of cryptocurrency investment platform Mudrex, believes that the price of bitcoin has fallen below the support level and is likely to fall further below current levels, with bitcoin's next support level at $32,000.
Jeffrey Halley, senior market analyst at Oanda Asia Pacific, estimates that if risk appetite continues to decline, from the technical chart, Bitcoin may fall to $28,000, and then fall further to $20,000.
Galaxy Digital CEO Mike Novogratz warned on the 6th that the large-scale sell-off in US stocks is not over, because the economy will encounter more turbulence in the future, as long as the Nasdaq and other risk assets are sold, the cryptocurrency market will continue to be affected. .
Institutional, long-term holder interest remains strong
Despite fear and uncertainty in the market, CNBC reports that institutional and long-term interest in cryptocurrencies remains strong, with Will Clemente, principal analyst at Blockware Solutions, noting that the supply of bitcoin that has not been transferred for at least a year has hit a record high. The all-time high, while the cost base for long-term holders has fallen, has also increased supply, underscoring that buying bitcoin suppliers are shifting from top buyers to long-term holders.
Will Clemente said:
With macroeconomic dominance, Bitcoin fundamental analysis, such as on-chain data analysis, currently has less impact on our market outlook. With that in mind, fundamental investors have been patient.
📍

Related reports

📍
It is difficult to shake off the shadow of interest rate hikes, and the US stock Dow Jones has leaked more than a thousand points!Bitcoin plummeted nearly 10% and once fell below $36,000
The Federal Reserve will raise interest rates by 2 yards and start to shrink the balance sheet in June. Powell: No active consideration for a 3-yard increase; US stocks and Bitcoin surge
Musk sarcastic: Buffett mentions Bitcoin many times!Munger: Robinhood lets everyone gamble, now payoff
Make the Telegram news channel of the dynamic zone powerful again! ! Join now to get first-hand blockchain, cryptocurrency news coverage.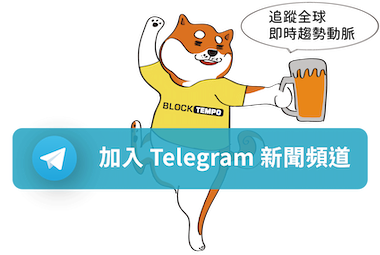 LINE and Messenger serve you from time to time


related news