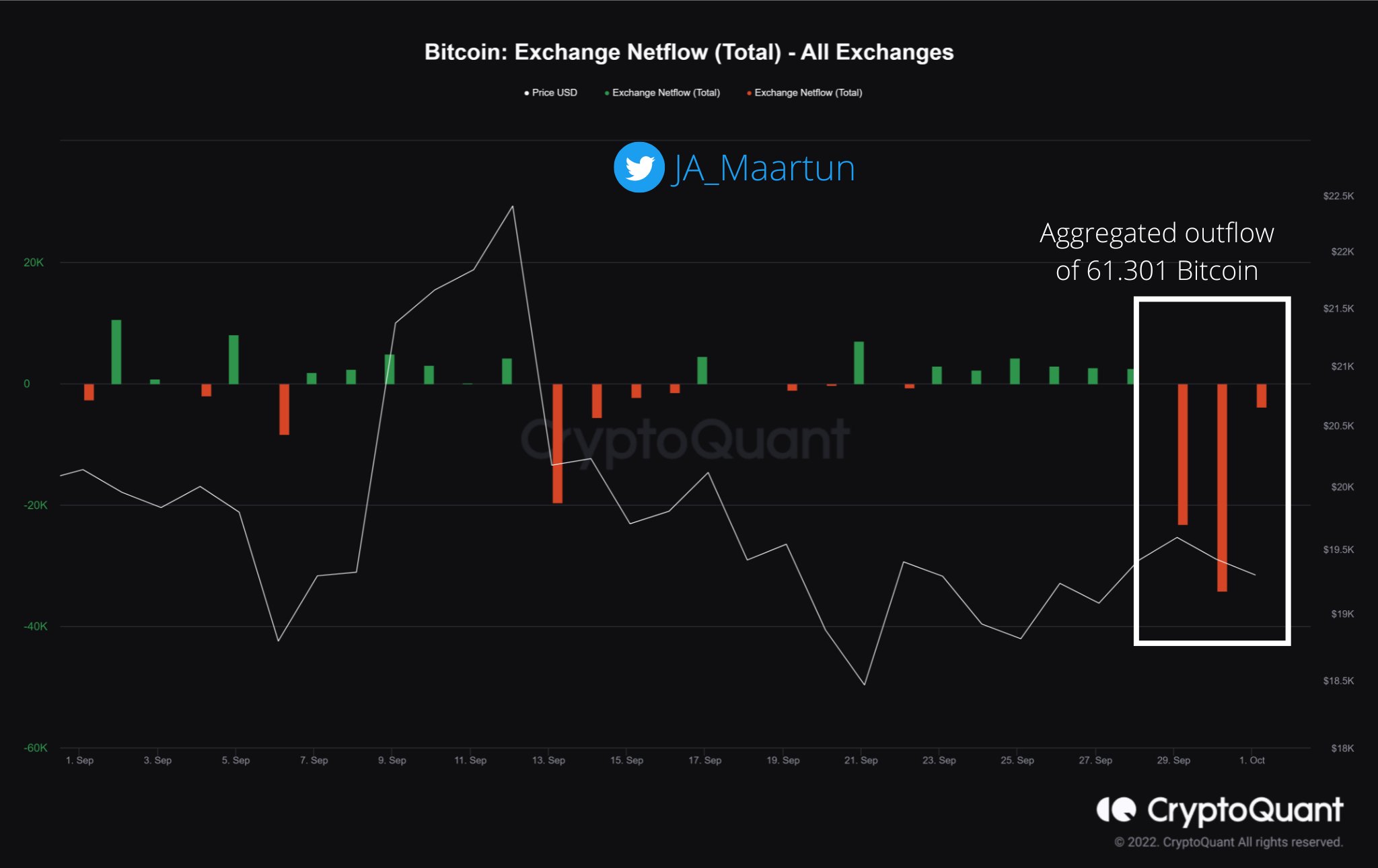 As Bitcoin (BTC) continued to fluctuate around $19,000 recently, CryptoQuant pointed out that over the past 3 days, more than 60,000 Bitcoins have flowed out of exchanges, the highest outflow amount in months, which is the re-entry of demand. market signs. Santiment also released similar data, noting that traders may be confident in Bitcoin's direction in the fourth quarter. (Recap:Short Commentary on the Currency Market | A comprehensive recovery of 7%! Messari: The market may have bottomed out a few months ago, and most sellers have left) (background supplement:JPMorgan Chase Model: U.S. stocks plummet, recession probability rises to 92%; Mike Novogratz: The next round of BTC bull market focuses on practicality)
according toAccording to CryptoQuant data, in the past 3 days, 61,301 bitcoins have flowed out of exchanges, the largest outflow in recent months. CryptoQuant analyst maartunn said this is a fairly significant indicator, highlighting signs of demand re-entering the market after months of declines.
Overall, the net outflow of Bitcoin from exchanges is a positive sign, as reduced supply on exchanges means less selling pressure from market participants, Maartunn pointed out, meaning:
"Let's see how Bitcoin performs this time"
The last large outflow was on 6/17, after which BTC rose by 22%
At the same time, Santiment, a cryptocurrency data analysis platform, also announced data that on September 30, as many as 34,723 BTCs flowed out of exchanges, the largest single-day outflow since June 17. After a large daily outflow, Bitcoin rose by more than 22% in the ensuing 4 weeks, so this means that traders may now be confident in Q4.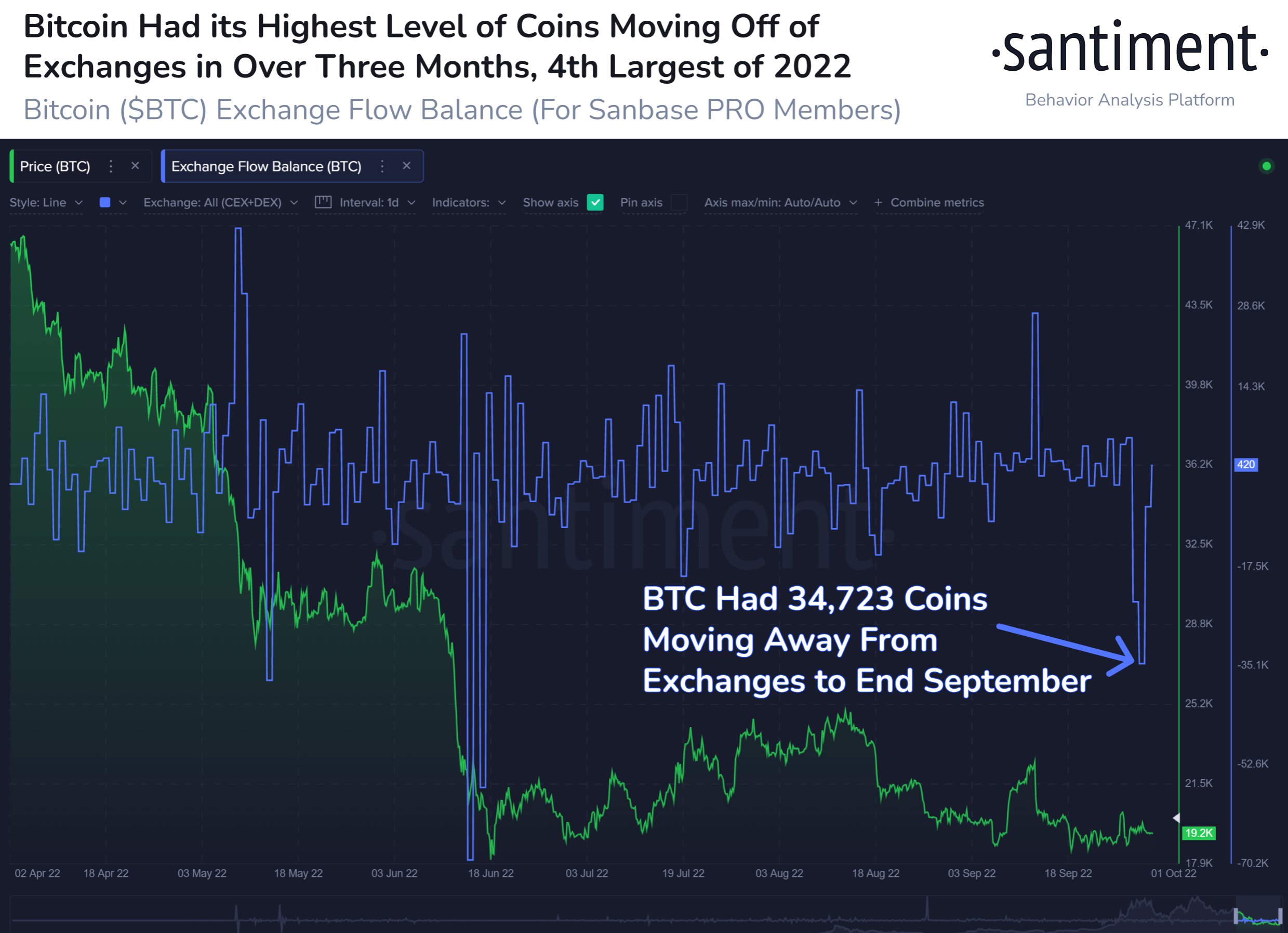 Santiment also released data mentioning that Bitcoin trading volume has risen steadily since mid-June, while the trading volume of other altcoins has declined, indicating that traders' interest is beginning to return to relatively safe-haven assets like Bitcoin, while Trading interest in other crypto assets has decreased.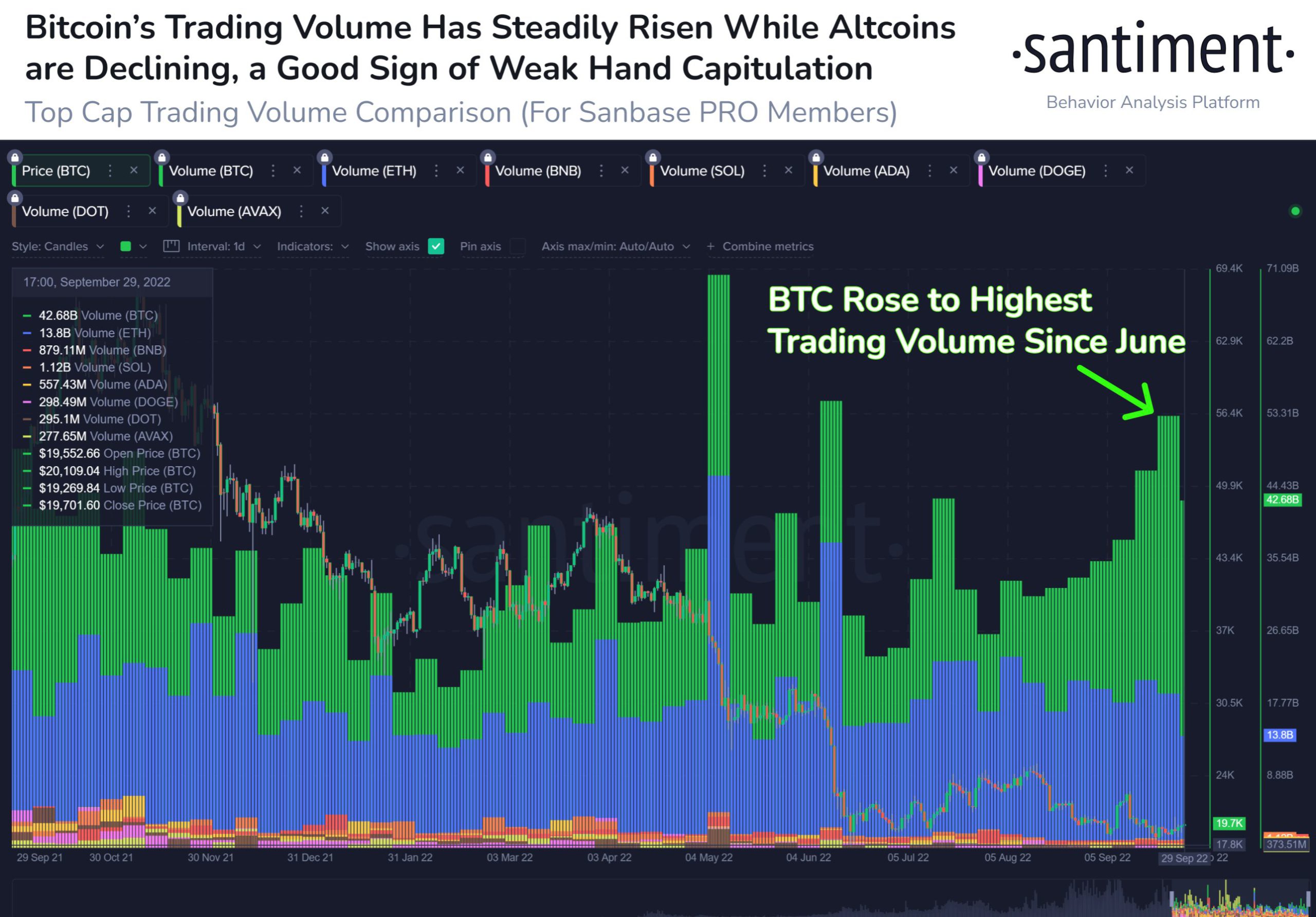 📍Related reports📍
Specializing in the acquisition of non-performing assets of BTC miners!Wu Jihan's Bit Deer plans to set up a $250 million fund
The day after the Fed raised interest rates, the scale of overnight reverse repurchase operations reached a new high of 2.359 trillion magnesium; BTC rose back to 19,000 magnesium
Bankless: Why is the price of ETH surpassing BTC, which is good for the crypto market?