The algorithmic stable currency UST launched by the public chain Terra has recently experienced a serious decoupling, which has led to an accelerated decline in LUNA. The market also reported LFG (LUNA Foundation) is raising more than $1 billion in institutional financing to fight the fire, but Larry Cermak, vice president of research at The Block, said earlier that the deal appeared to have fallen through.(Recap:U.S. Treasury Secretary Yellen: UST is highly risky, and stablecoin legislation needs to be accelerated; LFG seeks 1 billion magnesium to fight fire, LUNA falls below 10 magnesium)
maleChain Terra's native token, Luna, caused panic yesterday (10th) due to the severe decoupling of the algorithmic stable currency UST. A large number of users burned UST and re-minted it back to the LUNA token and dumped it into the market.At the moment of writing, the LUNA token is temporarily reported at $3.95. According to the high point of yesterday (10), the blood loss has reached 94%.
LFG is rumored to seek 1 billion to 1.5 billion financial assistance, but it seems to have broken
The decoupling of UST and the slump in LUNA have made many investors eager to know how to save the government. Terra founder Do Kwon wrote late last night that a UST recovery plan is about to be announced, and the market has also heard that LFG is seeking more than $1 billion in gold. aid.
Close to announcing a recovery plan for $UST. Hang tight.

— Do Kwon 🌕 (@stablekwon) May 10, 2022
However, according to the latest information released by Larry Cermak, the vice president of research at The Block, at about 5 o'clock this evening, LFG's bid for $1 billion to $1.5 billion in financial assistance seems to have failed. He left a message saying:
Yes, as far as I know, the deal is dead LMAO
Just in the early hours of this morning, Cermak just posted that LFG seems to have asked a number of institutions for help and raised $700 million to save UST, but it seems that the rapid decline of LUNA seems to have made institutions lose confidence:
I heard but probably not final details:

– Jump, Celsius and Jane St. have committed, Alameda has not committed yet – Targeted financial aid of 1 billion to 1.5 billion US dollars – 50% discount on LUNA spot, 1 year lock-up period + monthly linear distribution for more than 1 year – The total commitment as of the morning is about $700 million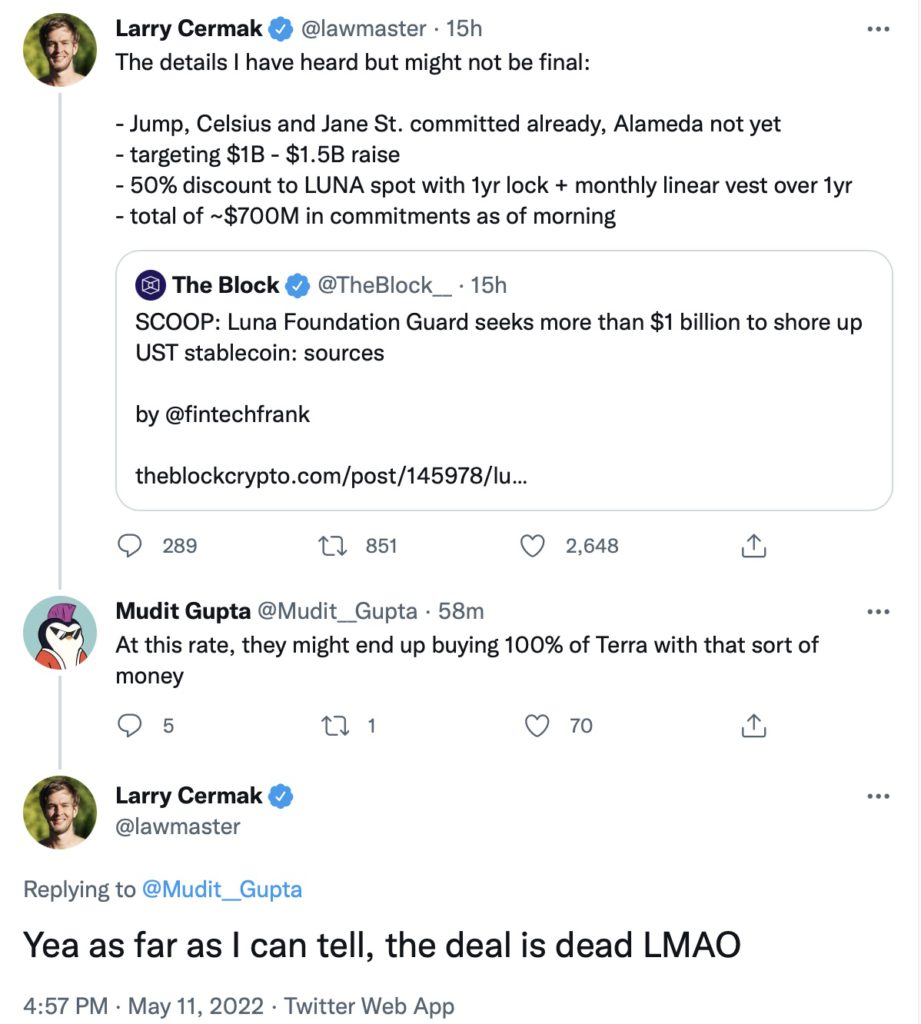 📍

Related reports

📍
Research Report | What Are Algorithmic Stablecoins and What Types Are There?Take UST, OHM, FRAX as examples
Terra Attacks Polygon|Provides UST liquidity to the derivatives trading market SynFutures
Terra's proposal: UST introduces the NEAR public chain Aurora ecosystem, which is expected to provide 20% annualization and 95% support from the community
Make the Telegram news channel of the dynamic zone powerful again! ! Join now to get first-hand blockchain, cryptocurrency news coverage.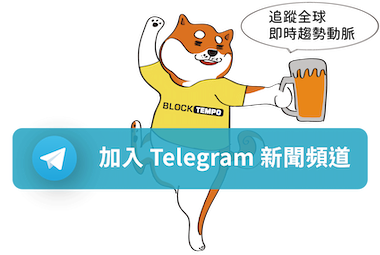 LINE and Messenger serve you from time to time


related news