Rooter, the founder of Solend, a lending protocol on the Solana ecosystem, tweeted yesterday that there is a giant whale wallet with a huge share in the main liquidity pool. Once the price of SOL falls below $22.3, it may lead to further price declines. As a result, the project urgently issued a proposal to take over the giant whale account in extreme cases. At present, the favorable vote has an advantage of nearly 90%, but it has also caused polarized comments in the community. (Recap:Another unexploded bomb? Babel Finance faces a liquidity crisis of "hundreds of millions of dollars in losses" and has frozen customer withdrawals) (background supplement:The drying up of epic liquidity" From Celsius to Three Arrows, the domino effect of the tens of billions of cryptocurrency giants)
CompareBitcoin (BTC) fell to around $17,600 in the early morning of this (19) day, but the carnage in the market still seems to show no signs of easing. The liquidation risk caused by the sharp drop in the currency price seems to have also burned on the Solana chain. . According to an earlier tweet by Rooter, the founder of Solend, a lending protocol on the Solana ecosystem, there is an anonymous giant whale wallet with nearly $170 million worth of SOL deposits on Solend, and about $108 million worth of USDC+USDT debt. , which pretty much accounts for the project:
25% of Total Locked Value (TVL) 95% of SOL deposits in the main liquidity pool 88% of USDC borrowings in the main liquidity pool
Although Rooter pointed out that the SOL price for which the position was forced to be liquidated was about $22.3, and there is still sufficient buffer (calculated at the current SOL price of $30.09, there is still about 26% downside); but Rooter also mentioned that due to the fact that on Solend Most liquidators are bots using DEX liquidity, and some users worry that a large-scale sell-off may further depress SOL prices and expose more accounts to liquidation, so they are also preparing for the worst.
3/ their liquidation price is $22.27. we still have a ways to go but want to be ready for the worst case scenario

if the whale were to get liquidated, it'd start with a partial liquidation capped at 20% of the outstanding borrows (~$21M)

— Rooter | Solend (hiring!) (@0xrooter) June 18, 2022
Post a proposal to take over the whale account in extreme cases
As a result, at around 5:00 this evening, the government urgently launched a governance proposal, hoping to formulate special margin requirements for giant whales that account for more than 20% of the total loan amount, raise the liquidation threshold to 35%, and grant Solend emergency powers to temporarily take over the whales. account so that when a liquidation does occur, it can be executed over-the-counter to avoid further heavy selling pressure on SOL.
The current voting result is an 89.4% advantage in the affirmative vote. There are about 4 and a half hours left before the deadline. The policy will officially take effect after the proposal is approved.

Divided community reaction
The provisional proposal of this proposal also attracted positive and negative comments from the community. Some people said that this "violates the spirit of decentralization and sets a bad precedent", "Trying to solve the crisis in a centralized way will bring another bigger problem, so-called decentralized finance is a joke!"
But some people said that in order to further protect the ecosystem and collapse in extreme markets, this is an option that has to be done. Even Terra researcher FatMan replied:
While this is a crazy, radical solution, and while it goes against the spirit of DeFi, it may be one of the better options in terms of market impact and protocol health.

Sadly, we don't worry about the concentration risk of big whales when the market is rising, only when it is falling.
While this is a crazy, radical solution, and while it flies in the face of the DeFi ethos, it is probably one of the better options in terms of market impact and protocol health. Sadly we don't worry about concentrated risks like a big whale account on the way up – only down

— FatMan (@FatManTerra) June 19, 2022
📍Related reports📍
STEPN Chinese players have a turnaround? Announcement "will get rid of reliance on GPS data transmission"
Review of Multicoin: The failure of betting on EOS brought the success of investing in Solana
The Fatal Lesson of Liquidity: How Did Crypto Unicorn Celsius Get Into a Run?
Gold bulls: Bitcoin HODLers will be forced to sell, bottom-hunting will only lose more; Founder of Flyover: Has bought more BTC ETH
Founder of BitMEX: Institutional Liquidity Liquidation May Continue, Altcoins Fall Another 50%; It's Time to Seed the Next Bull Market
Make the Telegram news channel of the dynamic zone powerful again! ! Join now to get first-hand blockchain, cryptocurrency news coverage.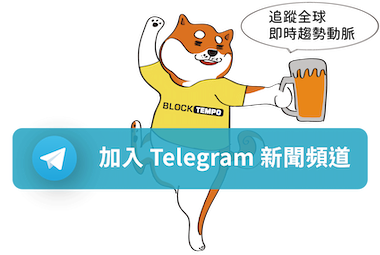 LINE and Messenger serve you from time to time


related news